Ujda Chaman is a film about lost hair that eventually makes you want to tear your own off at some point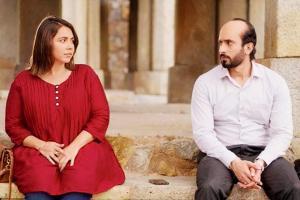 A still from Ujda Chaman
Ujda Chaman
U/A: Comedy
Director: Abhishek Pathak
Cast: Sunny Singh, Maanvi Gagroo
Rating:

This is a film about lost hair that eventually makes you want to tear your own off at some point. Not saying this because this is the worst shit you'll ever come across. Of course not.

But it's just the way the filmmakers treat balding to be — a terribly uncommon disease, where you stand out so badly in the real world, that even a lecturer/professor in a college gets taunted by kids all day long, khule aam, in class, from front to back.
Really? Think majority of my male teachers (in school/college) may have well been bald. Who frickin' cares? Can't even remember. Guess it matters that the lead guy here is 30, with a massive bald patch, that has a direct consequence to his love-life. He remains virgin as a result — no woman will ever come close to him, let alone date.