During the conversation with Mayank Shekhar for mid-day's Sit With Hitlist, Vicky Kaushal spoke about his initial days in the showbiz.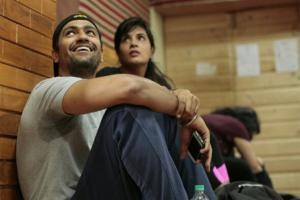 Vicky Kaushal and Richa Chadha (Picture courtesy/Vicky Kaushal's official Instagram account)
You know him for his acting prowess in films such as Masaan, Raazi, Sanju and this year's one of the highest grossers Uri: The Surgical Strike. You know what to ask him when you meet him! That's right - 'How's the josh?'. But do you know Vicky Kaushal has also played blink-and-miss roles in Anurag Kashyap's most-talked-about film Gangs of Wasseypur?
While the fact that Vicky Kaushal played a young Omi (Kunal Kapoor's character) in Luv Shuv Tey Chicken Khurana, is not new, the actor recently revealed that he had a blink-and-miss role in Gangs of Wasseypur. During the conversation with Mayank Shekhar for mid-day's Sit With Hitlist, the actor spoke about his initial days in the showbiz.
Watch the full Sit With Hitlist interview of Vicky Kaushal here:
"It's the scene where Nagma Khatoon [Richa Chadha] goes to a brothel. Last minute, everyone [junior artistes] that we'd rounded up in Benares refused to participate in that scene, once they realised it's a brothel. The entire direction team stood-in for them. I'm that silhouette you see behind the window-grille, overacting karte hue, when Nagma Khatoon is cursing Sardar Khan [Manoj Bajpayee]! That was the first time I faced a camera," said Vicky Kaushal.
But, even before this, Vicky Kaushal had made his acting debut with filmmaker Michael Winterbottom's Trishna, a film which eventually never the light of the day in India.
Talking about the same, Vicky said, "Yes, that was the first time I faced the camera, and you could see my face! Michael Winterbottom was making a film called Trishna, with Freida Pinto. We'd just finished shooting Gangs of Wasseypur in March, 2011, and I had these braces, and was an AD. I had gone to my native place in Punjab with family, when I got a call from Anurag Kashyap, and he said, "Item number karega (Will you do an item number)?" I was like, what? He said, it's a Michael Winterbottom film, and Huma [Qureshi] and I will dance, and that he's acting in it as well, it'll be fun."
Explaining the character in detail, Vicky added further, "So, Trishna, that's Freida's character in the film, comes to Bombay from Rajasthan, and a friend of hers takes her to a film-set. There's a song being shot with choreographer Ganesh Acharya, which is being picturised between and Huma and I [in the film, within the film]. That song was also supposed to be the promotional track for the film, like [Slumdog Millionaire's] Jai Ho! But the film never released [in India]."
"It was a proper song. But in the film, it's a scene. I was wearing this shimmery black, typically item-number costume, which I was very conscious of. I had no idea how it feels to be before a camera, with 50 back-up dancers, and 200 people around. So, my body is dancing, but my face is like this [frozen]. Ganesh Acharya sir, who was very sweet, came up to me and said, "You're dancing well. Now just dance from your face!" Of course, with several retakes, we got it right," said Vicky.
Catch up on all the latest entertainment news and gossip here. Also download the new mid-day Android and iOS apps to get latest updates