Over the last many years, actor-anchor Annu Kapoor has possibly emerged as the finest storyteller in Bollywood. Recounting his favourite Bollywood story, however, Annu got teary eyed, and nearly broke down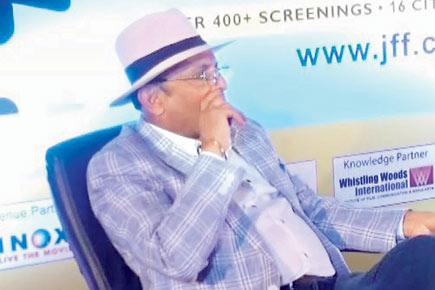 Annu Kapoor
Over the last many years, actor-anchor Annu Kapoor has possibly emerged as the finest story-teller in Bollywood, and by that, we mean telling stories about Bollywood itself — told on television, radio and stage shows, almost like religious 'pravachans', or mythological recitations.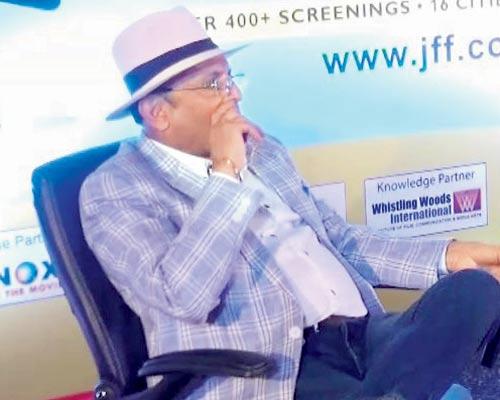 Annu Kapoor; (inset) moved to tears at the 7th Jagran Film Festival

"In a year, we generate about 260 stories from (Bollywood) history," said Annu at the 7th Jagran Film Festival in Indore. Describing the process of putting the filmy stories together that end up enthralling all, much like journalism, he said, "We have a team of writers hired by my company. The research involves a three-step process. Each story that we come across (about old film personalities) has to be corroborated by three independent sources before it sees the light of day."
Recounting his favourite Bollywood story, however, Annu got teary eyed, and nearly broke down (the story translated from Hindi below, without Annu's dramatic style of course). As for an episode from his own life, the one we found most fascinating actually concerns his name. This is from back in the early '80s when Annu, having graduated from National School of Drama, had only begun his movie career. And his name wasn't Annu yet.
He said, "When I was starting out in films, Anil Kapoor used to be the rising star. I was cast in a film starring him. Anil was the hero, obviously. I was to be paid Rs 4,000 for, what you could call, playing the 'extra' — standing behind Dilip Kumar. The film was Yash Chopra's Mashaal (1984). I had four lines to deliver, which got edited out eventually.
"Once Boney Kapoor (Anil's brother) came to meet the Yashraj accountant to complain about how Anil Kapoor had not been paid his Rs 10,000 yet. The accountant said he was absolutely sure he had drawn a cheque for Rs 10,000 in Anil Kapoor's name. Boney was flummoxed, because the cheque never reached Anil. There was much confusion for a while. This is until, after investigation, they realised that cheque for Anil Kapoor was handed to me. My real name is Anil Kapoor! And, I had been accidentally paid two and half times the amount due."
Folks in the film industry, starting with Shabana Azmi and her family, Annu said, asked him to change his name. "There can't be two Anil Kapoors in the same profession," they said. "Names like Anurag, Anupam or Anwar get nicknamed Annu in North India. I decided to pick Annu Kapoor. What's in a name anyway," sighed Annu.
Annu's best Bollywood vignette
"There used to be a heroine called Usha Kiran. You recalled that famous song, 'Yaad kiya dil mein kahan hai tu' from the film Patita (1952)? That was filmed on her. Usha Kiran was working on a movie with director Amiya Chakravarty. He was a married man. Usha was single and madly in love with Amiya. The fire was equal from both ends. They had an intense romance going.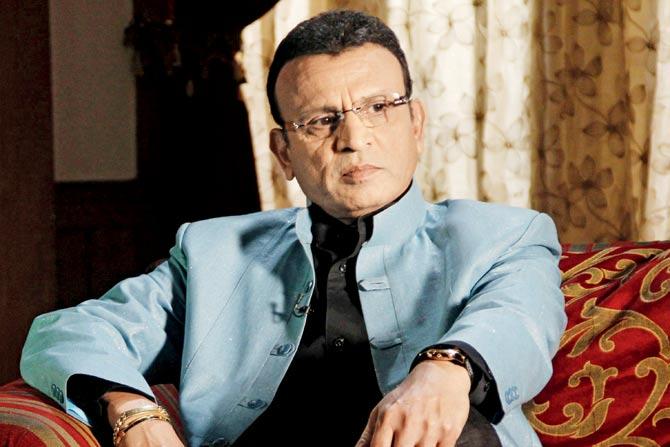 Annu Kapoor
"Amiya's wife got wind of this. One day she walked into the sets of Amiya's film, causing much pandemonium, and went straight into Usha's make-up room. She told Usha, 'How stunningly beautiful are you? I can see why my husband has chosen you over me. If I were him, I'd do the same. My only request is, you shouldn't meet in secrecy. From today onwards, I have decided to get out of your way.' She said this, and walked away.
Usha was totally zapped. She ran after Usha's wife, held her, and said, 'If you can leave your 'suhaag' (marital bond) so easily for your husband's happiness, then I am not an ingrate either. Here, I promise, till the time Amiya is alive, I will never see his face!' This is precisely what happened. About 14-15 years after this incident, one day Usha got a call from Mrs Amiya Chakravarty. She said, 'You've kept your promise—that until Amiya's alive, you won't see his face. Come over. Amiya is lying on the pyre'."