Dharmendra, Sunny Deol and Bobby Deol are under the assumption that the audience will pay big bucks to watch them share screen space. But, there isn't much to admire here.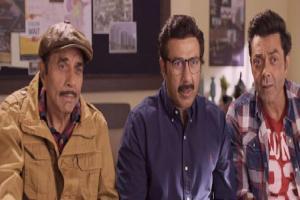 Dharmendra, Sunny Deol and Bobby Deol in a still from the trailer
Yamla Pagla Deewana Phir Se
U/A: Comedy
Director: Navaniat Singh
Cast: Dharmendra, Sunny Deol, Bobby Deol
Rating: 

I must admit, the Deols' ruined it for me after they introduced an orangutan in the previous instalment of Yamla Pagla Deewana. It was so ridiculous, that I couldn't bring myself to remember the cheer from the first edition of this series, which banked on their rollicking camaraderie. Its novelty was lost the second time around, and, in this film, we are, unfortunately, only left with an icon and his two sons indulging in toomfoolery to mint money off us.
The trio is clearly under the assumption that the audience will pay big bucks to watch them share screen space. But, there isn't much to admire here. Devoid of any exotic animals this time around, the film banks on a wafer-thin plot of an ayurvedic expert, Puran (Sunny Deol), who cures his patients with a magic preparation. When a pharmaceutical company approaches him for this recipe, he turns them down. However, his brother, Kaala (Bobby Deol) sells his soul to the enemy. A woman called Cheeku (Kriti Kharbanda) manages to seduce Kaala, and, before they know it, the company drags them to court for violation of their patent rights. This point marks the entry of the incorrigible tenant, Parmar (Dharmendra), who dons a lawyer's cape to fight for the boys.
If one gives it a second thought, the story is promising. But, it fails at the execution level. The lingering imagery that stays with you post the excruciating 148 minutes is that of the drunk alcoholics, all of who are too loud to like.
Check out the trailer here:
The dialogues lack spunk, managing to cater to the IQ of teens only. There are ample jokes to pit Punjabis against Gujaratis. Of course, given that it's helmed by the Deols, the writers were certain to give the Punjabis the edge. Sample this, Punjabis are portrayed as big-hearted people, further credited for being non-vegetarians with a greater tolerance for alcohol when compared to a vegetarian, teetotaling Gujju. Playing on regional divide in this day and age isn't particularly celebrated. The film harps on it incessantly in a rather puerile fashion. There is a sense of laziness that's evident from director Navaniat Singh's approach. He doesn't even try to make a watchable film.
It is painful to learn that Dharmendra agreed to do this film. Unfortunately, Kharbanda too invariably ends up in movies that don't match her potential. Avoid this migraine-inducing massacre of a movie that is so unimpressive that even cinema legends can't save it.
Also Read: Dharmendra: We Deols Are Actors, Not Stars
Catch up on all the latest entertainment news and gossip here. Also download the new mid-day Android and iOS apps to get latest updates