What is the one thing more charming than an easygoing comedy? An easygoing comedy with people speaking in British accents. If you're looking for a light hearted crowd pleaser, look no further – 'What We Did On Our Holiday' delivers in bundles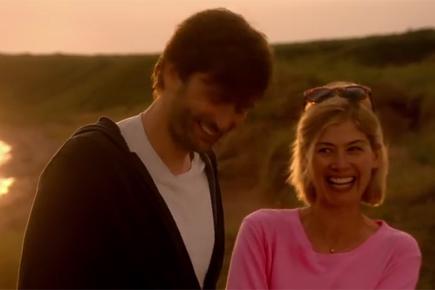 What We Did On Our Holiday review
'What We Did On Our Holiday'
U/A; Comedy/Drama
Dir: Andy Hamilton and Guy Jenkin
Cast: Rosamund Pike, David Tennant, Billy Connolly, Ben Miller, Celia Imrie
Rating:


David Tennant and Rosamund Pike in the film. Pic courtesy YouTube
What is the one thing more charming than an easygoing comedy? An easygoing comedy with people speaking in British accents. If you're looking for a light hearted crowd pleaser, look no further – 'What We Did On Our Holiday' delivers in bundles.
Directed by Andy Hamilton and Guy Jenkin who were responsible for the delightful British TV show 'Outnumbered', 'What We Did On Our Holiday' is a refreshing little comedy that is peculiar enough to grab your interest and hilarious enough to hold your attention right until the very end. David Tennant and Rosamund Pike respectively play Doug and Abi, a suburban English couple in the process of separation, but are forced to go together as a couple to Scotland for the 75th birthday celebration of Doug's father (Bill Connolly). With the kids accompanying them, naturally the trip and the outcome becomes a goldmine for throwaway gags.
Most films tend to make the kids in the movie schmaltzily affectionate, but the children in this film are adorable because they're so weird. The eldest is a kind of a geek who always carries a notebook and pen around, the middle one has a thing for Vikings, and the four year old youngest even gets to drive a car when the dad falls asleep at the wheel. Most of the hilarity comes from the kids. 'I need a list of the lies we're going to tell', says the eldest one, holding out her pen and paper. The whole film is a landmine field of amusing yet cutesy moments, courtesy of the kids who have to deal with their parents pretending to be happy in front of their grandpa.
The dynamics between the grandpa and the grandchildren too are lovely, as the old man tries to bond with the kids and also reason with them about their parents. There's a laugh out loud moment when the grandfather tries to teach the eldest child, a nine year old, how to drive.
The film is exceedingly well cast, as David Tennant and Rosamund Pike spit fire at each other. It's a bit unfortunate that Rosamund Pike is once again playing the wife in an uneven marriage, hopefully she won't be typecast in the future. Connolly is his usual likable self, lobbing little one liners becomes a cakewalk for him. The climax is as predictable as it is sappy, but when the material is so much fun, it hardly matters.