The plot is a lot of fun, and the film is truly hilarious in bits and spurts. The Minions constantly speak in incomprehensible gibberish that sounds vaguely familiar, and if you dug that concept in the earlier films you'll be laughing your head off in this movie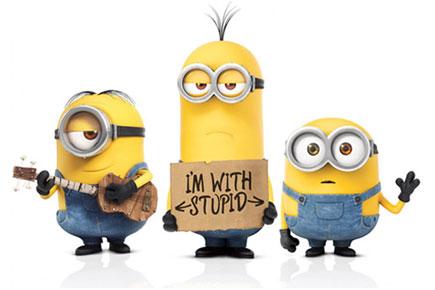 Minions review
'Minions'
U; Animation/Comedy
Director: Pierre Coffin, Kyle Balda
Cast: Pierre Coffin, Sandra Bullock, Jon Hamm, Michael Keaton
Rating: 

Back when 'Despicable Me' came out, kids sort of enjoyed the movie, and adults sort of tolerated it. But there was something common between both camps – the Minions featured in the films were a laugh riot and everyone ended up falling in love with them. They became so famous they now have their own movie, but the final product isn't as amazing as you expect it to be.

Poster of 'Minions'. Pic/Santa Banta
'Minions' serves as a prequel to the 'Despicable Me' series, so it takes place before the events of Gru's adventures. Hilariously, the film takes this concept to the hilt as the history of the Minions is presented, right from the beginning of their time when they were formed in nature and have ever since been on the lookout for a super villain boss so that they could be his henchmen. The film follows three of the Minions, Kevin, Stuart and Bob (all voiced by director Pierre Coffin) as they travel to a villainous conference to steal Queen Elizabeth's crown for the super villain Scarlett Overkill (Sandra Bullock).
The plot is a lot of fun, and the film is truly hilarious in bits and spurts. The Minions constantly speak in incomprehensible gibberish that sounds vaguely familiar, and if you dug that concept in the earlier films you'll be laughing your head off in this movie. The film also zips and zooms by its short runtime so there's little time to breathe, except for an unnecessary scene featuring a bedtime story. The real gaffe of 'Minions' is the 3D which is flat out terrible and undoes the beautiful animation work and bright colours, and for a film about cute characters, 3D is hardly the way to watch it.
The thing is, the Minions made a cameo in the earlier films, and one can't help but realize that they were much more fun and also funnier in cameo roles. They were the dessert in the food menu of 'Despicable Me', and in 'Minions' the dessert is the main course. That's fun for the first two bites but it becomes overbearing after a point of time, more so because you know what to expect in the next bite. The element of surprise is gone, but there sure is fun in the familiarity. There's only so many times you'll giggle at the Minions cutely saying 'banana'. Ultimately it's harmless fun, and the kids will surely enjoy it, so it becomes an easy watch and an even easier recommendation.