While performances are strong and engaging in 'Race', Stephen Hopkins' validating treatment, Peter Levy's edifying camerawork and Rachel Portman's pulsating background score lend emphasis to the greatness showcased within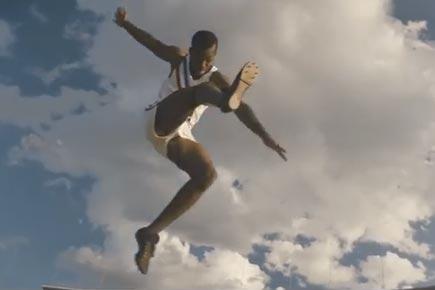 'Race'
U/A; Sports-drama-biopic
Director: Stephen Hopkins
Cast: Stephan James, Jason Sudeikis, Jeremy Irons, William Hurt
Rating: 
In 'Race' director Stephen Hopkins underlines the larger political climate of that era while fashioning the 'real life' rise of Jesse (JC) Owens (Stephan James) from a freshman at Ohio State University to the greatest athlete of the 20th century has ever produced.
The subject matter itself would get any filmmaker salivating. The film is set in a period when America was at the cross roads of history. Incidents of Racial discrimination against blacks were all over the place while far away in Berlin, Germany, where the Olympic Games, the greatest sporting spectacle was to be held circa 1936, there was racial abuse against the Jews. That was the time when Hitler held sway and his Aryan supremacist actions were made known to the world at large. America while struggling to deal with it's own internal strife two decades before the civil liberties movement began its affirmative action, was close to pulling out of the games, troubled by Hitler's subjugation of the Jews. Avery Brundage (Jeremy Irons) a construction magnate, was sent to feel out the situation in Berlin before any decision to boycott the games could be made. Joseph Goebbels (a chilling Barnaby Metschurat) instead, sets him up in a vice and America consents to participation. While there's drama in that face-off between countries and within Olympic committees there's a greater one being created on the track and field. Jessy Owens, coached by the able Larry Snyder (Jason Sudeikis) and resisting stiff opposition from all fronts with a personal hitch in the bargain, are confidently marching towards creating history for America. And the moment comes upon them in 1936, Berlin where amidst belligerent posturing and underlying tension Jesse Owens crafts the greatest ever historic moment framed by an American. With four Olympic golds in his kitty and a resurgent assertion of American prowess in sport while vanquishing racial bias and discrimination in his incredible triumph, Jesse Owens made his tryst with destiny.
Watch the trailer of 'Race'

The biopic at the centre is very much standard issue, generic in method and playing by the numbers. It's both poignant and validating. But it's actually the two supporting threads that actually add teeth to the engagement. Filmmaker Leni Riefenstahl (Carice van Houten)'s efforts to capture the greatest sporting event on earth, on film, in the form of a documentary 'Olympia' despite interference from Nazi propaganda minister Joseph Goebbels and the contrarian positions within America's Olympic organizations, between Avery Brundage and Jeremiah Mahoney (William Hurt) on the call for a possible boycott of the games – makes the drama much more interesting even though both these threads are shortchanged in the effort to promote reverence of the main subject matter.
While performances are strong and engaging, Stephen Hopkins' validating treatment, Peter Levy's edifying camerawork and Rachel Portman's pulsating background score lend emphasis to the greatness showcased within. In terms of a biopic, this might not be the best representation of the genre but it certainly scores as a totally engaging and emotionally satisfying engagement!