'Return of Xander Cage', as the name suggests, returns to stunt-CGI-action to provide it's adrenaline rush. This is basically Diesel's show and he is well aided by the stunt choreography, CGI action and editing speed. But don't go by looks. There's not much energy in the telling here and the confused narrative totally sidelines logic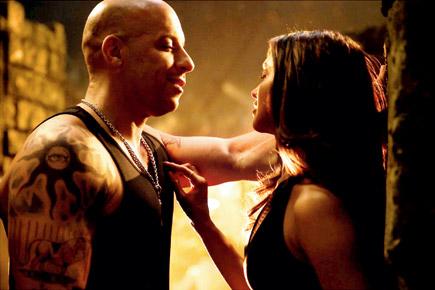 'xXx: Return of Xander Cage': Movie Review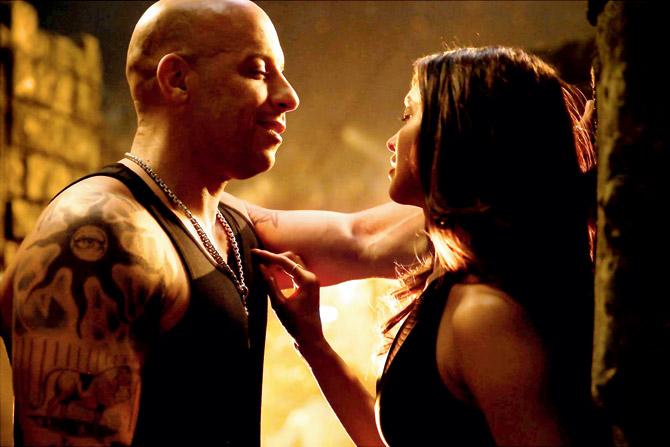 Vin Diesel and Deepika Padukone
'xXx: Return of Xander Cage'
U/A;  Action, Adventure, Thriller
Director: D.J. Caruso
Cast: Vin Diesel, Donnie Yen, Deepika Padukone, Tony Jaa, Deepika Padukone, Samuel L Jackson, Toni Colette, Ice Cube, Kris Wu, Ruby Rose, Rory McCann, Nina Dobrev, Michael Bisping
Rating: 

Vin Diesel's 2002 release 'XXX' got resurrected into a franchise outing in 2005 with 'XXX-State of the Union,' and Ice Cube in the pivotal role. Xander Cage was of course presumed to be dead because the first issue had him die in the end. Those days Diesel wasn't too comfortable spamming franchises as he was already in the thick of things with 'Fast & Furious.' Now that 'F&F' has almost run it's course, so-to-speak, Diesel needs visibility and what better way than to add some original fuel back into yet another adrenaline gusher. So we have David Caruso return as Director with Vin Diesel as Xander Cage and our own Deepika Padukone gunning for action as his beauteous side kick. But it doesn't start out that way…
Those who heaved a sigh of relief at Cage/Vin Diesel's death in 'XXX' may now have to accept that it was in vain. As they say 'It's never over until it's over' and this holds true for the extreme athlete who supposedly faked his death and lived in self-imposed exile until he got this recall back into the cinema-real world. Marke(Toni Colette) the badass XXX controller has ferretted him out to prevent the bad guys from stealing the 'Pandora's Box,' a sort of signaling device that can lure satellites orbiting earth to their doom. One such incident reportedly killed off Agent Augustus Gibbons(Samuel L Jackson) and a promising new recruit Neymar Jr. ( the footballer playing himself).
Cage is called back into action following the death of his former handler, NSA Agent Augustus Gibbons(Samuel L Jackson), when deadly alpha warriors Xiang (Donnie Yen), Serena(Deepika Padukone), Hawke(Michael Bisping) & Talon(Tony Jaa) steal the Pandora's Box right from under the nose of the best assemblage of counter intelligence staffers the world has on offer. Meanwhile Xander Cage has assembled his own team consisting of Nicks(Kris Wu), Tennyson Torch(Rory McCann) and Adele Wolfe(Ruby Rose) with technical support from piss scared of guns but expert at weapons function, Becky Clearidge(Nina Dobrev).
The narrative is segmented and even the action is cut and joined together in a million places. So there's no smooth progressive transition happening in the action set-pieces. It's all pieced together to cover-up flaws( of which there are many). The action is totally unreal. From the opening sequence where Xander Cage makes his getaway from a high-tension electric tower on skis that land on uneven hardened snowless mountains to the sequence where Cage and his team make a getaway through water on mobikes fitted with skis, skimming the surface- it all looks so unbelievable that you'd be thinking you are in a world devoid of science. Gravity has no role to play here and time lapses are not meant to be measured here. Vehicles are overturned at will, Satellites crash into earth and are aimed to kill and the team-mates have special skills which don't look too special when viewed closely. Diesel has the charisma but his innate slow burning lethargy doesn't quite fit in well with the persona of an extreme athlete with abilities beyond belief. The furious editing speed allows for some suspension of disbelief but it doesn't last through the entire run. 3D effects are not quite up there with the best either.
'Return of Xander Cage', as the name suggests, returns to stunt-CGI-action to provide it's adrenaline rush. It borrows liberally from the 'F & F' formula and like the successful franchise aims for a broader audience by accumulating it's cast from across continents. In India, the interest is largely for Bollywood Diva Deepika Padukone's first major foray into Hollywood and everyone is basically eager to know how well she has done. That she had to decline the 'F & F7' offer that came her way a few years back, is now history. Though she has a meaty enough role here and does kick some ass, her silly looking costumes make it clear she's there for the eye candy effect. Deepika strives to look convincing as an action star but there's not much she is expected to do other than look slinky and sexy. There's hardly any drama in it for her. In the pre-interval half she appears to be muddling her way through but post-interval she seems more assured and collected. Ice Cube's entry towards the fading end suggests there's going to be a bigger team plying their wares in the next outing.
This is basically Diesel's show and he is well aided by the stunt choreography, CGI action and editing speed. And the innumerable scantily clad women that flit in and out of the frame at regular intervals add to the cultivated persona of Cage being a ladies man through and through. Given the technological support, Diesel manages a don't care kind-of suavity that appears suitably imposing and indestructible. Don't go by looks though. There's not much energy in the telling here and the confused narrative totally sidelines logic.