The script has the necessary wit, Freddie's break-out antics are well documented and the excellent tech work makes it all blend in to form a composite whole.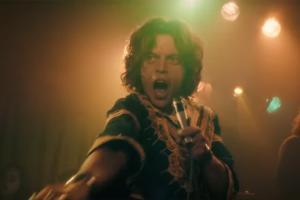 Still from the trailer
Bohemian Rhapsody
U/A: Biography, Drama, Music
Director: Bryan Singer, Dexter Fletcher
Cast: Rami Malek, Joseph Mazzello, Ben Hardy
Rating: 

This biopic on the Queen frontman 'Apro Parsi dikro' Zanzibar born and schooled in Panchgani, Faroukh Bulsara better known as Freddie Mercury, is a tribute to the rock 'n' roll legend who took the world of music by storm from the 1970's onwards leading up to a powerful rendition of the band's Live Aid performance, called the greatest live rock performance of all time. It is rumored that the original screenplay was not entirely about Freddie but about Queen with and after Freddie. The studio bosses supposedly had a change of heart, dumping Singer and binging Fletcher in to lend it better focus and the experience is probably the better for it. With Freddie hogging the show and Rami Malek impersonating the lead singer with a craftiness that showcases him as a standout actor, this experience becomes all the more electrifying. Rami Malek is no dead ringer for Freddie but the bang on mannerisms, ticks, movements, styling choices, makeup and technically blended vocals help us believe that Freddie is alive and performing with the unique vigor, vitality, and charisma that took Queen to its greatest heights at a time when Michael Jackson, Lionel Ritchie, Madonna etc. were also making tracks into the music record books.
The plotting is pretty much generic- we've seen the same sort of career and personal, highs and lows in biopics of several other music superstars. Freddie Mercury's discontent with his oppressively rigid family setup is apparent and leads him to break out of the Parsi mold and become the quirky bohemian face and voice of Queen with guitarist Brian May (Gwilym Lee), drummer Roger Taylor (Ben Hardy) and bassist John Deacon (Joe Mazzello) in support, churning out unforgettable instant classics like "Killer Queen," "Bohemian Rhapsody, "We Are the Champions" and "We Will Rock You." He was a 24-year-old immigrant outsider in London when he met the band named "Smile," became it's lead singer/song writer and turned it around to Queen.
Check out the trailer here: 
The family setup shown here is merely a frame for Freddie's angst. Facts are verbally ticked off to accommodate and highlight events that made Freddie what he was. His rise from a humble airport baggage handler to super success and then the downhill slide riding on his sexuality, alienation, substance abuse, other hedonistic pursuits and AIDS makes for a rooted picture but it's not really as affecting as it could have been. There's a benign superficiality to the manner in which his sexuality has been handled in the picture. It's a little strange that Freddie at 24 plus is shown as unaware of his own sexual desires. By all accounts it was his overt queerness that made him a standout performer but the film prefers to gloss over that aspect. The dynamics of his relationship with Mary Austin (Lucy Boynton), is also pretty much hazy. His lovers' Paul Prenter(Allen Leech) and Jim Hutton(Aaron McCusker)'s and his two pet cats have markedly different influences on his life and that's pretty much well delineated. The script has the necessary wit, Freddie's break-out antics are well documented and the excellent tech work makes it all blend in to form a composite whole but even without the forceful energy that Freddie brought to his onstage performances its Malek's exemplary act that really makes this film memorable.
Also Read: Rami Malek Was Shocked With 'Bohemian Rhapsody' Offer
Catch up on all the latest entertainment news and gossip here. Also download the new mid-day Android and iOS apps to get latest updates