TV personality Kylie Jenner was spotted flaunting ample cleavage while partying with her sister Kendall and model Cara Delevingne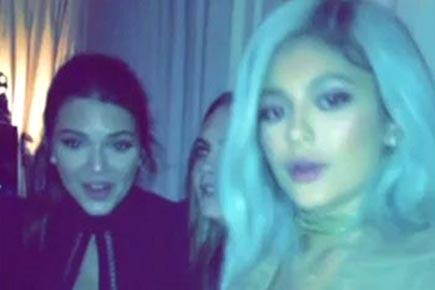 Kylie Jenner
Los Angeles: TV personality Kylie Jenner was spotted flaunting ample cleavage while partying with her sister Kendall and model Cara Delevingne.
The 17-year-old, who wore a cream coloured bralet and matching sheer skirt for the occasion, shared a video with her fans in which she was seen provocatively grabbing her cleavage, reports mirror.co.uk.
Another clip sees her dancing in her seat as she sits next to Cara Delevingne around the table and in the background someone can be heard shouting "get them all out!".
"These didn't make it to Snapchat so here you are Instagram," Kylie wrote next to the video.
While most fans praised the video, others were left with raised eyebrows, arguing that she was too young to be sharing such raunchy clips.