Ryan Reynolds-starrer Deadpool 2 not only gets you nostalgic about the glorious past, it also has what it takes to keep you roaring with laughter all the way through.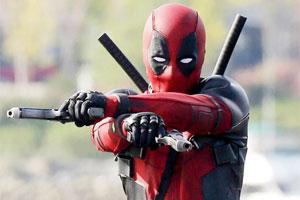 Deadpool 2 still
Deadpool 2
A; Action/Comedy
Director: David Leitch
Cast: Ryan Reynolds, Morena Baccarin, Josh Brolin, Zazie Beetz, T.J. Miller, Leslie Uggams, Jack Kesy, Brianna Hildebrand, Karan Soni, Stefan Kapicic, Julian Dennison, Terry Crews, Bill Skarsgård, Lewis Tan, Shioli Kutsuna, Eddie Marsan
Rating: 
There's nothing purely evil here other than the verbose, punch heavy, pot-shot wielding, invective-spewing script. The repeatedly resurrecting, wisecracking mercenary (Ryan Reynolds) whose one chance at love and family comes unstuck because of his own negligence( or so he believes) has to battle the evil and powerful Cable(Josh Brolin) and other bad guys to save a future X force fire-fist Rusty's (Julian Dennison) life - if he wants to gain entry into the gates of heaven where his ladylove Vanessa( Morena Baccarin) now resides. Yes, he is suicidal but his super-powers don't allow him an easy death. So the fans get another laugh riot and the producers can add up the millions raked-in at the box office.
Ryan Reynolds returns to his most rewarding cinematic playground -in the title role of Wade Wilson, in Deadpool 2, which might have been a hauntingly bleak and wrenching psychodrama but for the wicked humour that embellishes every thrust, parry and sully that stuntman turned director David Leitch (Atomic Blonde) dreams up. Leitch's film may not be distinguished by the rapid-fire (both verbal and stunt) pacing of the first but there's much more psychological depth here underlined by a deep-seated yearning for companionship and family, circumventing the perfidy inherent in its thematic schema. Its signature reluctance to take the usual superhero origin cliches seriously is whacky enough to get several guffaws.
This film starts with a blast - with our depressed hero immolating himself atop a pile of explosive fuel canisters, and then works its way back into a backstory. Well, as comic book fodder goes, the hero never dies dictum stays true. Deadpool 2 may be dead serious at times but even then there's no repressing the mirth within.
The script, credited to Ryan Reynolds, Rhett Reese and Paul Wernick, has the mutant Deadpool thundering through a series of high-octane, mind-blowing action before reaching the X-Mansion, all the while gaining and losing X-force members—including Domino (Zazie Beetz), Colossus (computer effects with the voice of Stefan KapiÄÂu00c2u008diÄÂu00c2u0087), Ellie Phimister / Negasonic Teenage Warhead (Brianna Hilderbrand), Yoiki (Shiori Kutsuna), Jack Hammer (T J Miller), Jesse Aaronson (Terry Crews) and pronouncedly Indian, Dopinder (Karan Soni). If you discount the lavish visuals, it basically amounts to a stand-up act of the hero ribbing us with his needy self-pity, narcissism and desperation replete with recorded footage of fight scenes, explosions and chases.
The orgasmic comic fuel includes pop culture references, nasty critiques about plagiarism and Oscar choices and musical serenades from Hollywood and Bollywood including, among several other hit numbers, Barbara Streisand's "Papa, Can You Hear Me?" from "Yentl," Dolly Parton's "9 to 5," A-Ha's "Take On Me" and the Hindi number sung by Udit Narayan, Kailash Kher and Hariharan "Yunh Hi Chala Chal" from "Swades" – which plays in Dopinder's taxi while he expresses his deepest desire to become a superhero. Deadpool 2 not only gets you nostalgic about the glorious past, it also has what it takes to keep you roaring with laughter all the way through.
Also read: Blake Lively gets Deadpool nail art for hubby Ryan Reynolds
Catch up on all the latest entertainment news and gossip here. Also download the new mid-day Android and iOS apps to get latest updates