The concept of magic is mined sporadically to gain some fantasy stakes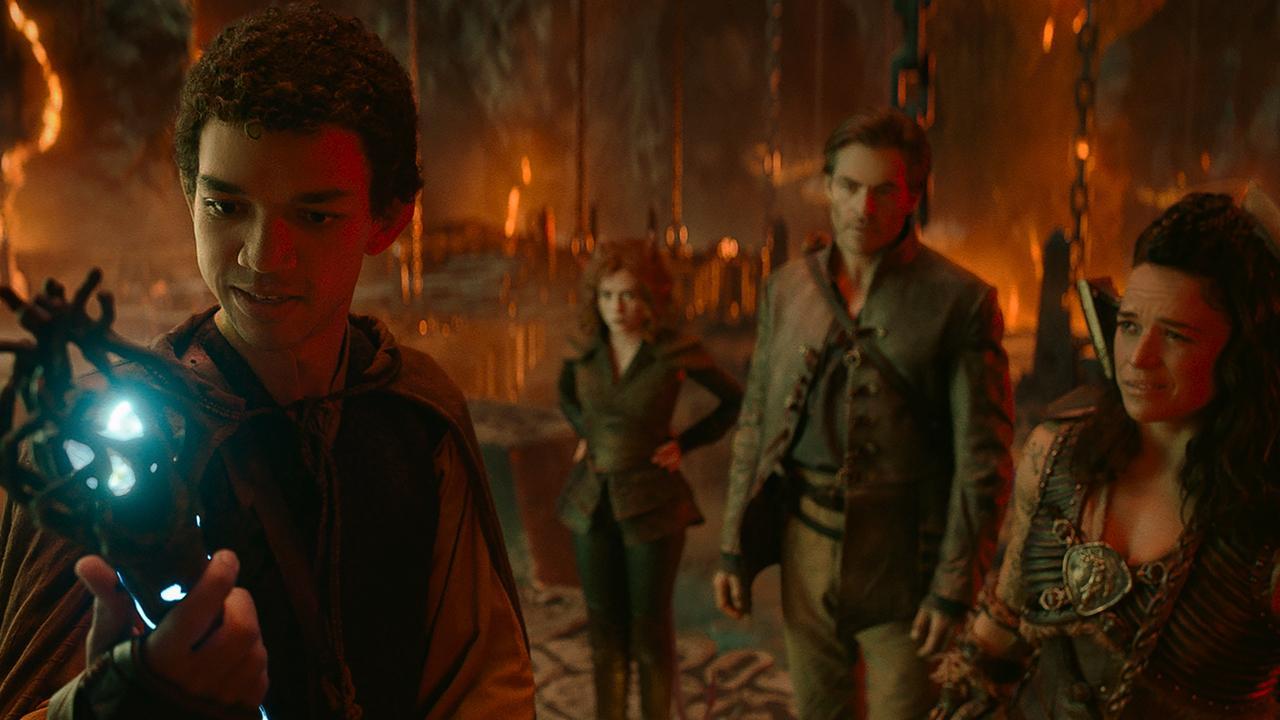 'Dungeons and Dragons: Honor Among Thieves'
Film: 'Dungeons and Dragons: Honor Among Thieves'
Cast: Chris Pine, Michelle Rodriguez, Regé-Jean Page, Hugh Grant, Justice Smith, Sophia Lillis, Chloe Coleman, Daisy Head, Kyle Hixon
ADVERTISEMENT
Director: John Francis Daley, Jonathan Goldstein
Rating: 2.5/5
Runtime: 134 mins
Launched in the 1970s, the role-playing game Dungeons & Dragons gained traction only much later… in the 1980s. In fact, the 1980s TV show Freaks and Geeks revolved around playing that game, and the show's star, John Francis Daley, is actually the co-director here alongside Jonathan Goldstein. That tidbit may be interesting trivia but for purposes of this review, it also begs the question as to how capable/or not, he is of transferring that same sense of adventure, challenge, and fun to the medium of cinema.
The game has well-established lore with various multi-media spinoffs and the fun really lies in the fact that it allows the player the freedom to create their own heroes - a fact that the movie is not able to do, as immersively. But Daley, Goldstein, and co-writer Michael Gilio try to achieve it in some form at least. They create the heroes and the audience is expected to revel in their thrill-seeking adventure. It might not be as satisfying as playing the game itself but the intention of creating visceral gamey thrills is not without its benefits.
This big-screen, big-budget adaptation of the game mildly mocks the traditional tropes of the fantasy genre, while also managing to inventively exploit them to gain a few low-key laughs.
Edgin (Chris Pine) is a smooth-talking but largely incompetent thief but his team-up with a tough, streetwise barbarian Holga (Michelle Rodriguez) - is enough to bail him out of trouble. His attempt to steal a reawakening Tablet with the help of an aging conman Forge (Hugh Grant),  Sofina (Daisy Head) a powerful Red Wizard, and a young sorcerer, Simon (Justice Smith) gets him into trouble. The next we see of Holga and Edgin is at a parole hearing from which they escape and land into even bigger problems. He now has to retrieve his motherless daughter Kira (Chloe Coleman) from the care of Forge but when he goes to get her back, he realises that Forge has other plans altogether. Escaping Neverwinter, Edgin and Holga reteam with Simon and enlist a shapeshifter, Doric (Sophia Lillis), to get Kira back and also bring Edgin's dead wife back to life.
The concept of magic is mined sporadically to gain some fantasy stakes. Shape-shifting, cross-portal deliverance, and chase sequences through mazes help make it seem gamey and play-worthy. Striking locations in Iceland and Northern Ireland make it all look inviting enough. The directors do the bare minimum to keep this attempt at entertainment afloat. A fairly coherent plot, decently choreographed action, real locations, and some rudimentary effects make it easy to digest if not entirely entertaining.  At 134 mins runtime, it tends to become a drag at times. The lack of punch in the self-mockery and the flighty ungainly action makes it all so imminently forgettable too!
Also Read: 'John Wick: Chapter 4' Movie Review: Mindless & Insane high octane action sequel with no new story to tell Have you watched `Bheed` in the theatres?