What you experience is an intense family psychodrama with the largely concealed emotional torment roiling it all up to a bitter harvest.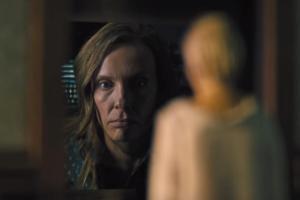 Hereditary
Hereditary
A; Drama, Horror, Mystery
Cast: Toni Collette, Gabriel Byrne, Alex Wolff, Ann Dowd, Milly Shapiro, Mallory Bechtel, Brock Mckinney
Director: Ari Aster
Rating:
Hereditary is a rare horror thriller that actually creeps you out with subliminal messaging linked to religious belief systems. Genre tricks are kept to the rare minimum while the atmosphere and real events take center-stage for the first 90 minutes of a breathless build-up of tension that could well displace your heart.
The movie opens to the death of Annie Graham's (Toni Collette) mother and leads us through to the funeral and the devastating aftermath that comes shortly after. We get to know the family quite intimately. Her husband Steve (Gabriel Byrne) is an archaeologist while Annie herself is a miniature sculptor, a creator of dioramas that mimic her family's real-life experiences. They are parents to a dopey teen Peter (Alex Wolff) and a thirteen-year-old daughter Charlie (Milly Shapiro). Charlie was brought up entirely by her grandmother, a devil worshipper, while Peter fosters resentment for being ignored by both parents' preoccupations. After Annie's Mom's death, the family appears to be shaken up. The large sized ranch house they live in becomes a cavernous space for overactive, insecure minds and slowly and steadily the family is beginning to lose its grip on reality.
The narrative makes use of real-life issues to create its arsenal of subliminal dread. Annie herself confesses to a long list of hereditary mental illnesses in the family - which suggests that Annie and the kids predisposed to mental illness as they are, also are potentially dangerous to themselves. The family seemingly begin to unravel cryptic and terrifying secrets about their ancestry. And it's slow burn from thereon. The trepidation thereof is heartfelt. A shocking incident follows and the family is set further adrift. Writer/Director Ari Aster deliberately makes it all seem a little confused. Are the Graham family really experiencing paranormal currents in their home or are they just imagining it?
Ann Dowd's entry as Joanne, a fellow loss survivor who lost her son and grandson in an accident, tilts the narrative towards mumbo-jumbo and genre trickery, though. Even so, there's a connectedness to the spiel that keeps the tautness and unease at a palpable level throughout. The four central performers are first rate. Toni Colette as Annie soldiers the huge responsibility of making it all look believable and does it with superb timing and skill. Cinematographer Pawel Pogorzelski's suggestively dark camerawork, Colin Stetson's besieging background score, and the befitting sound design enrich the experience of terror in an entirely new way. The influencers are obvious- even so, Hereditary stays away from the often misused tool, the Jump Scare. Ari Aster's supremely controlled and tempered helming allows for little respite from the resonating dread. What you experience is an intense family psychodrama with the largely concealed emotional torment roiling it all up to a bitter harvest. And it's the emotional fissures within the family that scare you the most!
Watch Hereditary Trailer
Catch up on all the latest entertainment news and gossip here. Also download the new mid-day Android and iOS apps to get latest updates