Blumhouse's latest horror story may not be intended to malign science but it does so by generating scares through an inventive macabre association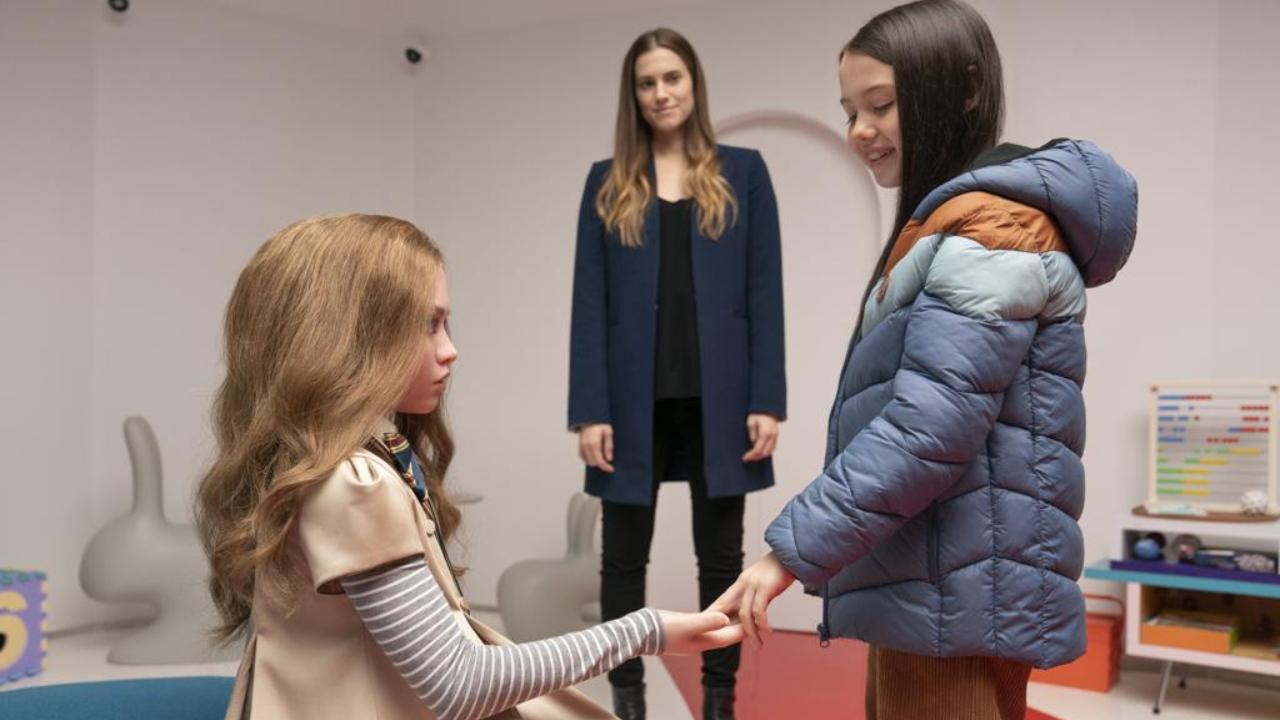 Still from M3GAN
Film: M3GAN
Cast: Allison Williams, Violet McGraw, Jenna Davis, Amie Donald, Jen Van Epps, Brian Jordan Alvarez, Ronny Chieng, Stephane Garneau-Monten
Director: Gerard Johnstone
Rating: 3/5
Runtime: 102 min
Cinema has not only taken science to new frontiers only imagined ( the Steven Spielberg oeuvre and many others) but has also shown us how unfettered research/ experimentation controlled by big industry can inadvertently turn our lives into hell. M3gan is one such example - though I wouldn't think that was the main objective here.
Blumhouse's latest horror story may not be intended to malign science but it does so by generating scares through an inventive macabre association. The main storyline involves a devoted roboticist, Gemma (Allison Williams), a career woman with zero childcare experience, making use of her latest invention, a Model 3 Generation Android aka M3gan to befriend her orphan niece, Cady(Violet McGraw) who has not yet recovered from the death of her parents in an accident caused by the distraction ensuing from yet another digital creation- an obnoxious Furby-like toy called a Purrpetual Pet.
The film opens with a sequence that sets the tone for what is to follow. Cady and her parents are on their way to an Oregon ski lodge for a winter vacation—until a snow plow appears out of nowhere while they are busy throwing accusations at each other regarding Cady's perpetual fixation with her Purrpetual Pet.
Also Read: 'The Invitation' movie review: Typical, easily predictable horror thriller
Scripting "M3gan" from a story by herself and James Wan, Akela Cooper makes this a satire that is both garish and morbid. The narrative underlines themes of reckless android-assisted parenting and anxieties of sudden motherhood while also tagging on unforeseen terrors that haunt single parents.
The life-like doll programmed to emotionally bond with the orphaned nine-year-old girl works several leaps ahead of what its program code intended. Instead of following instructions it begins to develop its own intel regarding its ward's protection - with obviously, terrifying results. While the audience may liken this set-up to 'Child's Play/Chucky' and 'Annabelle,' the difference here is that the Doll central to this more-than-likely horror-universe-in-the-making is a protector of the vulnerable child and not just a macabre spirit invested killer.
James Wan, in fact, was the one who gave Cooper, a long-time TV writer, her biggest break in cinema with the viral hit 'Malignant.' Cooper, as a well-established horror screenwriter now, does well to build up a strong interest with an audience eager to feel the chills creeping up their spine. Cooper's build-up to the first kill is quite surprising. Director Johnstone isn't helming this as a generic horror movie. The first half, post the accident, showcases the development of artificial intelligence and its negative effects on children.
Also Read: 'Avatar: The Way of Water' movie review: An aesthetically beautiful techno-marvel 
This film has already had a huge buzz and is already raking in the moolah with its inventive marketing campaign and gruesome outcome, across the territories its' has been released. It is by far, among the most skilfully engineered horror shows we have seen in a long time. Though not exactly up there on a scare scale, it manages to draw us into its contrived, ridiculous plot line and makes us feel the pain of allowing technology to rule our lives. The violence feels mandatory, rather than over-the-top but the consistent facetious tone is what gives "M3gan" power over her audience. This one's a winner for sure!