Many surprises and snubs in this year's first in-person gala, 93rd Academy Awards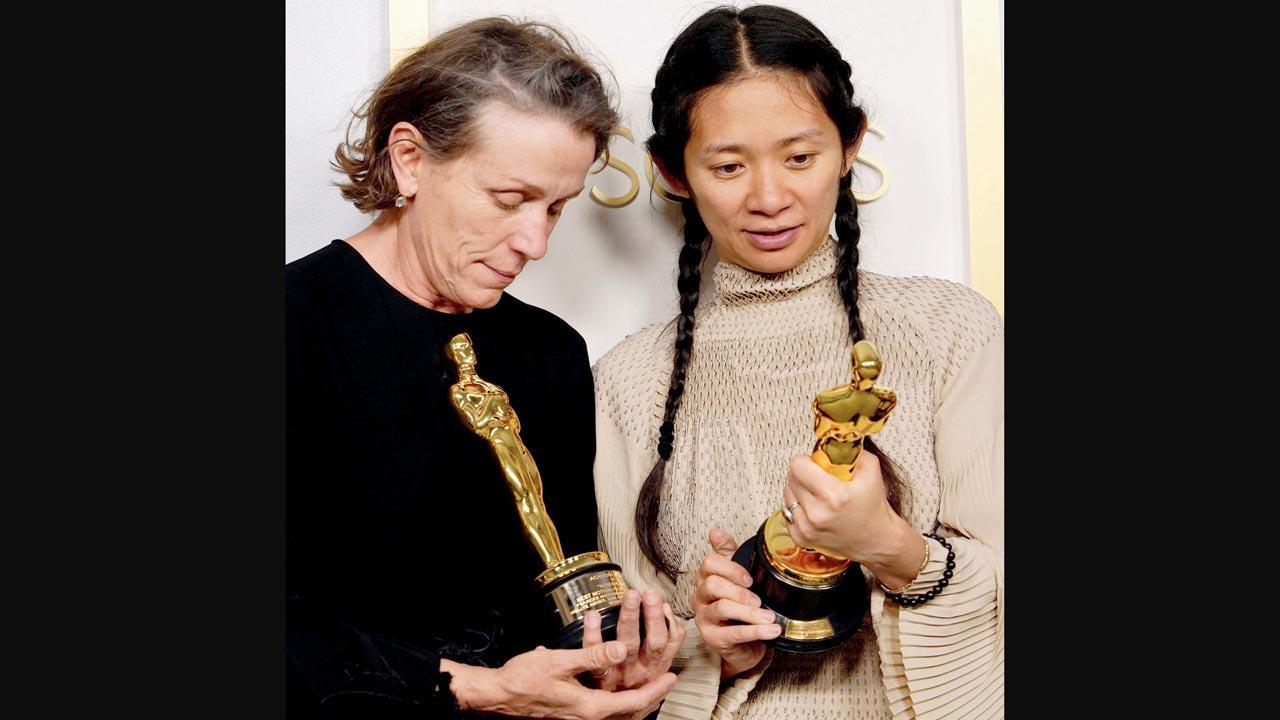 Producers Frances McDormand and and Chloe Zhao, hold the Best Picture award for "Nomadland" as they pose in the press room at the Oscars on April 25, 2021, at Union Station in Los Angeles. Pic/AFP
Chloe Zhao, shunned in China, feted in America
Frances McDormand won the Best Actress title for Nomadland, which also nabbed Best Picture, for director Chloe Zhao. Zhao is only the second woman to win the title, and the first woman of colour to do so in Oscar history. Ironically, her win wasn't celebrated in China, her homeland, where her name was either censored or downplayed by the Chinese government. She was apparently shunned for remarks made in a 2013 interview. 
My Octopus Teacher marks win for India
Pippa Ehrlich, left, and James Reed pose in the press room with the award for best documentary feature for "My Octopus Teacher" at the Oscars on Sunday, April 25, 2021, at Union Station in Los Angeles. Pic/AP, PTI
My Octopus Teacher, the tale of an eight-limbed creature and her human companion, won the Best Documentary title. It was 10 years in the making, and started as a personal video project by South African filmmaker Craig Foster, who aimed to rekindle his connection with nature by observing an inquisitive female mollusc near Cape Town. Indian environmentalist Swati Thiyagarajan was the production manager on the project. Directors Pippa Ehrlich, and James Reed took the gong.
Yuh-Jung Youn calls out Pitt
Yuh-Jung Youn (L), winner of the award for best actress in a supporting role for "Minari," and Daniel Kaluuya, winner of the award for best actor in a supporting role for "Judas and the Black Messiah," pose outside the press room at the Oscars on April 25, 2021, at Union Station in Los Angeles. Pic/AFP
Newly crowned Best Supporting Actress winner Yuh-Jung Youn called out her Minari producer Brad Pitt for mispronouncing her name. She became the first Korean, and only the second Asian woman to win the title.
Tenet wins for visuals
Christopher Nolan's Tenet won Best Visual Effects for its artists' work in the time-bending thriller. Andrew Jackson, David Lee, Andrew Lockley and Scott Fisher worked on it. 
HER wins title for Best Original Score 
(From L) Tiara Thomas, H.E.R. and Dernst Emile II, winners of the award for best original song for "Fight For You" from "Judas and the Black Messiah," pose in the press room at the Oscars on April 25, 2021, at Union Station in Los Angeles. Pic/AFP
Grammy award-winning artist, HER accepted the Academy Award for Best Original Song, a category in which Indian-American Savan Kotecha was also nominated (Husavik). 
Fat Max Gsus, co-nominated for Original Song "Husavik" and and Savan Kotecha (R) attend a screening of the Oscars on the early hours of April 26, 2021 in Stockholm, Sweden. Pic/AFP
HER's Fight for you was featured in the Oscar-nominated film, Judas and Black Messiah. Dernst Emile II and Tiara Thomas also took home a statue for their work on the song. "Musicians, filmmakers, I think we have a responsibility to tell the truth, to write history the way it was. Knowledge is power. Music is power and as long as I'm standing I'm always gonna fight for us," HER said in her speech.
More records set this year
Two stylists behind Ma Rainey's Black Bottom became the first-ever Black winners in the Makeup and Hair category. Makeup artist Sergio Lopez-Rivera, hair department head Mia Neal, and Viola Davis' personal hairstylist, Jamika Wilson, were awarded.
Irrfan, Athaiya remembered at gala
The traditional In Memoriam montage this year, set to Stevie Wonder's As, remembered those who passed away in the year gone by. Apart from Diana Rigg, Jerry Stiller, DMX, Sean Connery and Chadwick Boseman, Bollywood actor Irrfan Khan, and costume designer Bhanu Athaiya — India's first Oscar-winner — were also honoured. 
Riz loses to Hopkins
Anthony Hopkins; (right) English actor Riz Ahmed (L), nominated for Actor in a Leading Role for "Sound of Metal" and Fatima Farheen Mirza arrive at the Oscars on April 25, 2021, at Union Station in Los Angeles. Pic/AFP
Beating Riz Ahmed, leading man of Sound of Metal, Anthony Hopkins won the Best Actor title for The Father, making him the oldest actor to win the title at 83. Hopkins beat out firm favourite Chadwick Boseman. Other contenders were Steven Yeun of Minari, the first Asian American to be nominated in the category, and Ahmed, the first Muslim to do so.  Sound of Metal did take home the titles of Best Film Editing and Best Sound. Nicolas Becker, Jaime Baksht, Michelle Couttolenc, Carlos Cortés and Phillip Bladh took home the gongs. 
The winners
Best Picture
Nomadland
Best Actor
Anthony Hopkins — The Father
Best Actress
Frances McDormand — Nomadland
Best Director
Chloé Zhao — Nomadland
Best Supporting Actor
Daniel Kaluuya — Judas and the Black Messiah
Best Actress in a Supporting Role
Yuh-Jung Youn — Minari
Best Costume Design
Ma Rainey's Black Bottom
Best Makeup and Hairstyling
Ma Rainey's Black Bottom
Best Production Design
Mank
Best Cinematography
Mank
Best Animated Feature Film
Soul
Best Animated Short Film
If Anything Happens I Love You
Best Live-Action Short Film
Two Distant Strangers
Best Documentary Short Subject
Colette
Best Documentary Feature
My Octopus Teacher
Best Sound
Sound of Metal
Best Visual Effects
Tenet
Best Adapted Screenplay
The Father
Best Original Screenplay
Promising Young Woman
Best Original Score
Soul
Best Original Song
Fight for You
Best Film Editing
Sound of Metal
This story has been sourced from a third party syndicated feed, agencies. Mid-day accepts no responsibility or liability for its dependability, trustworthiness, reliability and data of the text. Mid-day management/mid-day.com reserves the sole right to alter, delete or remove (without notice) the content in its absolute discretion for any reason whatsoever