A morbidly corpulent, 500 pound plus, reclusive English teacher Charlie, who has let himself go following the shocking death of his lover, attempts to reconnect with his estranged teenage daughter for one last chance at redemption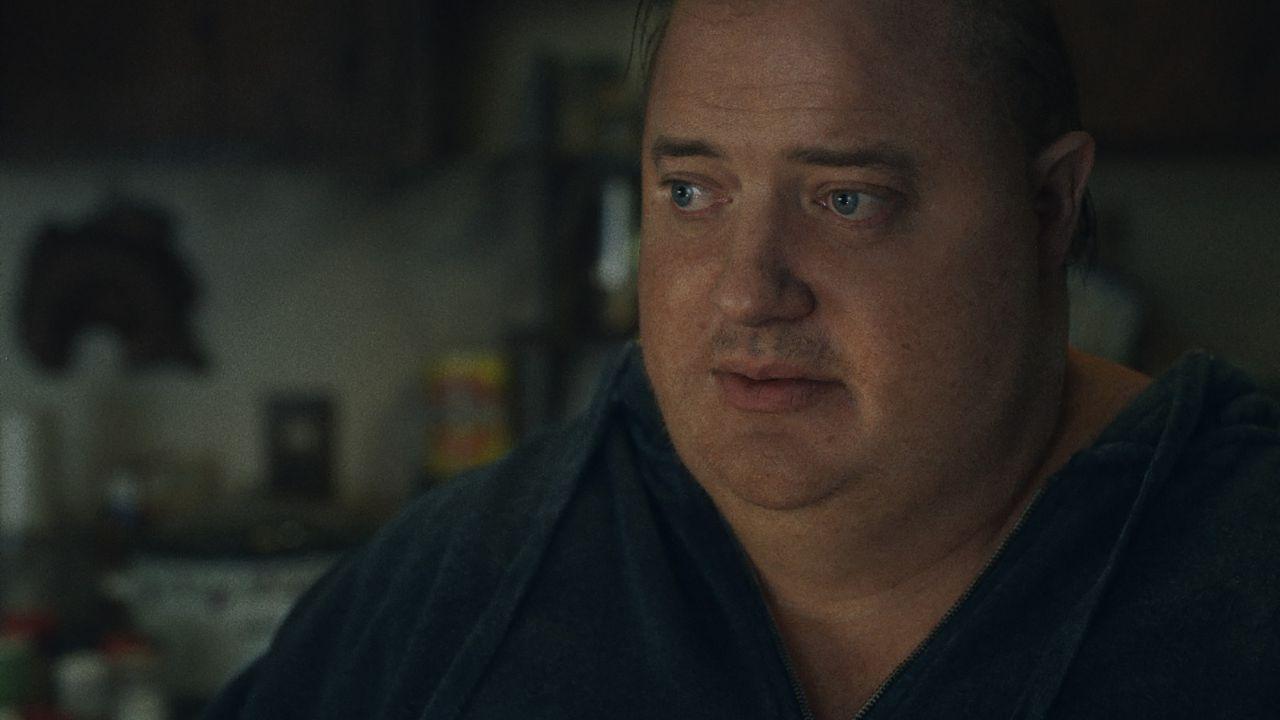 Still from the film
Film: The Whale
Cast: Brendan Fraser, Sadie Sink, Hong Chau, Ty Simpkins, Samantha Morton, Sathya Sridharan, Jacey Sink
Director: Darren Aronofsky
Rating: * * *
Runtime: 117 min
Darren Aronofsky's latest Oscar contender is a play-to-movie adaptation that depends mainly on performances to provide for its high points. Like in all his movies, the psychological travails of the central character becomes pivotal to the telling.
A morbidly corpulent, 500 pound plus, reclusive English teacher Charlie, who has let himself go following the shocking death of his lover, attempts to reconnect with his estranged teenage daughter for one last chance at redemption.
Its definitely not easy watching Brendan Fraser the  dashing, swash-buckling adventurer of 'The Mummy') in his 'epochal' career defining role, fat suit and all, grotesque in appearance and wallowing in self-destructive eating habits while making his last ditch effort to connect with his estranged daughter who looks on him as a cash cow.
Also Read: 20 Oscar facts and interesting trivia about the Academy Awards
"The Whale" forces us to gawk at the central figure and in the process tries to work up some sentimentality in his favor. But its quite a difficult ask. Seeing someone self-destruct in such fashion is really difficult for the viewer. It's even more heart-breaking for Liz (Hong Chau) his friend and caregiver who has seen him through his most difficult times and tries to be no-nonsense and stoic at the same time - while dealing with Charlie's resignation regarding his own oncoming death.
Also Read: Brendon Fraser eats himself to death in Oscars favourite 'The Whale' trailer
While Charlie leads a sedentary, solitary life boxed up in his cramped home, he gets a few other visitors. His teenage daughter Ellie (Sadie Sink) arrives and their first meeting exposes the deep rift that is symbolic of estrangement both emotionally and psychologically. Charlie is hopeful of cracking the prickly awkwardness but Ellie is not an easy study in affection. Charlie is clearly not interested in being saved but the contrivance of a new unexpected visitor to his home, an earnest young missionary (Ty Simpkins), feels forced even though his entry perhaps triggers a buoyancy in the relationship between father and daughter.
The script feels a bit incomplete, the editing isn't smooth and the dialogue feels rather forced. Aronofsky's longtime cinematographer, Matthew Libatique lends oppressive porosity to the drama through his cinematographic craft.  
It's really the performances that grip you here.
Sink makes her presence forceful, with her enactment of the sullen and unforgiving teen, Chau is wonderfully compassionate and resigned and Ty lends some off-beat interest to the drama but essentially its Brendan Fraser who looms so overwhelmingly over this defeatist spiel. His expressive eyes and facial movements lend weighty substance to Charlie and is definitely deserving of the Oscar nomination.