Actor, Director and President of Dhanush Fan club, Subramaniam Siva broke the news about Dhanush gifting the palatial home to his parents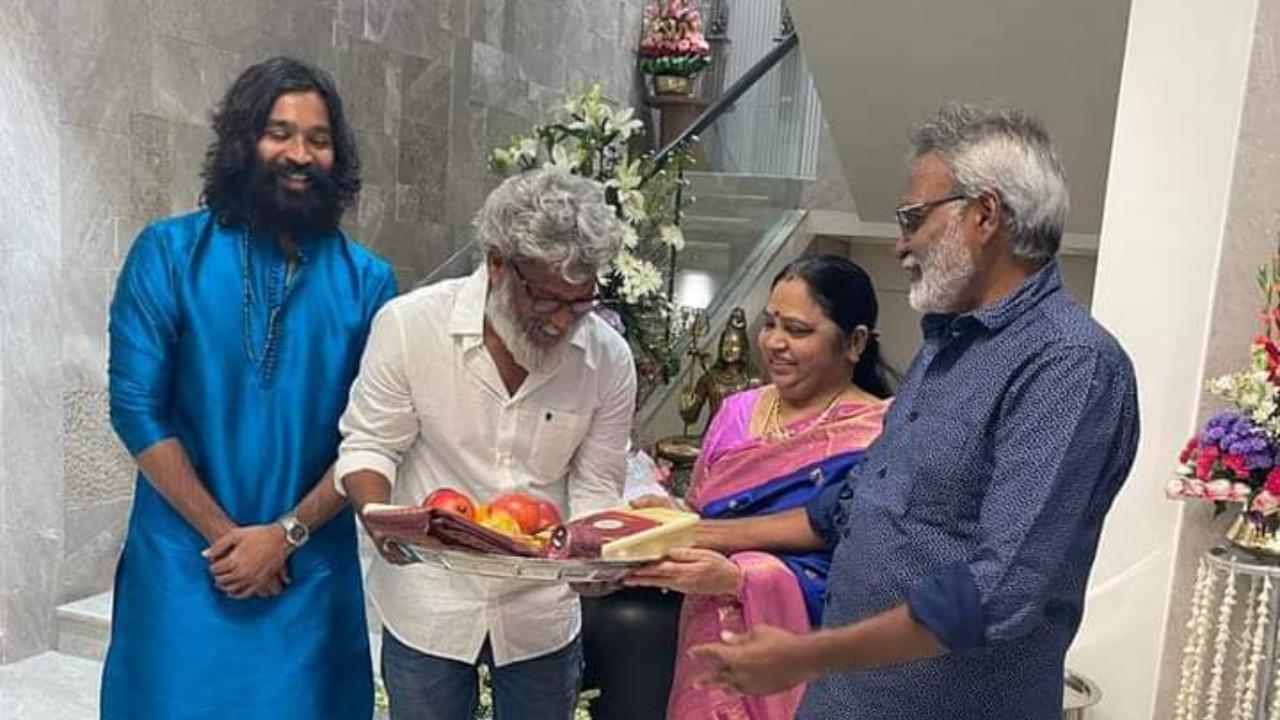 Dhanush with his parents
Tamil Superstar Dhanush, whose latest movie 'Vaathi' released on February 17 and collected more than 20 crore at the box office, is in the news for a different reason.
He has gifted a palatial home to his parents, Kasthuriraja and Vijayalakshmi. The beautiful and luxurious home is situated in the posh Poes Garden area of Chennai where former Chief Minister late J. Jayalalithaa has a bungalow.
ADVERTISEMENT
Actor, Director and President of Dhanush Fan club, Subramaniam Siva broke the news about Dhanush gifting the palatial home to his parents.
Siva said in a Tamil tweet: "My younger brother Dhanush's new house is giving me a feel of a temple. In his lifetime he has provided his parents a paradise-like home. Even more success and achievements will to chase you. May you live long and be an inspiration for the young generation in honouring parents."
தம்பி தனுஷின்
புதிய வீடு
கோவில் உணர்வு
எனக்கு😊

வாழும் போதே
தாய்,தந்தையை
சொர்கத்தில் வாழ
வைக்கும் பிள்ளைகள்,
தெய்வமாக
உணர படுகிறார்கள்😊

மேலும்,
தன் பிள்ளைகளுக்கும்,
மற்றவர்களுக்கும்,
எடுத்துகாட்டாகவும்,
உதாரணமாகவும்,
உயர்ந்து விடுகிறார்கள்..💕

வாழ்க தம்பி,❤️🙏🏻@dhanushkraja pic.twitter.com/kGBywHfr6c

— Subramaniam Siva Dir (@DirectorShiva_) February 18, 2023
Dhanush is a national award-winning actor and his performances in movies like 'Asuran', 'Thiruda Thiruda' and others catapulted him to the big league of Tamil film industry. The actor recently made his Hollywood debut with the film 'The Gray Man' directed by the Russo brothers. The film which was released on Netflix also stars Ryan Gosling and Chris Evans. 
Meanwhile, Dhanush's recent release 'Vaathi' (SIR in Telugu) received mixed reviews from the critics and audiences alike. The actor is currently shooting for director Arun Matheswaran's 'Captain Miller'. It is one of the most anticipated films of 2023. The actor also has a film with Telugu director Sekhar Kammula in the pipeline.
Also Read: Rajamouli, Dhanush, Shahid at star-studded 'Dasara' teaser release
While he had announced his separation from his wife Aishwarya Rajinikanth, the daughter of south Indian mega star Rajanikanth, there are unconfirmed reports that they have reconciled for their children, Yatra Raja and Linga Raja. Back in 2021, Dhanush and Aishwarya had attended the puja ceremony for the new house together. Rajinikanth and Latha Rajinikanth were also part of the puja. The marriage, according to unconfirmed reports, was reconciled due to the efforts of Rajinikanth.
(With inputs from IANS)