It doesn't help that you first hear the name Ponniyin Selvan itself, I guess, only in the final quarter of the film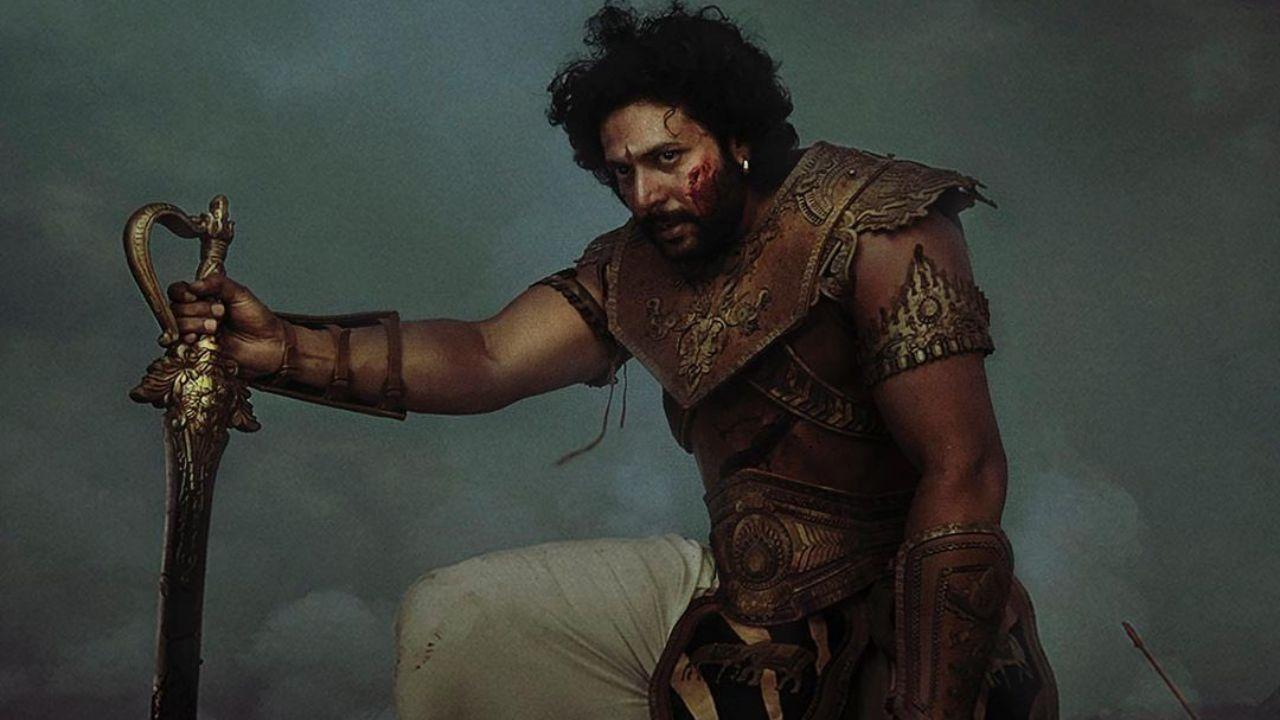 A still from the film
Ponniyin Selvan I
Dir: Mani Ratnam
Cast: Karthi, Vikram, Jayam Ravi
Rating: 1.5/5
This film traverses breathlessly, at breakneck speed, between way too many scenes, and set-pieces — from horses in battle, armada on high seas, to swashbuckling sword-fights — without a second for any kinda staging of emotions, whatsoever.
ADVERTISEMENT
The audience isn't supposed to simply soak in the stuff on screen. So much so that you begin to believe after a point, that maybe a lot of footage has been lost, and the movie has been stitched together, with only the high-points left over.
Either that. Or the filmmakers are totally unable to contain the enthusiasm for the material at hand. They devote themselves entirely, therefore, to simply cover page after page of the original text. Remaining, in turn, far too faithful to the book this film is adapted from. God knows, that hardly ever works — take Midnight's Children, the film, for the most popular literary instance.
The eponymous novel we're referring to here is Kalki Krishnamurthy's period/historical fiction from the 1950s. I'm told Ponniyin Selvan is a classic in Tamil literature; also household text for those familiar with the language. Not me, evidently. As a viewer, that makes me someone who might be clueless about, say Mahabharat, before watching it first time on. And that makes context-setting, on the part of filmmakers, all the more essential.
Also Read: BTS stars! Pratiksha Prashant reveals what went behind making Aishwarya Rai Bachchan and Trisha's jewellery for Ponniyin Selvan
It doesn't help that you first hear the name Ponniyin Selvan itself, I guess, only in the final quarter of the film. It's the nickname for the younger prince of Chola kingdom, Arulmozhi (Jayam Ravi), and he's been around all through. The parts with the elder prince Karikalan (Vikram) seem more engaging, but they're too few and far between.
Both these warrior princes are fighting random battles in two different parts of the world, while a conspiracy to take over the kingdom by the second-level elites is being hatched in another part.
The fine king (Prakash Raj) is clearly chilling back home. Yet, it's not that the film is centred on these characters, as much as a soldier-spy Vandiyadevan (Karthi), hanging with a useless sidekick, asked to warn the king of his throne slipping away.
Between folks mentioned above, and indeed the princess, queen, treasurer, his wife (Aishwarya Rai Bachchan), the commander-in-chief, and so many others that the movie goes back and forth with — what do you really make of the first part of Ponniyin Selvam, shortened to PS1? Very little, beyond the fact that soon as you settle into a character/scene/scenario, the movie simply moves on.
Making this, along with Mani Ratnam's Kadal (2013), and Raavan (2010) before that, the hardest for me to penetrate as an audience. Katru Veliyidai (2017) was of course another (crappy/toxic) story altogether.
Ratnam is at his best, as was mostly the case in the '90s and early noughties, when he keeps it straight and simple — as with OK Kanmani (2015), more recently. Same with his partnering composer, AR Rahman. PS1 is credited as an 'AR Rahman Musical'. Doesn't bode well, that I have not a single tune even casually buzzing in my head from it. I know you need to hear ARR songs a few times, before passing comment. Would I? Don't know!
And yet, it hardly takes a keen eye to observe/laud the effort put into this visually captivating canvas — in terms of locations, lighting, VFX, production design; scale, basically. It'd be unfair to summarily dismiss PS1 as BS1, and get on with it. You do a double-take sometimes and look up, alright — especially the combat sequences, with (Ravi Varman's) camera pacing through crowds, with actors in sharp close up, faces covering the giant full-screen.
The only time the camera does calm down for a bit is to admire the beauty of actor Aishwarya Rai Bachchan. No complaints there, as she opens an electronically-operated door to the Chola Dynasty treasures of late 10th century!
Only there's hardly much in that part either, as of the others, to glue you to what happens next. Maybe the story is just not leaping off the pages, as it should? Or perhaps a lot of the prose/poetry of this picture is lost in translation — and that I watched the version dubbed in Hindi?
Also, to let you in on an unnecessary detail: I kinda watched Ponniyin Selvan twice, back-to-back. First day, first show, at 8.30 am, that I was late for, so I missed the first ten minutes, and couldn't tell anything of what was going on.
I snoozed through that show, to start again, right after, at noon. And couldn't tell so much of what's going on still. Only relieved once the double-bill ended with the announcement of the film's sequel, slated for 2023. Watching PS2 as intently, of course, would be victory of hope over experience. Unless I decide to read the book this time on — but then what's the point, Selvan?
Also Read: Raju Srivastava's daughter pens a note to Amitabh Bachchan Are you excited to watch Hugh Jackman return as Wolverine for Deadpool 3?