A film of this sort primarily hinges on what are called 'money shots'. Or what in Manmohan Desai's time were termed a picture's "highlights".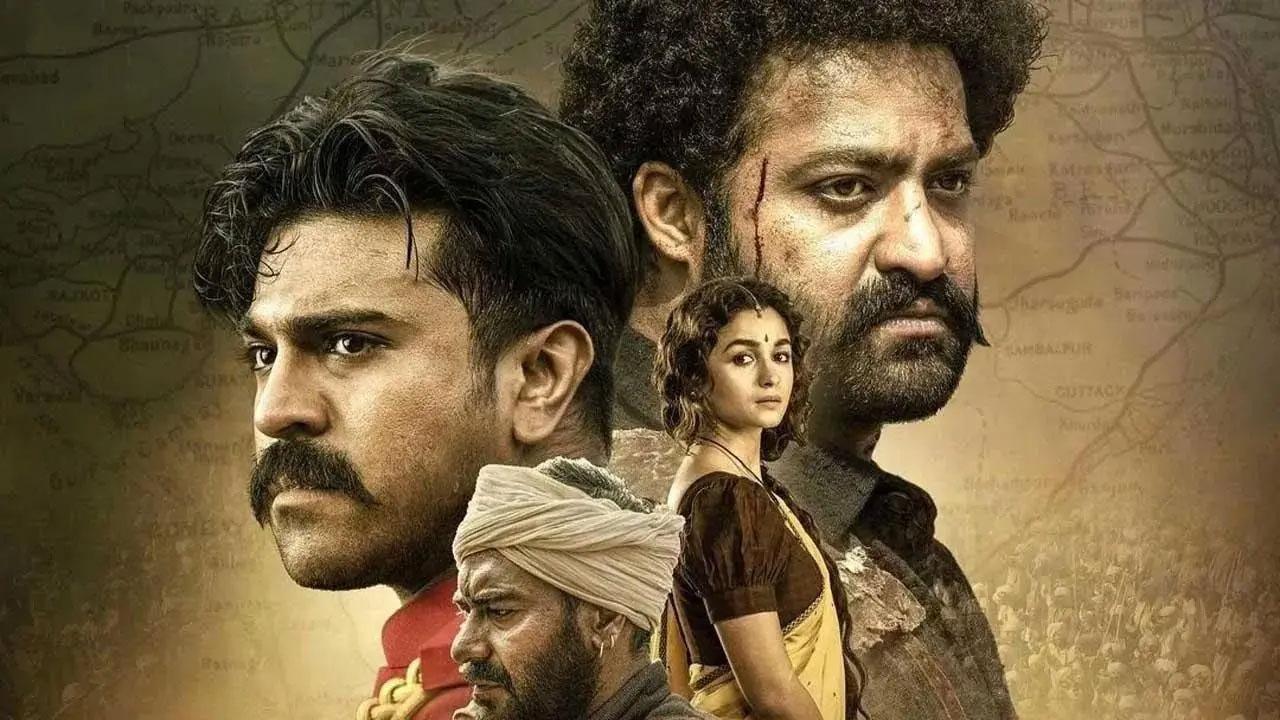 'RRR' Poster
RRR
Director: SS Rajamouli
Cast: NTR Jr, Ram Charan
Rating: 3/5
If the great Manmohan Desai (1937-94) could tinker with the sort of technology that big-budget cinema is currently capable of, I think he would've visualised RRR. 
A leap of faith so over the top of anything you'll imagine for a period movie, that the only reason audiences feel safe, all through, is knowing that they (or the film) won't fall after all. Such is their conviction. It directly flows from the director's own. He knows what he's doing.
The SS in SS Rajamouli stand for special-effects, and (stylised) sets (including props)—designed by Sabu Cyril, with such love and care, that it deserves to be preserved for posterity/tourism. The way you can visit Jodhaa Akbar's set at Karjat's ND Studio still, or in fact Baahubali's, partly left intact, in Hyderabad's Ramoji Rao Studio. 
A film of this sort primarily hinges on what are called 'money shots'. Or what in Manmohan Desai's time were termed a picture's "highlights". The crackling ones are obviously the opening/intro scenes of the two heavyweight leads in the film: NTR Jr and Ram Charan. 
Ram Charan plays a cop in the mighty British Empire, who throws himself into a massive crowd of sardars (protesting the arrest of Lala Lajpat Rai). He runs through the 'bhasad', like a beast possessed, in a display of ginormous heroism, taming hundreds of protestors to pulp, all by himself. NTR Jr is wilder still. Having grown up in the forests (in the film). To establish that is a chase sequences between the hero, a brown hyena, and a roaring, fat, kinetic tiger—with the camera zooming in on NTR Jr's calf muscles, veins popping from above his wrist. The effect is glorious, especially the tiger portions—something that 3D, as with Life of Pi (2012), could enhance even further. 
There is also the third 'money shot', among others, where both NTR Jr and Charan kinda face-off for the first time. And this is to save a child, drowning in the sea, under a bridge, from where a train has collapsed. One hero in a horse, the other in a motorbike—both charging into the water below, from the bridge above, with ropes they swing on eventually. 
This is just to answer the essential question about 'paisa vasool', often posed for pictures of this sort. Yes, it is your money's worth—even more so for extra, free AC in the hall. The movie lasts over three hours. The show in my theatre began around 9.30 pm. By the time it was over, and I was texting my friend—"Mad. Fun, only. Too loo…ng"—it was way past 1 am (technically, morning), and I was still waiting for cab!
Yup this is a long roar. And you don't mind extending a long rope. Also, this is how Hindi pictures were watched back in the '70s, '80s, '90s. Pop-culture is quite cyclical that way—nothing ever goes away, really. While that's truest for fashion, music, applies to mainstream films too, you can sense. 
Just that if you told me, merely a decade ago, that hardcore Bollywood audiences across the country (from Delhi to Bombay, Pune to Purnea) would round their lips to whistle, and queue up for a full-on Telugu blockbuster, starring NT Rama Rao's grandson, and Megastar Chiranjeevi's son, for leads—with Ajay Devgn, Alia Bhatt brought in as extras for 'diversity quota'—I'm pretty sure, I'd go, Grrr.
Such has been the Rajamouli, or rather the Baahubali, or indeed the RRR effect, if you may. Observed likewise with Pushpa, the Allu Arjun, pan-India super-hit. A tipping point of sorts for how hardcore, quality, desi, tentpole entertainment, no matter from where, has the unique tendency to unite this nation, outdoors. In a way that only sports has so far. 
This shouldn't be so surprising either. For, the underlying emotions in a fable are usually universal, isn't it? In the sense of a story of two brothers, from another mother. Where both men are revolutionaries, in their own way—Raju (Charan), Bheem (NTR Jr). Only that despite turning into best buddies, Bheem doesn't once figure that Raju is in fact a cop; further still, looking for him! Who cares? 
Look at it like Sholay—there's the song in the closing credits dedicated to it. See it as Ramayan, if you like—with Bheem, the Hanuman from the forests, who's in Delhi, to communicate with and rescue a girl, trapped in Lanka.  Why this little girl has been kidnapped from the forests in the first place is unclear tome. Go further down Ramayan, and Raju, in fact, turns into Lord Ram himself, literally, with a bow and arrow. This is the signature style of story writer, KV Vijayendra Prasad, 80, also behind Baahubali (2015, 17), Bajrangi Bhaijaan (2015), Manikarnika (2019). 
Sure, you can see Ram, Lakshman, Sita (that's Alia's character). Who's the Raavan though? The British, of course. Like in Manmohan Desai's madcap Mard (1985)—a series of serious jerks for replaceable, growling white men, who "mustn't treat Indians like animals", which is actually an affront to animals. 
The imperial women are somewhat better humans, though not all. One of them is deeply upset that while Bheem is getting lashed in public, he's not dripping blood. "There is no blood," she yells. "You're quite vicious, my dear," says her equally grotesque Caucasian husband. We're happy to unite against a common Indian enemy.
RRR should have been the big Republic Day or Independence Day release—especially the latter, given that we are commemorating 75 years, of freedom from the British, no? Not a war against Pakistan (as most Hindi films on such occasions celebrate)!