In today's episode of 'Bigg Boss 9', Roopal Tyagi and Kishwer Merchantt get into a catfight. Find out why the two housemates lose their temper and watch the drama unfold in video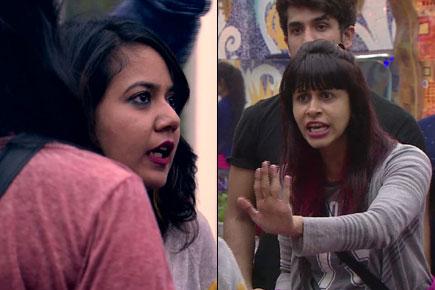 'Bigg Boss 9' Day 8: Roopal and Kishwer have an ugly spat!
Upset that ex-boyfriend Ankit Gera got evicted, Roopal Tyagi has an emotional outburst when Ankit Gera bids goodbye to the Bigg Boss house. Guilty about nominating him for eviction, Roopal's tears are being pacified by the housemates. (Watch video)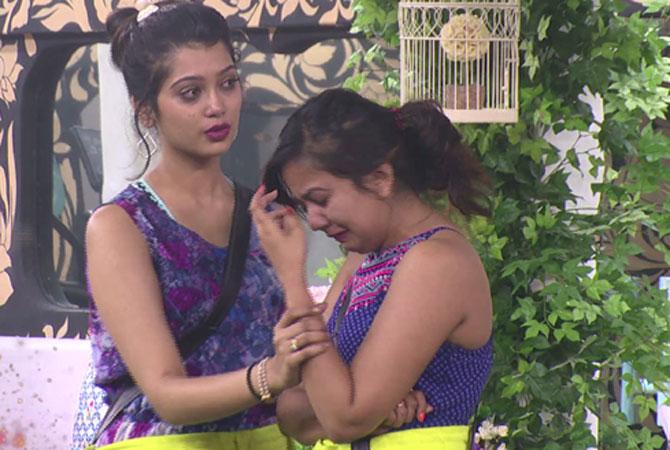 Roopal Tyagi breaks down after ex-boyfriend Ankit Gera's exit
ADVERTISEMENT
While Digangana Suryavanshi, Suyyash Rai, Kishwer Merchantt and Prince Narula are telling Roopal that she can now be friends with Ankit outside the house, Roopal is unsure if they will even talk outside. Looking at Roopal's condition, even Digangana and Kishwer cannot help themselves but shed a tear or two. Seeing that her emotions are playing havoc with her, Rochelle Rao and Keith Sequeira also try to make the damsel in distress feel better.
Watch video: 'Bigg Boss 9': Roopal reveals she has 'soft corner' for Ankit
On the other hand, Prince, Vikas Bhalla and Yuvika Chaudhary feel bad for Arvind who is missing Ankit badly. They feel that Arvind is on the show to really live life and has a lot of dreams pinned on this show.
Caught in a private conversation and comparing themselves to Suyyash and Kishwer, Keith and Rochelle speak about how they do not want anyone else to interfere in their issues. They say that if there ever is a problem, they will solve it then and there. Adding on, Rochelle says that her equation with Mandana has become better and they now understand each other well.
Also read: 'Bigg Boss 9': Rochelle, Mandana get into catfight on Day 3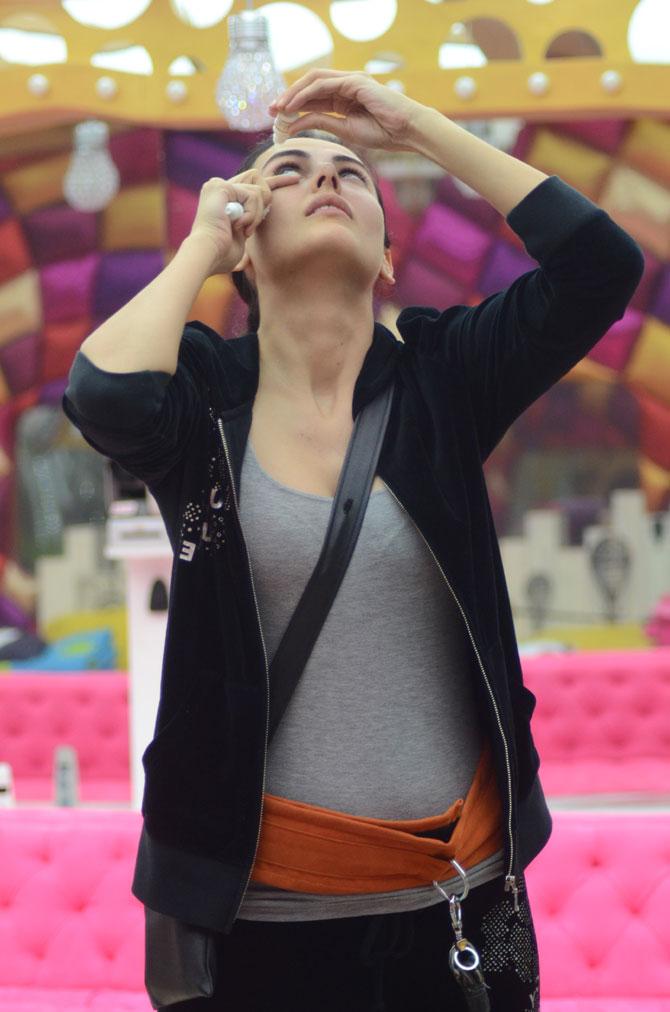 Mandana Karimi
Worried that her partnership with Rimi will have her evicted, Rochelle opens up to boyfriend Keith about her concern. Pacifying her, Keith says being nominated does not necessarily imply that she will be evicted and advices her to hold strong.
Also read: 'Bigg Boss 9' Day 4: Rochelle snaps at boyfriend Keith
Not wanting to call it a night, Roopal and Digangana discuss the next day's nominations with each other after lights go out. According to them, Prince is playing a game and he cannot be trusted. On the flipside, they believe strongly that Aman is a really good guy who has been misjudged.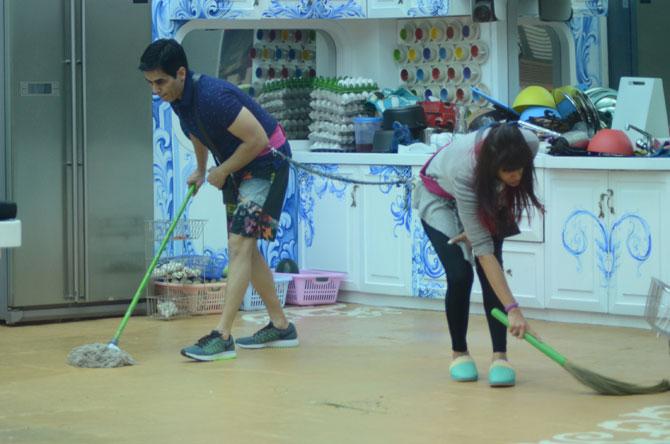 Aman Verma and Kishwer Merchantt
Mandana, Keith and Rochelle are discussing how the Snapdeal call revolved around the trio and why everyone wants to make a big deal out of Mandana-Keith's bond. Stating that she would not even care if Keith and Mandana are alone in the pool together, Rochelle reinstates her security.
Also read: 'Bigg Boss 9': Are Prince and Yuvika the new lovebirds?
When Aman joins the conversation, the discussion takes a turn towards how the 'Punjabi boys' are playing a game. Upset that Salman Khan called him an 'angry, young man', Suyyash opens up to Digangana about his concern of being projected in the wrong way. Discussing how the only Bollywood face in the house Rimi Sen is in the house for a reason, Suyyash adds that there was a reason why Shahid Kapoor and Salman Khan were telling Rimi to be herself. Observing that Rochelle suddenly changed her opinion about Rimi being a weak contender when she got paired with her, Suyyash says that he does not believe Rochelle is genuine.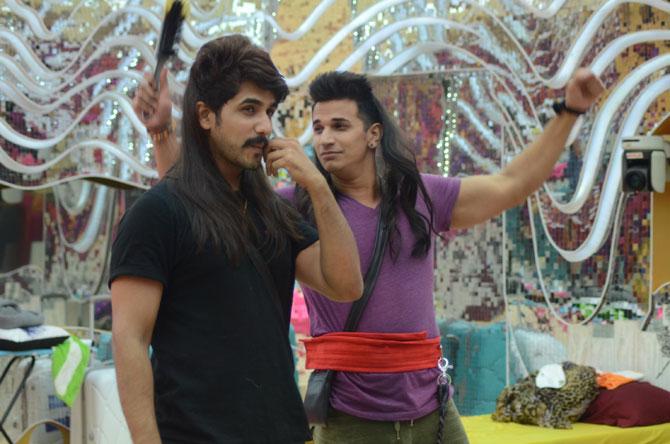 Suyyash Rai and Prince Narula
During the nominations, Bigg Boss throws another googly at the housemates by announcing that the nominated pairs have to decide which one of the pair would finally get nominated. While a few contestants willingly sacrificed their safety, a few were seen at loggerheads with each other.
When Bigg Boss gives the contestants a chance to reclaim their lost bags, excitement becomes a prominent emotion. Calling it the 'Nilami Task', Bigg Boss tells them that the four contestants without their bags (Keith, Suyyash, Prince and Digangana) are required to bid for their bags. The minimum bid starts at Rs. 3 lakh and the total sum of the bids would get deducted from the total prize money.
Also read: 'Bigg Boss 9': Prize money reduces from Rs 50 lakh to Rs 39 lakh!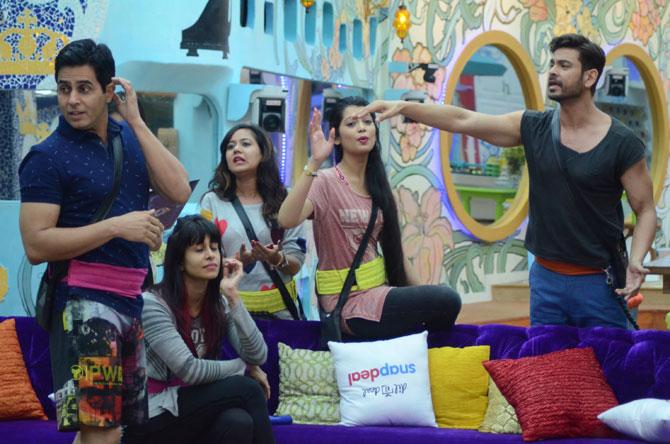 Aman, Kishwer, Roopal, Digangana and Keith in the midst of an argument
Not understanding the task well, Suyyash, Prince and Digangana think that the highest bidder would get their bags back. They go ahead and bid for their bags, putting a heavy price against their bags. On the other hand, Keith opts out of the opportunity by writing a big fat zero on the board, understanding that the prize money is important for all contestants. While Suyyash, Prince and Digangana receive their bags, Keith's intelligence gets him everyone's empathy but not his bags.
All hell breaks loose when the housemates realise that the prize money now stands at Rs. 39,66,667!
When Kishwer hyperventilates about the money getting deducted, a peace-loving Roopal bluntly tells her to stop trying to get footage by fighting and raising her voice. This irks Kishwer who asks her if she is trying to make a point just because Salman told her she is coming across as silent. Ouch!
Also read: 'Bigg Boss 9': What made Roopal and Kishwer cry on day one?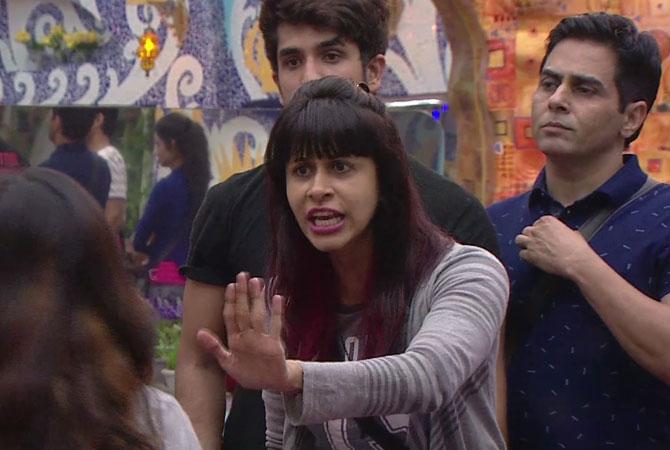 Kishwer Merchantt and Roopal Tyagi have an ugly spat
As an aftermath, Mandana surprisingly calms the situation by saying that Bigg Boss is a mind-game and the contestants should be more prepared the next time. Roopal believes that Prince and Suyyash just pretended to be dumb during the Nilami task. In reality, they just wanted their bags back.
What twist will tonight's nominations bring?
"Exciting news! Mid-day is now on WhatsApp Channels

Subscribe today by clicking the link and stay updated with the latest news!"
Click here!