Akoori, a new web series, is already streaming live on Zee5, which shares a story of whacky family and their relationships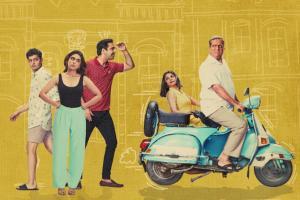 Akoori
Zee5 Original released a new web show named Akoori, which is based on whacky family ties. While the father, played by Darshan Zariwala tries hard to keep his weird family intact, his wife is under coma for a few weeks. Keeping the entire family sane and normal, Darshan falls for his neighbor, played by Lillete Dubey. Known for its own quirks, Akoori stands tall amidst the clutter of other dysfunctional family stories.
From falling in love at the second innings of his life to going strong with his daughter and his son, who he thinks is Gay, a Bawa makes this one looks like a hilarious take on urban relationships.
When Dara (Darshan), a 55 year old bigot, in the midst of trying to protect his property from the hungry clutches of his cousin and hotel industry agent Zeus(Adi), finds his wife in a coma, on Rita's(Lillete) insistence he is forced to invite his children Kaizad and Jehan(Shadab and Zoa), who blatantly despise him and vice versa. What ensues is a drama wrapped in tragic hilarity when the dysfunctional Irani family realize that it will take a lot more than a common last name to survive under one roof.
Check out the trailer of Akoori right away:
Inspiration of the series: Akoori means scrambled eggs in Parsi. The significance being the coming together of all different ingredients that make one delicious dish. Written and created by Nikhil Venugopalan, who also Head's Creative- National for Zee5. The characters and story are loosely based on the writers family.
Written originally as a mallu centric story, Nikhil decided to convert it into a Parsi family given the eccentric nature, relatability and an overall fondness for the community. Co-writer Kersi Khambatta's insights added to the hilarity of the series. Nikhil also was the mind behind Creating and developing 'Zero Kms', Zee5's first action thriller series starring Naseeruddin Shah and also curated path defining web series like Karenjit Kaur and family comedy Babbar Ka Tabbar for Zee5.
Join this crazy family as they try to mend their relationships and come to term with their loss. The web series has gone live on Zee5 from August 30.
Catch up on all the latest entertainment news and gossip here. Also download the new mid-day Android and iOS apps to get latest updates