TV couple Divyanka Tripathi and Vivek Dahiya keep fans updated by posting photos on social media. The 'Yeh Hai Mohabbatein' actress, however, got into an ugly spat with fan who abused her husband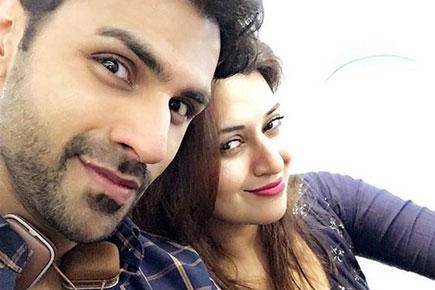 Divyanka Tripathi trashes fan for abusing her husband Vivek Dahiya
Beloved TV couple Divyanka Tripathi and Vivek Dahiya keep their fans updated by posting pictures on social media. Recently, however, the 'Yeh Hai Mohabbatein' actress got into an ugly fight with a fan who abused her husband Vivek, lead actor in TV show 'Kavach - Kali Shaktiyon Se'.

It all started when Vivek Dahiya shared a photo on his Instagram account. A fan decided to question Vivek's intention of marrying Divyanka.

The fan alleged that Vivek Dahiya married Divyanka Tripathi for her money and fame.
The fan commented on the picture above saying, "You are so pathetic. Everyone knows you never loved Divyanka. Just for fame and money that the main reason you married Divyanka. I feel really bad for her. Her choice was so wrong. She loves you so much. You never loved her. (sic)"

On reading the comment, Divyanka Tripathi lashed out at the fan and replied, "Just shut up you loser... do not take my side when you don't even know us enough! You attention seekers have no other job! It's a couple's decision and the world is definitely not a part of it. Specially you bashing idiots don't ever take my name again. Like us... be here! Don't like us... Don't bother to even peep into our post. (sic)"

That's not all. Later, another fan commented on the photo saying, "Hmm.. uh oh.. someone hits the sensitive topic. I'm a big fan of div even before yhm, but i'm a bit disappointed when she responds to fans this way . Unfortunately, getting bashed and overexposed on a personal level is a part of the "celebrity status." Yes, no one deserves being puts down, but as a public figure, you just got to ignore these because how many mouth can you shut. Ankita and her parents fall into these traps many times and it shows how uneducated and unrefined they are. Yes, these basher has not business in judging and making assumptions of their relationship, but div shouldn't show her vulgarity in telling her fan to shut up, calling them losers or idiot. This is on my honest critique. In America, many celebs has PR reps and public image consultants to guide them in dealing with the public. But honestly, just ignore as you can control people's thinking, time will tell. God bless this handsome couple. (sic)"

Divyanka Tripathi hit back at the fan saying, "@emequyen darling... None of my comment was vulgar. These people bashing here are on a mission to defame me and they are repeat bashers. Not that they are being paid attention at....but they'll get the jolt for their deeds. You are definitely not in the likers list too when you use a word like 'vulgar' for me. I'll handle my life and my social media my way. You too have a non-judgmental good day Sweety. (sic)"

The fight didn't end there! Several nasty comments were exchanged between Divyanka Tripathi and her fans. Till date, the picture has over 700 comments.

The news of Divyanka Tripathi, one of TV's leading actresses, and Vivek Dahiya's marriage came as a surprise to many. Vivek Dahiya was a supporting actor in Divyanka's show 'Yeh Hai Mohabbatein' and rose to fame by bagging the lead role in Ekta Kapoor's TV show 'Kavach - Kali Shaktiyon Se'.

Gossip mills were abuzz with rumours that Divyanka and Ekta's rapport helped Vivek bag the show. The couple, however, denied such reports.