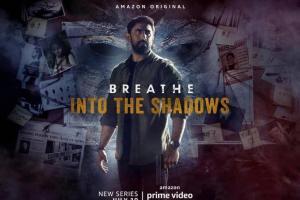 Amit Sadh in Breathe 2. Image sourced from mid-day archives
Amazon Prime Video's 'Breathe: Into The Shadows' released on the 10th of July and received rave reviews for its engaging storyline and thrilling content. The series sees Amit Sadh play the role of Inspector Kabir Sawant and in a recent interview, the actor opened up about his character, the response that it received and much more.
Talking about the response to him reprising his role as Senior Inspector Sawant, Amit shared, "I have always believed that character is more important than screen time. Kabir's character is not just my success - it is the success of the whole team. I am glad to see that the audience is loving my character on the show. The credit for the phenomenal character Kabir Sawant goes to all those who have worked very hard and done a fine job of shaping the character. If I can be selfish for a second, I would say I am extremely thankful, touched and numbed to see this kind of response. In all honesty, I have never received such an overwhelming response to my performance in my 14 year career span since my television debut – it is a humbling experience."
Talking further about taking up roles that are 'quiet but strong', the actor further added, "There is no preference towards a silent role as such. Personally, I am mad about acting and it brings me pure joy to come in front of the camera and play the role created by so many geniuses behind the screens with conviction. With Kabir Sawant though, the way he intertwined with my personality and resonated with the audience was special. The dark and gripping character is what attracted me towards this rollercoaster ride."