This series surely has a beginning. In the first scene itself—one morning, a man is murdered by his neighbour, who injects poison into coconut water left at the door.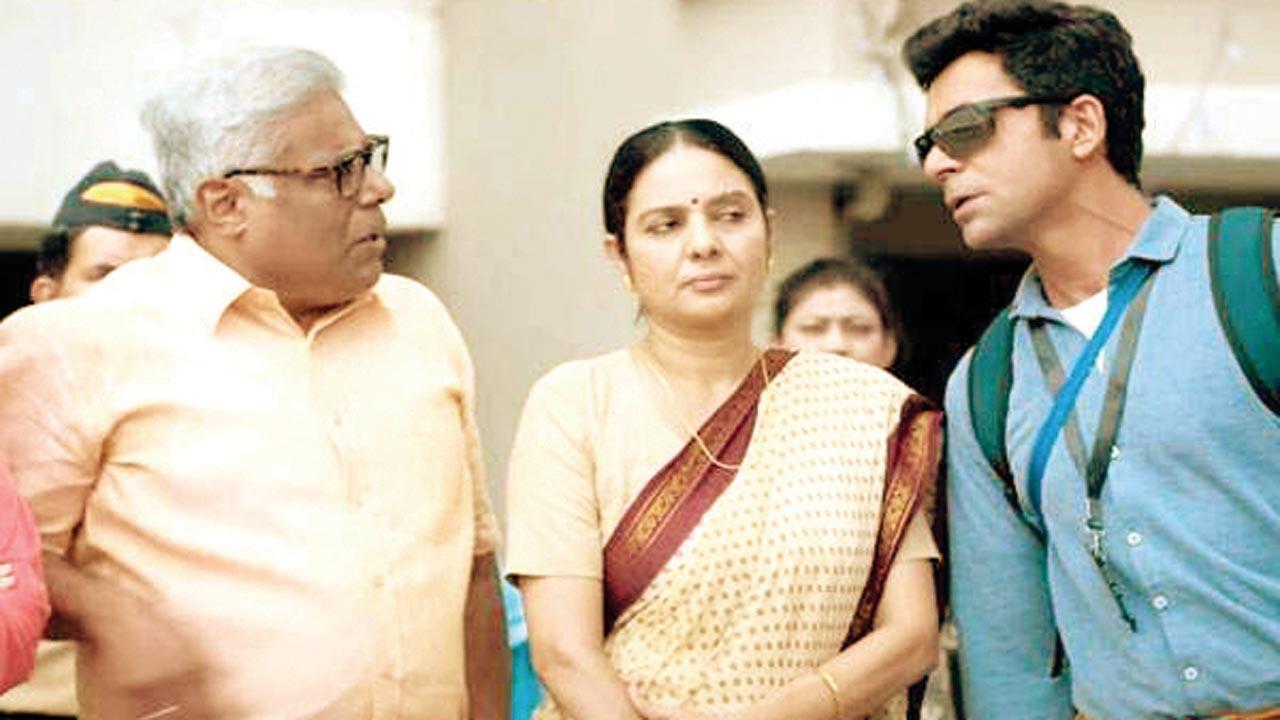 A still from Sunflower
Sunflower
creator: Vikas Bahl
Cast: Sunil Grover, Ranvir Shorey
On: ZEE5
Rating: 1/5
No, seriously, what did I just watch? Why don't you, so you can please let me know? Treat that as a recco, if you may!  In general, a feature film, no matter how bad, has a beginning, middle and end. 
With a terrible web-series, or television as it were, there is a beginning alright, but middle after middle after middle, with hours feeling like days. Until you finally hit the end of what's been an excruciating experience—only compensated for the fact that at least you're not inside a dark hall, tolerating a visual assault on the senses.
Watch Video
This series surely has a beginning. In the first scene itself—one morning, a man is murdered by his neighbour, who injects poison into coconut water left at the door. Nutty as that sounds, you look askance at what happens next—that is, over eight episodes, of roughly 40-plus minutes each! 
Because nothing really does—beyond a series of characters with no purpose; jokes with no punch-lines or landing space; and drama, without a point. Unless, there's some magic realism that missed me. Here's what we do know. The show is named after a housing society called Sunflower. 
There is a stuffy committee of residents in here, that interviews candidates all through the show, rejecting potential tenants on the basis of their life choices—unmarried, married too many times, single, etc. In the writer's head, the housing society is a clever metaphor for a society at large, and in turn, the nation itself. Good on them.     
But what about that murder? What about it, besides the busy Bombay police that has nothing better to do but chill all day on the solitary case, including order Chinese food for the suspect. The investigating cop apparently rotates between multiple sex workers. 
A frisky employee is desperate to tap the first man she can find in office. There's a housewife in satin, whose life is centred on bedding her husband—when not making a drink for him. And an assortment of equally horny and ho-hum couples; heterosexual and otherwise. The strange mental gaze doesn't spare house-helps either.
The rest of the pages in a non-existent script are filled with farting sound, British accent, Tamilian twang, shudh Hindi, and general gibberish for conversations. Vikas Bahl is separately credited for story, screenplay, dialogue, and as director, producer, plus creator of this series—should've been for 'ideal audience' as well. 
Bahl in many ways is peak Bollywood (Queen, Super 30). Which explains the performers he's managed to line up for his web/OTT debut, which is aesthetically so totally bad-TV like. I mean, just glance at the cast-credits. 
Starting with the comic star Sunil Grover. There's a permanent smirk on his face that naturally lends itself to humour, even if not intended. You can practically make him do anything funny—as he's been doing since Jaspal Bhatti's TV shows in the early '90s, although he found fame with skits on Kapil Sharma show, only decades later.
Here, Grover is prancing around naked, because someone or the other flicks his clothes. He plays an incel, imbecile, who sells beauty products for a living. That's not at all. Look at the rest. There's Ranvir Shorey, who practically cracks every part he's in, whether or not it's written well, or at all. 
Or Ashish Vidyarthi, the deadly veteran from Drohkaal (1994) and Iss Raat Ki Subah Ki Nahin (1996), bumbling around spouting inanities here. Mukul Chadda, the excellent find from Indian version of Office. Also spotted Sameer Khakhar—Nandu from Nukkad of the '80s—poor old man's being made to pass wind in public.
Glad everyone got gainful employment/income during the pandemic. Which is when this series was shot, and also when desi/mainstream audiences discovered OTTs at a pace that would've taken more years. Unlike in the US (with HBO, etc), where TV series went through a dramatic upgrade in the late '90s, it is Bombay's filmmakers who've sort of led the new wave on Indian web/OTT, since TV professionals had little experience with limited edition, quality fiction.    
Therefore my expectations and the devastating disappointment that's followed! Is this the worst piece of web content to come out of Bollywood? Maybe Sirish Kunder's random/roast-worthy, semi-surreal Mrs Serial Killer (2020) on Netflix comes close. 
But that was a film. And Citizen Kane in comparison. You could still follow a story—bad, good, ugly; long, stretched, ludicrously far-fetched. With this one, you only go, "Par, yeh ho kya raha hai?"—before you go to the next episode. As should you, and let me know. 
Also Read: Sunil Grover: While choosing a project I choose stuff that won't let me sleep