This weekend, watch two stand-up comics don 12 zany characters - from a mosquito to a lifeless puppet - within an hour for a live sketch comedy show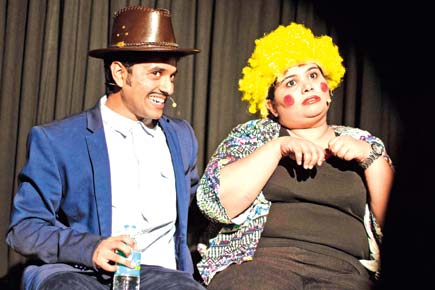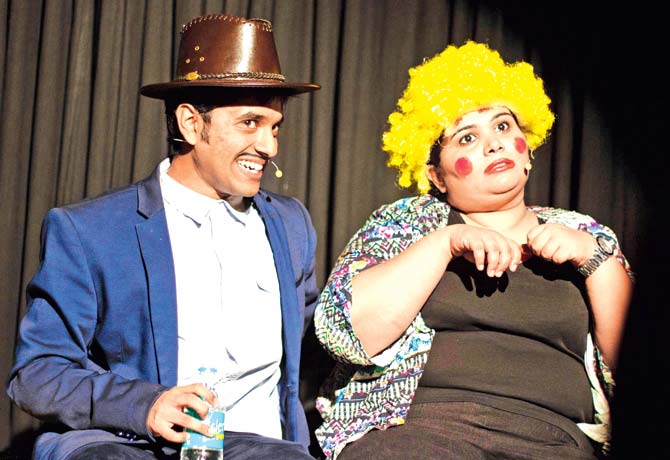 Naveen Richard as the ventriloquist and Sumukhi Suresh as the puppet in a sketch
A vertical bed is propped on a stage. Wearing fairy wings, Sumukhi Suresh bobs in like a mosquito. She's joined by actor Naveen Richard, who keeps trying to swat her and finally, ends up empathising with the mosquito community.
ADVERTISEMENT
Three minutes later, the actors disappear from the stage to reappear as a ventriloquist (Richard) and a 'lifeless' puppet (Suresh) with costume change et al. These are two of the seven, 10-minute sketches that the Bengaluru-bred, Mumbai-based duo will perform this Saturday in a comedy show titled, Go Straight Take Left. Those attuned to the stand-up comedy scene would recognise Suresh and Richard from the critically acclaimed, viral web series, The Better Life Foundation, which was launched a few
months back.
Sketch on stage
Unlike a play with a single story featuring a beginning, middle and an end, a sketch show involves several stories and more characters. For instance, in a sketch titled Hit and Run Rant, the duo play a motorist and a car driver while That Small Kid On The Road sees Richard as a five-year-old lost on a street.
"In a period of an hour, we will play at least 12 characters. The challenge is trying to play each sketch convincingly because you don't have much time to get in and out of it. It means running off-stage, changing into costume and running back on the stage," shares Richard, who conceptualised the show with Suresh for Bengaluru audience last year. Next month, they will head to Chennai, Pune and later to Delhi.
Character talk
The writing sessions for the sketches usually start with an idea of a character and later, a narrative is woven around it. "The first time we met to discuss the direction of the show, we agreed to stay away from regular boy-and-girl romantic themes," informs Suresh. It also features audio sketches and audience participation in Meditation Gone Wrong, a sketch where Richard plays a self-acclaimed meditation expert and Suresh, his overenthusiastic assistant. "We will make the audience go through an experience of meditation with us which may or may not end well," laughs Richard.
On September 24, 8 pm
At The Cuckoo Club, Mc Ronnel's Compound, Pali Hill Road, Bandra (W).
Cost Rs 600
Log on to www.insider.in