In Mumbai to promote the latest of his Clifton Chronicles, British author Jeffrey Archer opens up on why he'll never change his style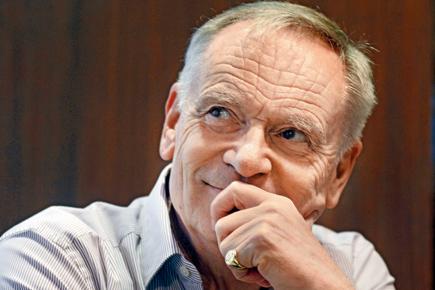 Jeffrey Archer
It's said that most people have a book in them. Unless you're Jeffrey Archer, who has 21 novels, three non-fiction books, three plays and seven collections of short stories in him. So far. The author was recently in the city to promote the fifth book in his Clifton Chronicles series: Mightier Than The Sword.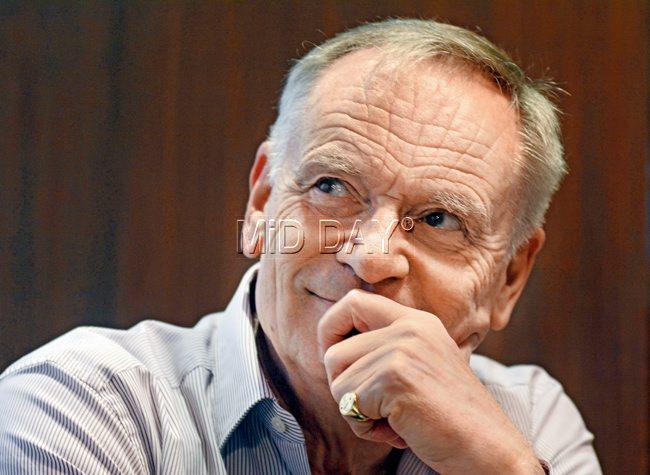 Jeffrey Archer confesses that he can rarely predict where his stories will lead him. Pic/Atul Kamble
When we meet, there's a steady downpour, unusual for February. That coupled with the occasional clinking of cutlery at a coffee shop almost seems like a perfect setting for one of Archer's short stories. Just as one is mulling over this, the author arrives.
The sparkle in his eyes and his quick laugh belie his age: Archer turns 75 this year. He has been quoted as saying that he thought up Clifton Chronicles when he turned 70 because he needed something to wake up to, for the next seven years. He adds matter-of-factly, "I pray I live long enough to write them all."
Carry on writing
The Clifton Chronicles are an account of the life and times of Harry Clifton, spanning several decades and set against the socio-political backgrounds of England and USA. Archer has confessed that he can rarely predict where his stories will lead him and that's why neither can his reader.
"I've never had a letter that says Dear Jeffrey, I worked out the ending of your novel on page seven. Why, on page seven, I don't have a clue what page 10 is going to be! I might wake up one morning; sit to write and nothing may come out.
Who knows," says the author. He adds that the thought of continuing the Clifton story for another two books, doesn't intimidate but only delights.
There are currently about three companies chasing him for a TV adaptation of the Chronicles, and Archer is looking out for an Indian partner too.
He adds quickly with his trademark humour that he doesn't mean a "second-rate individual who thinks he's a Bollywood star, but a real partner." India contributes hugely to the readership of the British author, which is why despite not writing a novel about India ("people like you would point out every mistake!"), he has set eight chapters of book six in Mumbai.
It's been four decades since Archer published his first novel, Not A Penny More, Not A Penny Less, but the author insists he has never felt tiredness or boredom at the prospect of writing. "If you had as much published work as I do, if you had 270 million readers, you wouldn't feel bored or tired. You'd be energised; you'd want to do more," he says.
Then, some more
And there is more to come. Soon after the Clifton Chronicles, Archer will be out with a short story collection. The author confesses that novels are far more satisfying to write, but as far as ideas go, "sometimes you get two stories in a day, then nothing for two years!" Have the years honed his craft? His craft and professionalism — definitely, admits Archer.
But the storytelling, no. "That's a God-given gift. Give me a pen and a paper and I'll give you a story that won't change," he smiles. In the wake of crime fiction becoming popular, Scandinavian authors on the rise, and novels like Fifty Shades of Grey turning bestsellers, one wonders if Archer would ever try another genre. The answer's a resounding 'NO'.
"My readers would be cross if I suddenly wrote erotica, just because EL James is selling millions of copies! It's like asking Dravid to bat like Tendulkar!" Archer adds that he doesn't care about other genres as long as he is read. Whether via e-readers, or pirated books bought off Mumbai traffic signals, "as long as I'm read, I'm happy."
As a friend of this reporter puts it, the best thing about Archer is that his stories can be read and narrated. They have a clear beginning, middle and end. Archer's face lights up as he mulls over this, "That's nice. I've never heard that before!" So, is that credit to the story or the storytelling?
Archer's eyes narrow as he rattles off: "Two men born on the same day: one with everything, one with nothing and they meet once. There, I've told you the story. Now. Can you give me six hundred pages?" he asks, eyes twinkling. Touche.
Jeffrey Archer was at Crossword, Kemps Corner yesterday as part of the five-city India tour to promote Mightier Than The Sword, the fifth book in his Clifton Chronicles series