A new dance troupe in town says belly dancing is recommended for pregnant women and new mothers, and how it is not half as vulgar as Bollywood makes it to be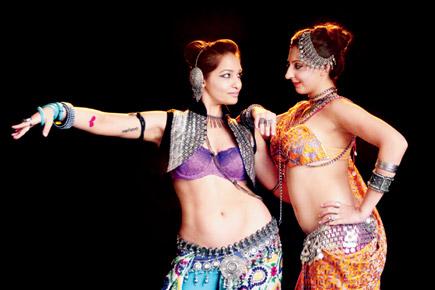 Dipika Vijay, Sanjana Muthreja
Sanjana Muthreja
Though it's the Middle East that put belly dance on the world map, the origin of the form is shrouded in mystery. One of the legends suggests that its complex hip movements have their roots in the Kalbelia Folk dance performed by the Rajasthani Gypsy tribes, who travelled to Egypt, Turkey and other parts of the world via the Silk Route.
ADVERTISEMENT
Another belief suggests that among the smaller tribes of Egypt, mothers would teach belly dance to their daughters to prepare the womb for the baby. So, it's also known as the dance of fertility, and recommended for pregnant women. "Belly dance requires a lot of skill and hard work. It's not portrayed correctly by Bollywood," clarifies Dipika Vijay, who will showcase the third edition of Mint Mill Project, an authentic belly dance stage show in Bandra, this weekend.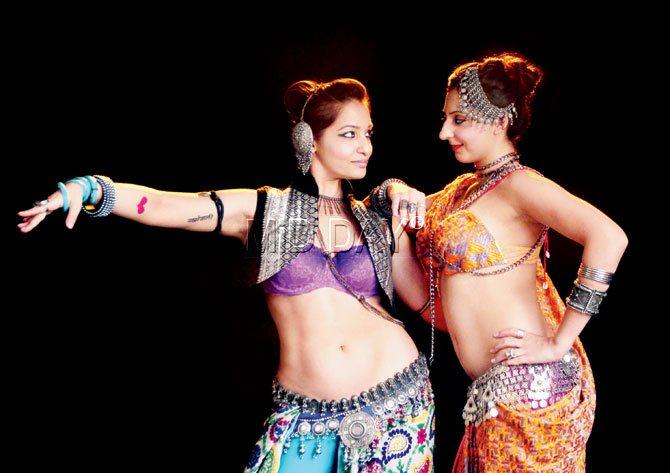 Dipika Vijay and Sanjana perform an Indian belly dance fusion. Pic courtesy/Anupam Mishra
Learn from the best
The show features over 50 students and instructors of Kohl Belly Dance Movement, a company co-founded by Vijay and Sanjana Muthreja, three years ago. "Sanjana and I have been practising belly dance for over nine years. Every year, we travel to parts of USA and Europe to participate in belly dance festivals and attend workshops by international conductors like Moria Chappell and Rachel Brice. We come back and teach the techniques to the students, who create original pieces and put up an annual stage show," informs Vijay.
Isolate, and dance
The duo conducts classes across Mumbai on a weekly basis; they also train stars like Jacqueline Fernandez. They offer courses up to 12 levels. "We begin with basic chest, hip and arm movements, and shimmying. It takes a month to learn the basics. The main technique is isolation, which means only moving one part of the body. So 80 per cent of your mind needs to be focused there and the remaining on keeping the other parts stationary." The show presents eight belly dance pieces in three broad genres — Egyptian or Raqs Sharqi, Tribal Fusion and a Fusion style incorporating Bollywood music, and Indian classical dance movements.
Do it like the tribals
"Belly dance consists of several sub-genres, each with its own music and movement styling. For instance, a chest circle in the Raqs Sharqi means moving your chest to form a round shape. The same movement in Tribal Fusion is more muscular," says Vijay. Tribal Fusion is a modern, Western style of belly dance, which originated in the Bay Area of the USA, a few years ago. "In the Egyptian style, performers wear vibrant costumes with bling, while Tribal Fusion involves dark hues and few ornaments," she adds.
The show also features Raqs Assaya, a style of belly dance using a bamboo cane, and a drum solo where Muthreja will dance to the beats of darbouka, a goblet-shaped drum.
ON: April 8, 7.30 pm
AT: Manik Sabhagriha, near Lilavati Hospital, Bandra Reclamation
CALL: 9833323512
COST: Rs 300