In a first for India, four ballerinas from a Mumbai academy will compete at the European Ballet Grand Prix in Vienna next month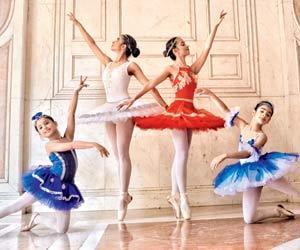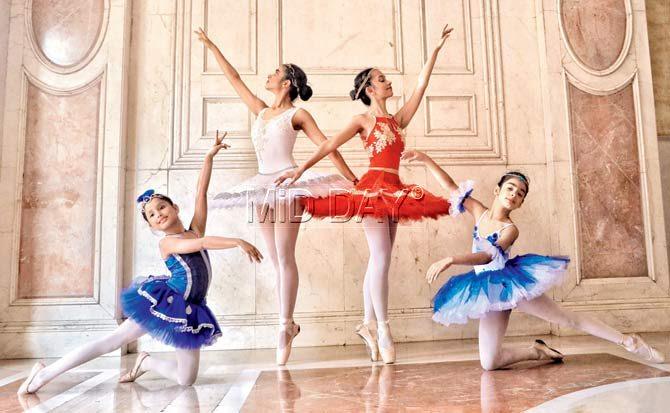 Neeven Ved, Mahee Roy, Dhvani Kothari and Sanjam Kaur. Pics/Rane Ashish
To the rest of the world, a ballerina may seem like any other school- or college-going kid. But when she slips into a tutu, puts on her pointe shoes, and acquires an elegant stance by the barre, something changes. The worry of an upcoming mathematics examination fades away, as does the temptation to join friends for a movie.
ADVERTISEMENT
Life, when counted in ballet years, demands a lot from a young mind and body. But the question of how they juggle studies and other pursuits with their rigorous ballet training evokes a uniform response from seven-year-old Sanjam Kaur, Mahee Roy, 14, and Dhvani Kothari, 20. While an articulate Kaur calls ballet meditative, Kothari, as she bandages a bruised toe, recalls her days as a riled-up teenager and how the dance form gave her a sense of calm and discipline. "Ballet doesn't interfere with my studies.
It has only helped me focus better," says Roy, a ninth-grade student from Powai, who has been doing the impossible task of travelling to her school in Dahisar and coming to the Andheri studio, where we meet on a Friday afternoon, for ballet rehearsal for over two months. The amped-up schedule, however, is only a welcome change.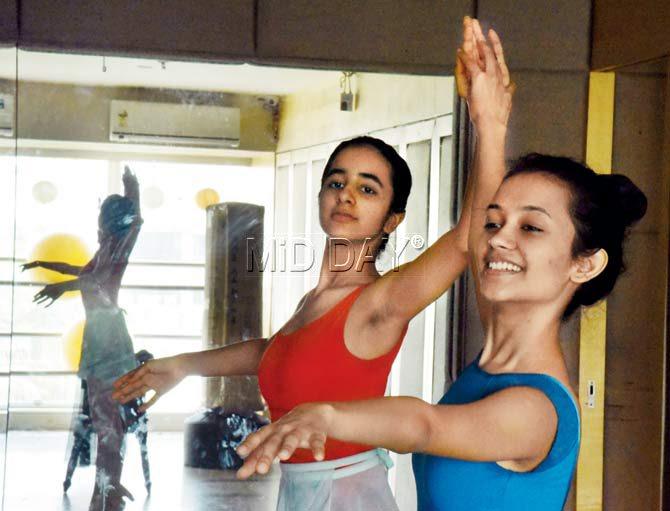 The young, slender-framed girls, along with seven-year-old Neeven Ved, are busy preparing for the European Ballet Grand Prix to be held in Vienna in early February. The first to represent India on the prestigious platform, all four ballerinas are students of the city-based Indian Academy of Russian Ballet (IARB).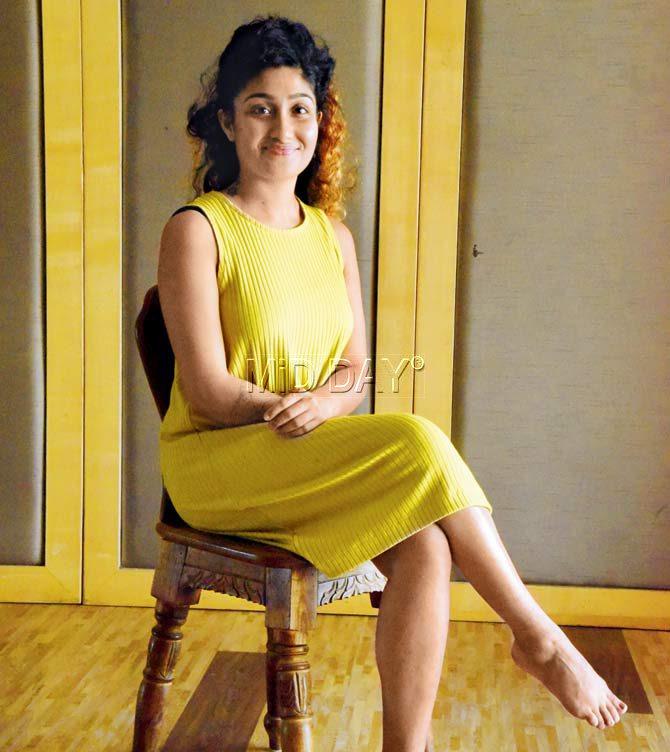 Apeksha Bhattacharyya
Carving a niche
If the classical dance form is said to be at a nascent stage in India now, it was almost non-existent when IARB founder Apeksha Bhattacharyya decided to take it up. "I was introduced to classical ballet at the age of 20, which is quite late for a dancer. Though my background in Indian classical dance helped me and I had teachers with an international background, there was no scope for learning ballet in a structured manner in Mumbai," says Bhattacharyya, 28.
"When I turned 25, I stopped the haphazard dance lessons and started writing to ballet teachers abroad, requesting them to teach me. An academy in Finland, specialising in the well-known Vaganova method, finally took me in," she adds. Bhattacharyya continued learning from teachers in Croatia, Hungary, the UK, and St Petersburg, the mecca of ballet, before setting up the academy in 2015.
Several parents ask Bhattacharyya about the career prospects of a degree in ballet in India, and it is such competitions that make the dream of earning a living as a ballerina more real. "When these young girls travel abroad, they don't just compete but also get access to ballet masterclasses. They come back transformed," she says, adding, "My vision is to not only popularise ballet in India, but to let the world know that India has its own set of ballerinas."
Keeping this in mind, apart from other classic ballets, Bhattacharyya has chosen La Bayadère, whose story is set in India, for Roy. In the contemporary category, Ved (away in Russia for a performing arts competition) will dance to AR Rahman's Maahi Ve from the film, Highway.
One challenge at a time
With a handful of ballet schools in Mumbai, teaching and pursuing the dance form comes with its set of problems. Procuring pointe shoes - a prerequisite for advanced ballet - is no mean task, with students often relying on someone travelling abroad to come back with a few pairs. Tutus, too, have to be often imported from Russia, with the shipping exceeding the real cost by three times.
The city's space crunch has a hindering effect, too. "Much as we may play classical music, half the dance we do is to Bollywood beats, thanks to the music spilling from adjacent studios," rues Bhattacharyya. But this determines the young ballerinas to adhere to the dance form all the more.
"I don't enjoy Bollywood. Unlike other popular dance forms, ballet has strict rules that we cannot waver from. I love the graceful swirls and the soft hand movements," says Kaur, the excitement in her little voice palpable. "I want to be a biomedical engineer when I grow up, but after being selected for the Grand Prix, I am thinking of becoming a professional ballet dancer."
Catch up on all the latest Mumbai news, current affairs from Mumbai, local news, crime news and breaking headlines here
Download the new mid-day Android and iOS apps to get updates on all the latest and trending stories on the go