While motherhood in itself comes with a lot of responsibilities, the challenges increase multifold when one is raising a disabled child. For Sejal Shah, raising a specially-abled daughter is not a challenge but a source of inspiration to impact the lives of disabled children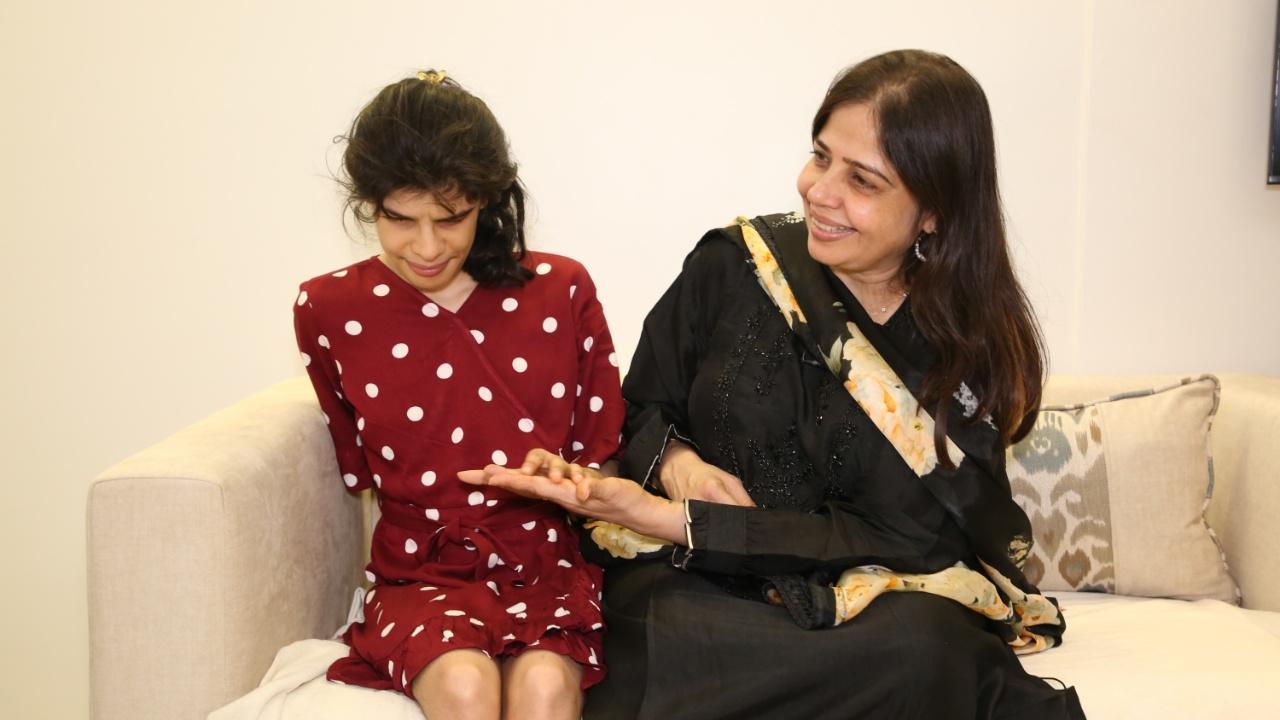 Viha with her mother Sejal
"Each day I hope that Viha will come, talk to me, hug me and tell me to go shopping, chat with me like a normal kid, hope makes you go on, hope is life", says Sejal Shah as her eyes twinkle talking about the moments she hopes to spend with her 23-year-old daughter Viha, someday.
Sejal considers Viha to have the heart of a fighter. Sejal was pregnant with twins but due to complications in pregnancy, she lost Viha's twin, but Viha survived. Viha as a baby had to be put in the ICU for 100 days due to premature birth. The loss in her vision due to retinal detachment was diagnosed soon after. 
ADVERTISEMENT
When it comes to schooling, children with disabilities have limited options where they can be accepted and imbibe learning tailored to their needs. For a few years, Sejal enrolled Viha in special schools. But eventually, Sejal realised that there were no schools that could give Viha her daily routine. 
Through her family support, Sejal started Mariposa Foundation to cater to children with special needs. For the first six months, Sejal's daughter Viha was the only student at Mariposa Foundation being taught by a special educator. In a bid to spread the word about her initiative, Sejal reached out to therapists and sent invitations extending support for disabled children at her foundation. Mariposa grew with word of mouth and today it is a 14-year-old organisation working with multiple disabled children from all walks of life helping them with functional skills, sensory stimulation and recreational avenues. Through therapists and volunteers at Mariposa, Sejal has not only been assisting her daughter with learning but also other disabled kids who now have a place where they can learn, grow and be themselves without the fear of being judged or misunderstood.
Raising a specially-challenged kid comes with its own share of challenges. But Sejal turned these challenges into an opportunity to impact lives on a larger scale. Mariposa has been a self-funded organisation and while there is only a limited extent to which Sejal can fund the organisation, challenges have never been able to deter Sejal from making learning easier for disabled kids at her organisation. 
"Viha is making me grow every day", says Sejal as she credits her daughter as the source of inspiration and strength through everything she has been able to overcome as a mother to a special child. While Sejal has displayed immense perseverance throughout, there's one fear that still lingers, which doesn't stay unconquerable in front of her optimism. 
"As a mother to a challenged kid, the only fear is, what If I am no more? Who will take care of the child? It is the biggest fear of each mother. It is a very common fear but I feel this fear makes you weak so I don't think of this any more. Let's enjoy life with whatever we have", Sejal smiles as she beams with her ray of positivity. 
And it is this optimism that fuels Sejal to hope that someday, she might be able to share simple moments of shopping and chatting just like any other mother, with her daughter Viha.
"Viha has come with a purpose in my life. This is absolute as Mariposa would not be born without Viha. I believe Mariposa is Viha's dream and she came to me as a medium to help other kids or families of challenged kids", said Sejal, as she gets back to making her daughter's favourite tea with an affectionate smile looking forward to the most cherished silent tea-time with Viha.