A look at some interesting facts and trivia about Jallikattu, the annual bull taming practice traditionally held annually in Tamil Nadu as a part of Pongal celebrations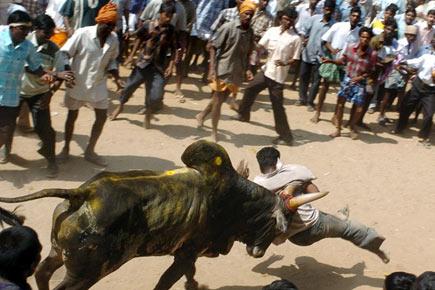 Jallikattu
The Supreme Court today rejected a plea urging it to pass judgment on bull taming sport Jallikattu before the harvest festival of Pongal on Saturday.
The decision triggered widespread protests across Tamil Nadu with students hold pro-Jallikattu demonstration.
The practice of Jallikattu, also known as Eruthazhuvuthal or Manju virattu, is traditionally held annually in Tamil Nadu as a part of Pongal celebrations on Maatu Pongal day (the third day of Pongal festival). Here's a look at what 'Jallikattu' actually is, why there is a huge sentiment attached to this unusual sport...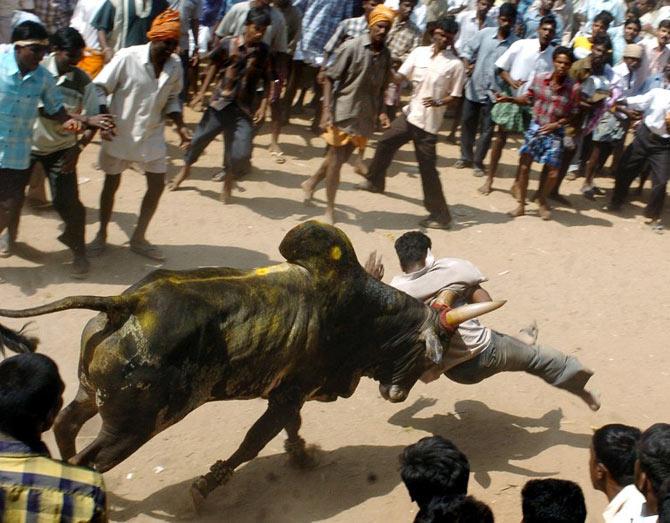 A bull runs through a crowd with a bull-fighter hanging from it's horns during Jallikattu in the village of Alanganallur some 500 kms south west of Madras, 16 January 2005. Pics/AFP
>> The term 'Jallikattu', originated from the Tamil words Salli and Kattu, referring to silver or gold coins tied to the bulls' horns.
>> Jallikattu is believed to have been practice at least 2,500 years ago, after an ancient cave painting was discovered near Madurai, which depicted a lone man trying to control a bull.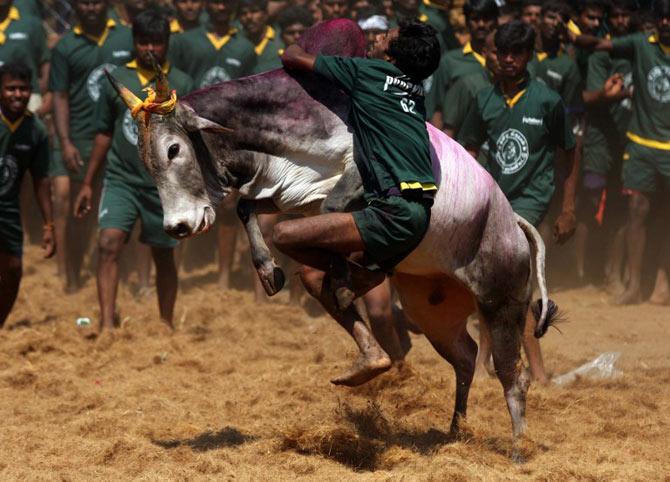 >> The main objective of Jallikattu is taming the bull. There are 3 variants namely, vati virattu, where the bull after getting released from an enclosure needs to be held on to for a predetermined distance or time to win the prize, veli virattu, participants attempt to subdue the beast in an open ground and vatam manjuvirattu, in which the animal is tied to a 50-foot-long rope with players attempting to overpower it within a specific time limit.
>> Certain calves are specially reared to grow into strong bulls for Jallikattu, and these animals are trained to not allow strangers to approach them.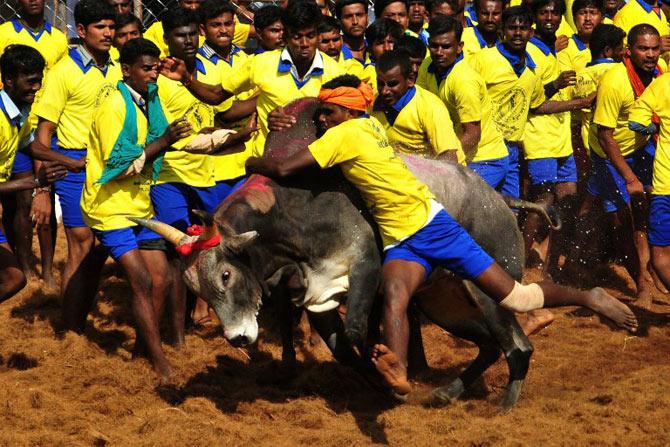 Participants attempt to hold down a bull during Jallikattu festivities in Palamedu near Madurai, around 500km south of Chennai, on January 15, 2013
>> Temple bulls are prepared specially for Jallikattu, since they are considered the head of all cattle in a village; special rituals will be performed for them during important days.
>> Animal welfare organisations like PETA India have protested against Jallikattu since 2004, with the Supreme Court banning it in May 2014. This ban was reversed after the Government of India passed an order exempting it from all performances where bulls can not be used. But, the SC upheld the ban on 14 January, leading to protests all over Tamil Nadu.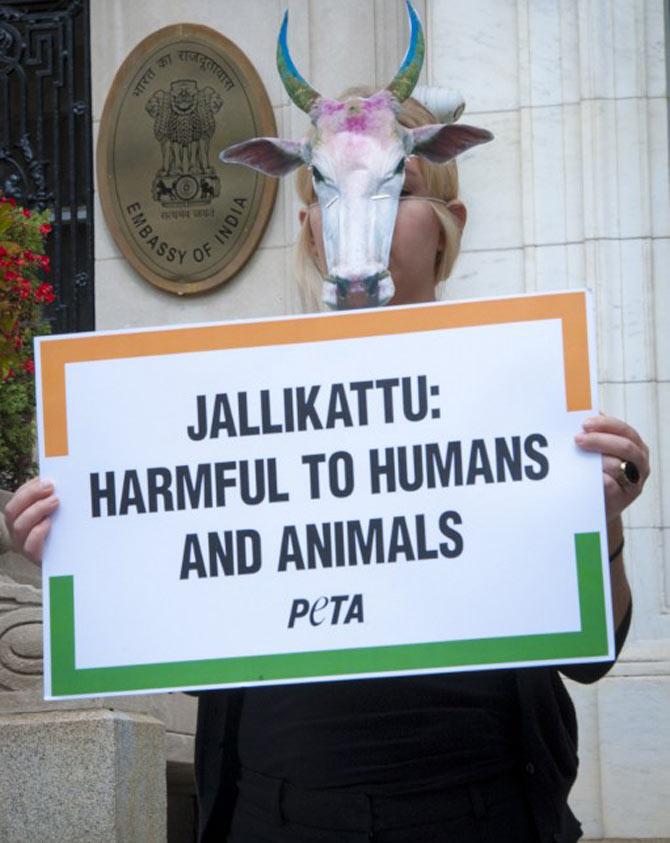 PeTA demonstrators (above and below) protest wearing bull masks outside of the Embassy of India in Washington, on September 15, 2016, in support of the ban on bullfights, bull races, and jallikattu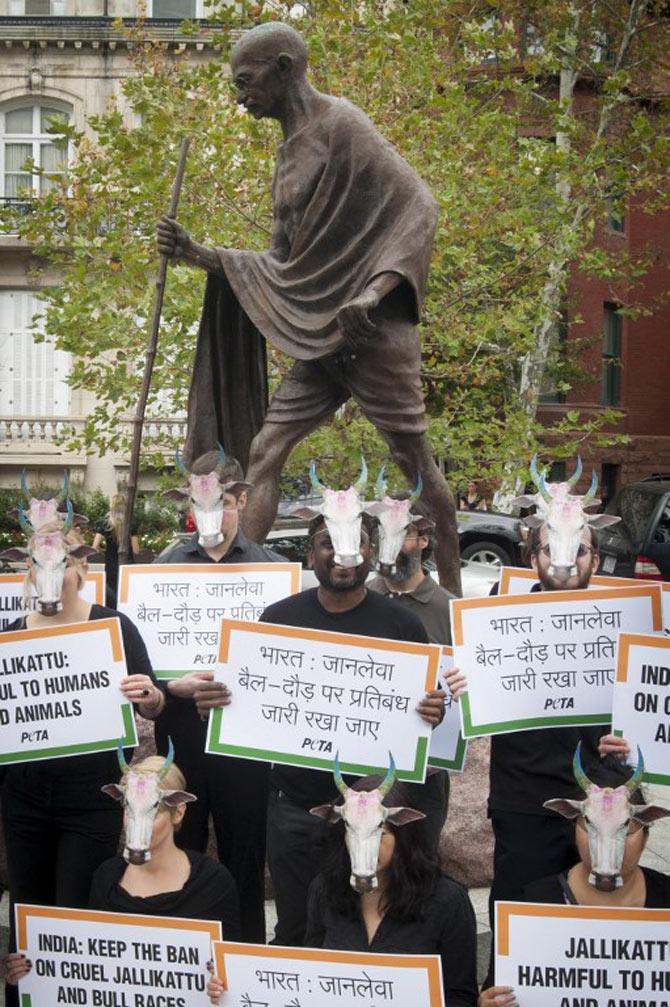 >> Being a popular tradition, Jallikattu has been shown in many Tamil films over the years including, Virumaandi, Murattu Kaalai, Cheran Pandiyan, Mirugam, Ilami among others. The leading men in these films were depicted as being able to gallantly subdue the bull.
>> After the event, tamed weak bulls are used for domestic activities and agriculture, meanwhile the untamable strong bulls are used for breeding the cows.
>> Over 20,000 students and youngsters conducted a rally at Chennai's Marina Beach on 8th January this year, to urge the government to restore the practice of Jallikattu.