The Mumbai author delves into his latest book, why he loves celebrating Mumbai and how more books need to be translated in Indian languages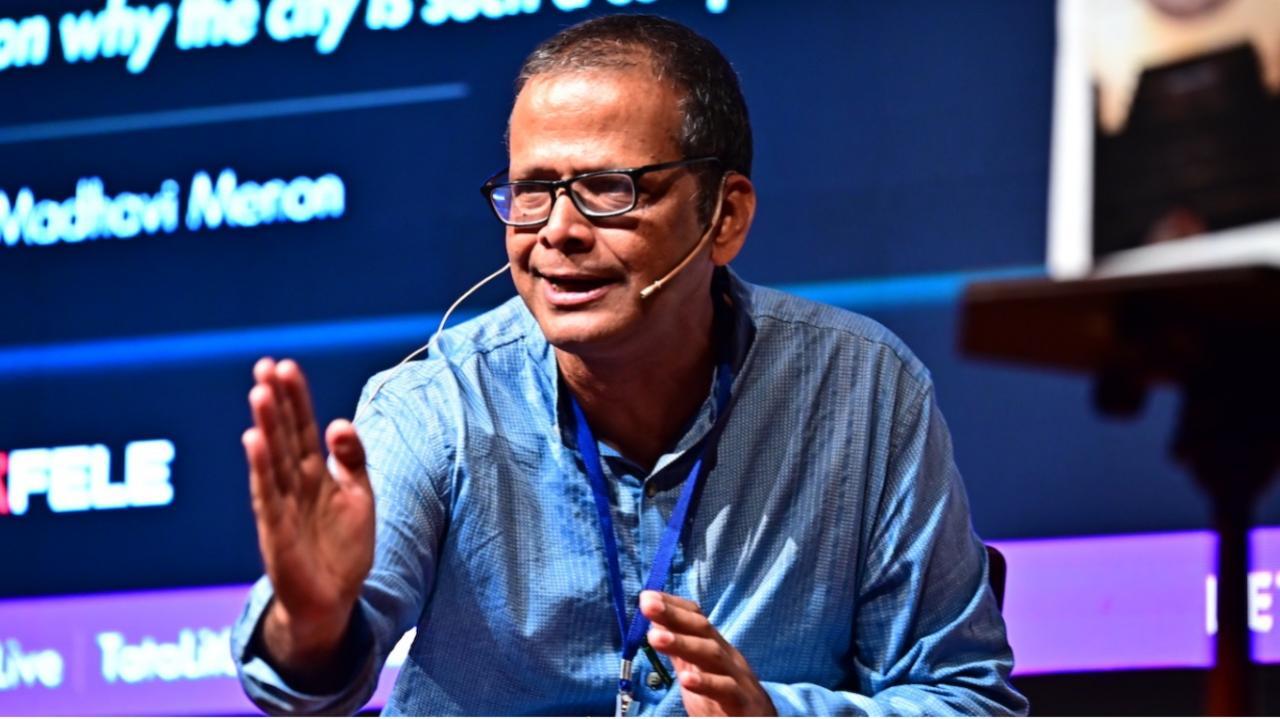 In his latest book, The Education of Yuri, Mumbai author Jerry Pinto explored how he could build a character through his formative years. Photo Courtesy: Tata Literature Live! The Mumbai LitFest
When Mumbai author Jerry Pinto thought about 'The Education of Yuri', his latest book that was released late last year, he pondered on the idea of how we become who we become as people. This, Pinto says, came from how one usually approaches fiction. They tend to more often than not meet interesting fully formed characters. However, these very characters very often left him with an after-thought. "I wonder why he is behaving like that. Then of course, if you are a good reader you may think he has been through some childhood trauma. There was something that he was told and then led him here," explains Pinto, who was at the Tata Literature Live! The Mumbai LitFest. 

It is exactly what led him to take Yuri Fonseca, the central character of his latest book, and explore how he could build him through his formative stage and see how it develops from there. "When I say build him, it means build the structure of his beliefs, thought process, way of interacting with people and how does one take who one is into the broader world," adds Pinto, who is known for many works including 'Em and the Big Hoom' for which he won the Sahitya Akademi Award in 2016. It is an experience for which the seeds are sown when we step into college, after being surrounded by our families, neighbourhood friends and even places of religious worship for the longest time. 

Celebrating Mumbai 
Having been a student of Elphinstone College, Pinto has gone through these very motions of life like many other Mumbaikars who studied in the city and that is why he wanted to explore these facets and, in the process, celebrate Mumbai, which he reiterates is 'his city' in every sense, and one that can be seen in many of his works over the years. "When I was in Elphinstone College, Nissim Ezekiel came and did a reading with us, Mulk Raj Anand came and spoke to us. So many of these people came and spoke to us. Freny Ponda came and spoke to us about her work too," shares Pinto. All of these early interactions left a lasting impression on the author, who calls Mahim his home in the city.
Interestingly, the last time this writer spoke to Pinto, he was working on the book during the Covid-19 pandemic. Now, the effect of the Covid-19 pandemic on most people can be seen so it would be only fair to ask if that had any kind of effect on the book, and the novelist who is also a poet, is quick to point out that would be out of place, especially because the book is set in a time much before the pandemic in the 1980s. 

He explains, "I think many of the things we experience today have shadows of it in the distant past but the pandemic was the shadow that we couldn't imagine." During the pandemic, Pinto says he remembers thinking of how the city had changed during this time. "Walking through the city you will never find Churchgate empty. It is impossible to find Churchgate empty and there it was. It happened. So, if I had put any part of the pandemic in pointers, then I would be faking it because there are things that are unimaginable and in India we have gone through the unimaginable," he adds. So, Yuri's imagination, he felt, had to necessarily be limited by what it was possible for us to think of at that time, including the political and technological ramifications that transpired towards the end of that decade and century.

Finding characters in everyday life 
While the pandemic wasn't a part of his book, Pinto certainly missed out on the stories during the two years, as he had said in a previous interview with Mid-day.com. Elaborating on the examples, he shares, "The pandemic taught me how much writers draw from everybody and not just the central character in the book but Yuri has to meet a lot of people – like the man in the tuition bureau, the clerk in the office and the sex worker in Geetu Talkies." 
ADVERTISEMENT
Such is the importance of his daily interactions, the Mumbai author adds, "I make it a point to travel daily by bus and train and start a conversation with a stranger and talk to them actively and really engage with them, for my characters." Luckily, Indians aren't those who shy away from striking random conversations with people around them. "The dry period was nightmarish, so it is nice to be back," he declares. 
Always trying to celebrate Mumbai through his stories, the city author believes there are many more stories that are coming out and have come out of the other suburbs in the last few years, which is encouraging. The novelist has translated many works over the years, and actively translates books from other Indian languages. 

So, what does he think about the condition of the translation industry? He immediately says, "There are a huge number of books that need to be told and that is a job that needs to be taken on by an army." However, there is something that pains Pinto, who is currently translating a Konkani book by writer Damodar Mauzo. "There is so much left to translate in Hindi, Marathi and Urdu. What pains me is that we don't take enough risks when we are translating. You know there is a kind of book we want to translate. When you are translating a Marathi book, you want it to be set in rural Maharashtra and you don't want it to be set in Mumbai. There are good books being written about in every part of the city." It is also the reason why he says book translators should go beyond the popular titles and translate so many of the other works. 
Also Read: Sister Library: Why this Bandra library aims to encourage reading more literature by women
"Exciting news! Mid-day is now on WhatsApp Channels

Subscribe today by clicking the link and stay updated with the latest news!"
Click here! Do you read books about Mumbai?