From storing food incorrectly to accidentally over-salting dishes, chances of goof-ups in the kitchen are high, especially when you are handling long hours of work and trying to feed yourself at the same time. Two city-based chefs come to the rescue with tips that will get you up and running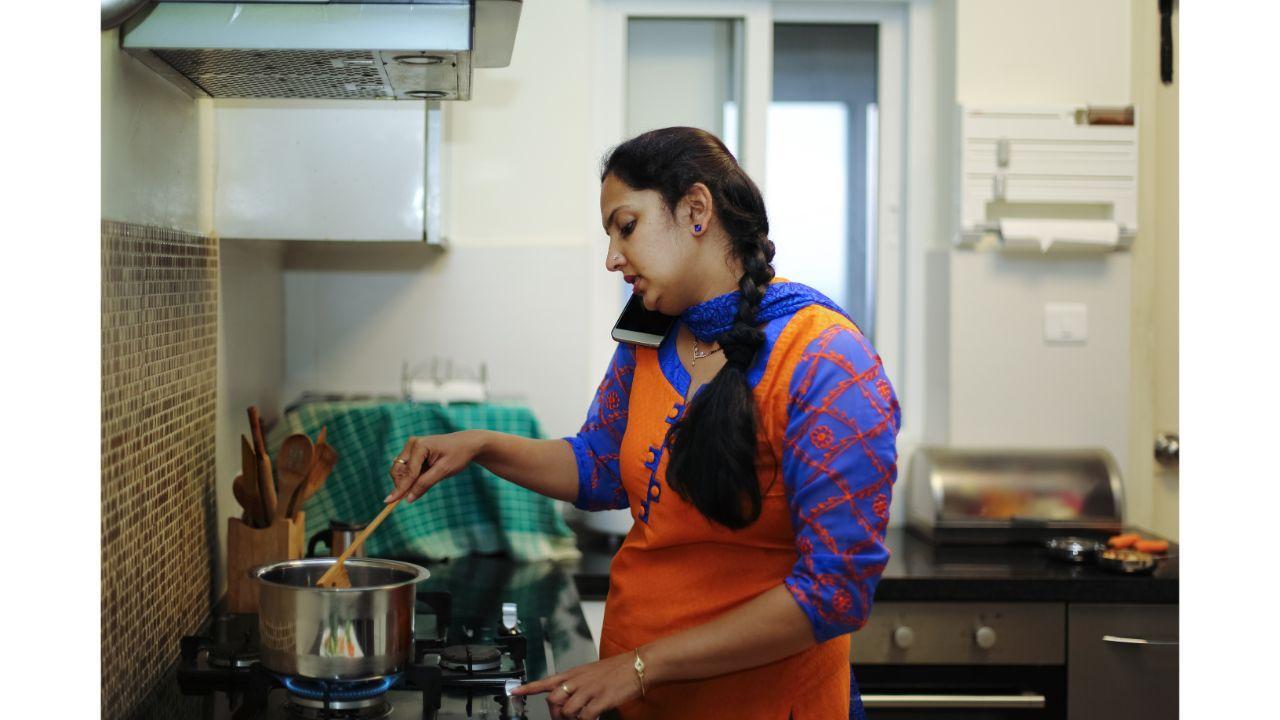 Image for representational purpose only. Photo: istock
As we continue to stay locked down indoors, working professionals are back to working long hours and managing household chores. 
Amidst all this, it is even tougher if you are living alone or with your roommates, and are trying to figure out what to cook for every single meal. For that matter, while mothers or fathers used to have busy mornings preparing meals previously, with more members staying home all day, those responsibilities have extended throughout the day. They are not only juggling their work lives but also trying to make sure they feed the family on time. 
At such times, kitchen hacks can definitely come to the rescue. Some may already have their own but who doesn't want more hacks to make life easier, especially in the kitchen?  
Mid-Day.com asked city-based executive chef Abhishek Basu, JW Marriott Mumbai Juhu, and executive chef Arun D'souza, Perch, to share tips that would make the kitchen a welcoming place for all during the on-going pandemic. From knowing how to thaw meat quickly to cutting onions without shedding tears while cooking, here are some handy solutions for all:
The extra salt dilemma
While cooking in a hurry, there is a high risk of over-salting your curries. Chef Basu says that that should not ruin your day as it is one the most common things that happen in the kitchen and there is a very easy solution for it. He suggests you can remove some of the saltiness by adding diced potatoes. Simmer the potatoes in the curry for seven to eight minutes and then pick out the potatoes. The potatoes act like a sponge, absorbing salty liquid (not just salt), so you might need to add in more water after removing them.
Thawing meat quickly
It is not uncommon to get a craving to eat home-cooked meat during the week. But, cooking it can be time-consuming and if you're in a rush, Chef D'souza recommends putting the frozen meat in a pot for a quick use. After putting it into the pot, pour warm water on it, along with 5 tablespoons of vinegar and a pinch of salt. It will thaw an entire frozen chicken within 15 minutes and make it ready for you to cook.  
On the pan, less is more 
Making a stir-fry or any other kind of other dish needs a quick sauté, but putting in a large quantity of ingredients may be problematic as they may remain undercooked. So, while sautéing a dish, it is recommended to keep less clutter in your pan. This always ensures that there is even sautéing – for example, with onions, mushrooms etc. It will also help your vegetables/meats, as they don't end up sweating on the pan and you get an even colour.  
The pasta boiling rule
Making pasta can be ambitious during the week especially if you are an amateur and do not have enough time. Chef Basu says one of the most important pasta hacks is the "10 x 1" rule, which basically means you need to have 10 times the amount of water to boil the required pasta (example: 100 gms of dry pasta needs 1000 ml of water). It is also important to remember to salt your water until the boiling water is salty to taste. Preparing to boil the pasta is just one part of the challenge, the other is to simply know how long to boil it. He adds that as a personal practice, he always cooks it for a minute less than the written time on the packet as you need to cook the pasta in the sauce too, so it's important to account for that time as well to avoid overcooking the pasta. 
Removing or using fat better in stews and curries
There are many who dislike fat in stews and curries and more often than not it is a part of the dish but this can be avoided. Chef D'souza says to simply use a kitchen paper roll, to skim the surface as it will help remove all the fat. Alternatively, if one does want to retain the fat since it has a lot of flavour, the curry or stew can be thickened lightly with roux, flour and butter. This will add a much denser and richer taste to it. 
The baking powder test
If you use baking powder while cooking, it is important to check if it has expired before using it with the help of a simple method. Test your open packet of baking powder by stirring a teaspoonful into 1/2 cup of hot water. If it doesn't fizz up, throw it out, it's going to be an absolute waste to add this to any of your recipes. 
While the above hacks try to simplify cooking processes, it is important to not forget addressing specific issues that crop up because of weather conditions and busy schedules. 
Here are some easy tips to use: 
Storing bread
If you eat bread often, it is highly likely that you will have leftover bread, which needs to be stored for your next meal. The best place to store leftover bread is the freezer. To consume later, it has to be gently warmed in the oven and will taste like it's fresh. 
Preserving bananas
As bananas ripen quickly, most of us are always wondering what is the best way to deal with them. Some may opt to consume them quickly or simply buy a limited quantity. However, the ideal way to extend their shelf life is to completely wrap the stem with foil or cling wrap. This will extend the shelf life of the bananas by 15 - 20 days. 
Opening jars easily 
How many times have we all struggled to open a jar? Now, every person has their own hacks but here's a full proof one. Chef D'souza says to simply use a tea spoon. Put it between the lid and the jar, and lightly create a space to allow the vacuum to release and then you can go ahead and open it. 
Don't cry while cutting onions
Tears while cutting onions are often rewarded with a delicious dish that is devoured later but why go through the trouble when there is a simpler way to deal with it? Chew gum or breathe through the mouth to avoid tearing up while cutting them. 
Reheating baked goods
If you are looking to reheat baked goods, it is suggested to always add a cup of water in the oven to help prevent them from drying out. This will help you enjoy it in the best way possible. 
Keep knives sharp
Last but not the least, it is always important to keep your knives sharp. It is possible that they go blunt often because of all the cutting and cooking. Use a sharpening rod or sharpening tool before and after all cutting work to make life easier. It prevents the need for constant sharpening later, especially while cutting meats, which can be quite a task. 
Also Read: A Mumbai-based fitness expert shares 5 easy exercises you can do at home