Three designers invite type enthusiasts to meet every month, share notes on interesting fonts and cook up alphabets using recipes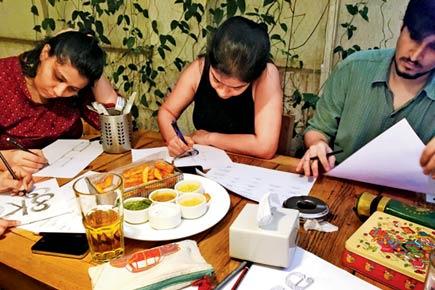 Rob Keller and Kimya Gandhi spotted a menswear shop on Bandra's Hill Road and a book store in Dadar that use hand-painted type. "They are unique, hand-drawn fonts and we doubt they even have names. They are not made by designers," says Gandhi; (right) Maku, a Devanagari font developed by Mota Italic
On a Saturday evening last month, 16 enthusiasts gathered at a microbrewery in Andheri for a unique cooking session. Sipping on craft brews, they pored over a common recipe handed to them. It mentioned the weight of the ingredients and the thickness of their cuts. But, instead of pots and pans, they had to whip up the dish using a pencil and sheet of paper.
The guests conjured up their own version of the recipe, essentially different lettering designs in the Roman and Devanagari scripts. Titled Letter Cooking, the session marked Mumbai Typostammtisch's third meet-up. This Saturday, another one is scheduled at a venue in Colaba.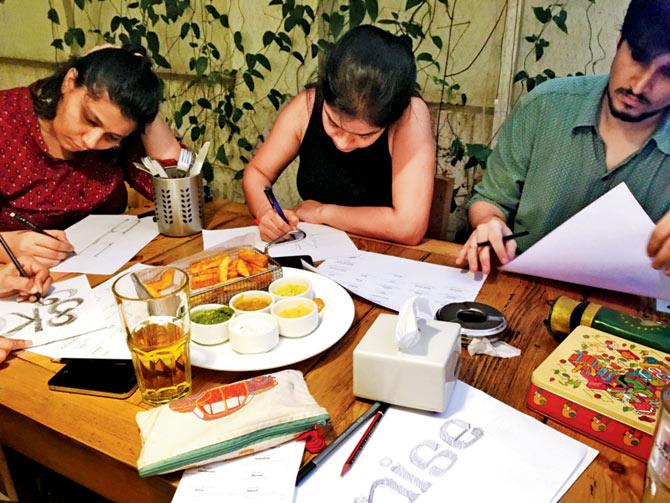 A letter cooking session organised by Mumbai Typostammtisch
Talking types
Typostammtisch (pronounced: too-poe-staam-tish) is derived from the German word, stammtisch, which me-ans a meet-up at a bar for people to discuss or rant on a common topic. In 2004, type designer Dan Reynolds launched the first Typostammtisch meet-up in Offenbach, Germany. It later expanded to other parts of Europe.
In Mumbai, the community was launched this April by three type designers - Tanya George, Rob Keller and Kimya Gandhi - as a platform for students and professionals interested in letter design, calligraphy, fonts and types. "I lived in Germany for seven years and attended various Typostammtisch meet-ups. The typographic community is strong there; in Mumbai, it's splintered. Ever since I moved here [in 2014], I wanted to organise a similar meet-up," says Keller, who, along with Gandhi, runs Mota Italic, a type foundry, the venue for the first meet-up.
"They have a library of type-related books and interesting lettering and signage objects on display. But we realised we needed a larger space. The idea is to learn from each other and build a stronger community," says George, who completed her Masters in Typeface Design from the University of Reading, UK - where Keller studied too - and connected with the duo earlier this year.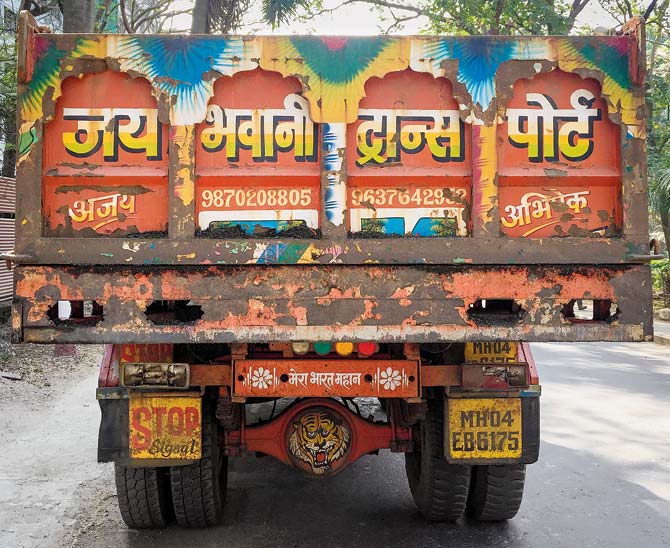 A hand-painted truck in Powai
The troika holds a meet-up on the first Saturday of every month. The upcoming session will be an informal meet-and-greet. "Designers usually work late hours, so, we decided to hold it on a weekend evening. We also plan to organise talks by professionals and academics in the field."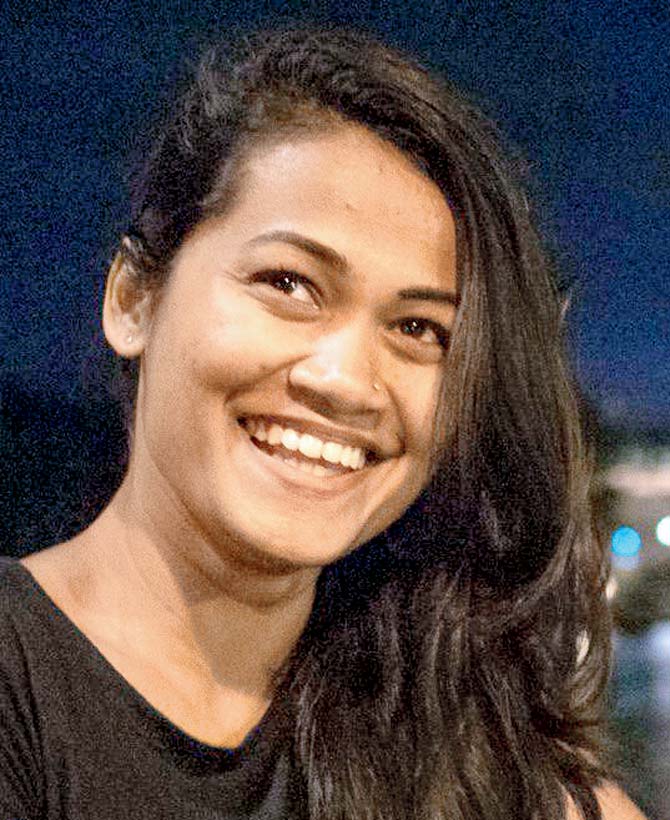 Kimya Gandhi
Mumbai local
At the meet-ups, Gandhi also discusses fonts for Devanagari script. The type foundry recently released Maku, a handwritten Devanagari font that has Indian symbols to cater to local design needs. She shares, "Vernacular design needs to be encouraged.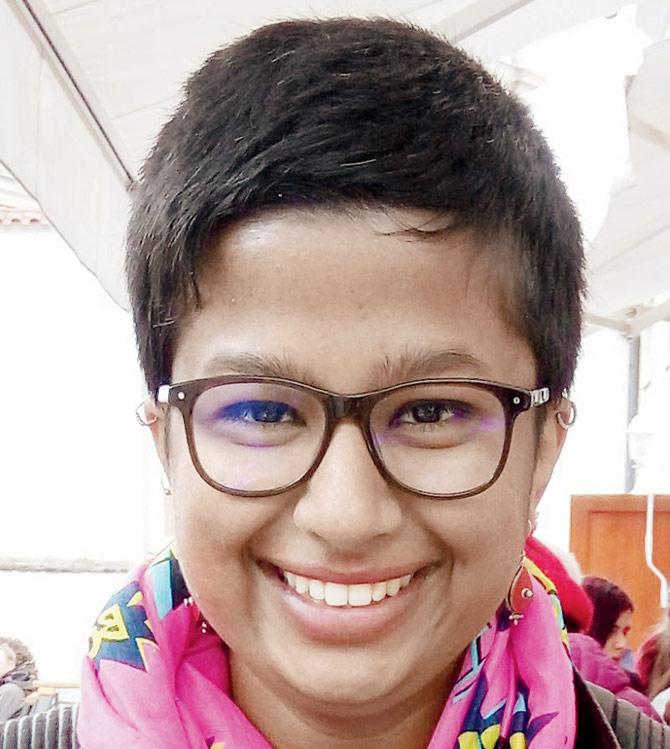 Tanya George
There is a community of painters that hand paints letters on walls, shop signs and trucks. There are libraries that house ancient manuscripts, and books that would be of inspiration and reference for young designers. All this information is not documented and archived well, though. It would be great to have a community that is actively involved in building this knowledge source and creating awareness among designers to be more sensitive towards using type."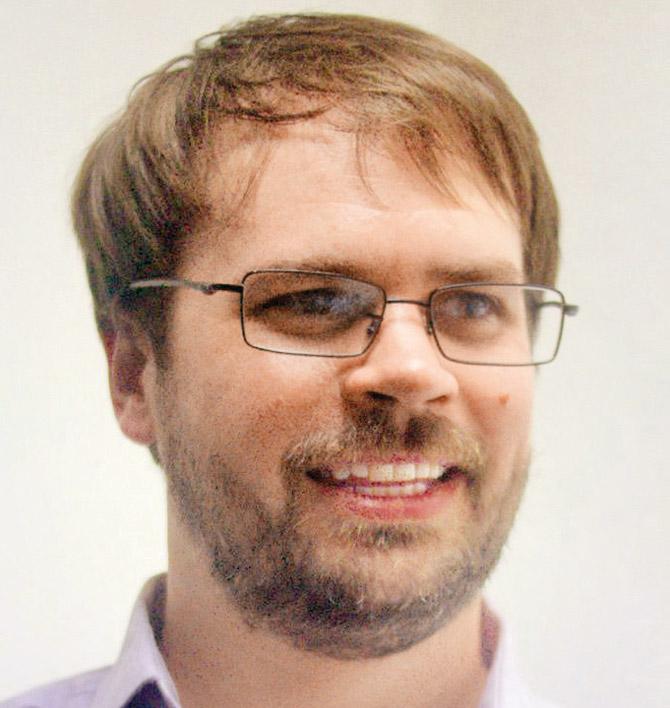 Rob Keller
Keller adds, "The next step is to figure out how to get others to appreciate the work of local sign painters before they're all gone."