A new photo-exhibit showcases the last 10 years of the Mahatma Gandhi's life through the camera lens of his grandnephew, Kanu Gandhi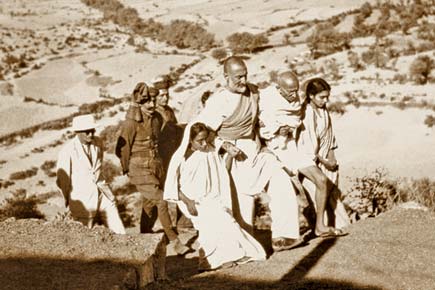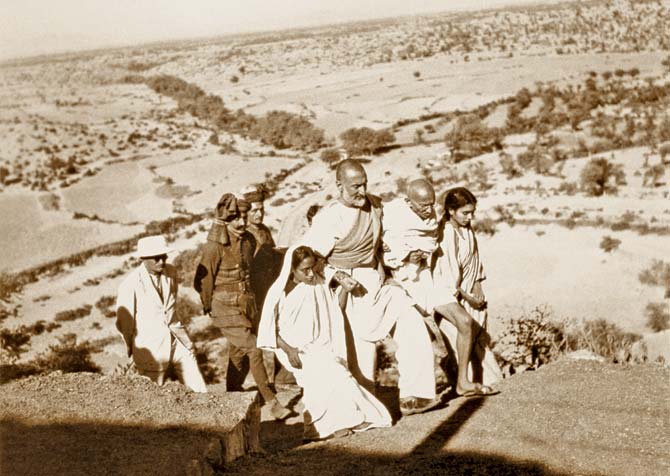 (From right to left) Dr Sushila Nayar, Mahatma Gandhi, Khan Abdul Ghaffar Khan, Amtus Salam and others walking in the countryside of North West Frontier Provinces, October 1938
When his grandnephew Kanu Gandhi began photographing him in 1937, Mahatma Gandhi imposed three conditions — that he would never use a flash, that he would never ask him to pose and that the Sevagram Ashram, where Gandhi took residence in his later years, would not fund his photography. What emerged was a collection of over 2,000 candid photographs of the Mahatma during the last 10 years of his life. Forty-two from these will be part of Kanu's Gandhi, a photo-exhibit that opens at Chhatrapati Shivaji Maharaj Vastu Sangrahalaya (CSMVS) this Thursday. The Jehangir Nicholson Art Foundation and the Museum in collaboration with New Delhi-based non-profit Nazar Foundation will present it. The platform aims to promote the photographic arts through interactions, exhibitions, publishing and workshops.
ADVERTISEMENT

Kanu Gandhi
The other Gandhi
Born to Gandhi's nephew Narandas and his wife Jamuna in 1917, Kanu spent his early years in Sabarmati Ashram, where his father worked as a manager. While he was a follower of Gandhi and was even arrested for participating in the Civil Disobedience movement, he intended to be a doctor. However, in 1936, persuaded by his father, Kanu joined Gandhi's personal staff at Sevagram, supervising clerical, correspondence and accounting functions, and was soon nicknamed 'Bapu's Hanuman'. Around this time, he also developed an interest in photography. The first to encourage him to take it up was Shivaji, Vinoba Bhave's brother, during a visit to Sevagram.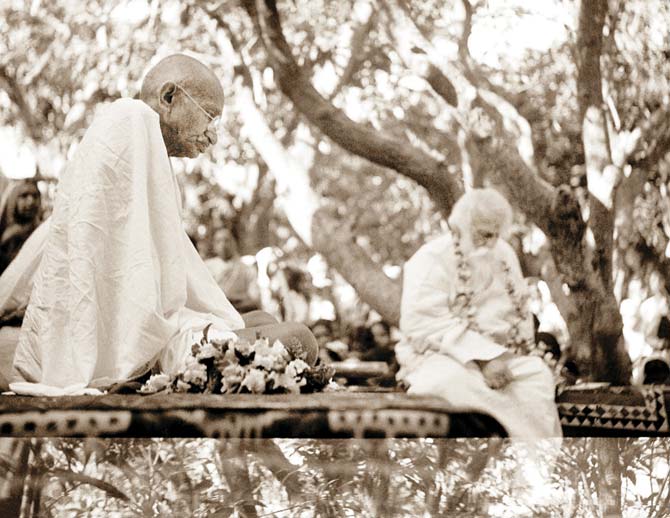 Mahatma Gandhi with Rabindranath Tagore at Shantiniketan, February 1940
While initially, Gandhi turned down Kanu citing lack of funds, he relented and requested his associate, industrialist Ghanshyam Das Birla, for help. The latter presented Kanu with '100, which bought him a Rolleiflex camera and a roll of film. He also began selling his photographs to other newspapers and received a monthly stipend of '100 from Amritlal Gandhi of Vandemataram, who had purchased his photograph of Sardar Vallabhbhai Patel. However, he lost interest in photography post Gandhi's assassination, an event that left an indelible impact on him and his wife, Abha, known as 'one of Gandhi's walking sticks'.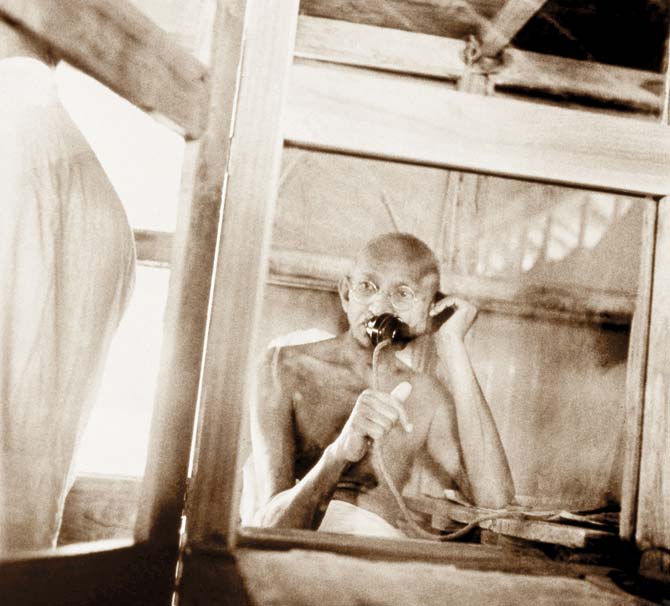 Mahatma Gandhi telephoning from the office hut in Sevagram Ashram, 1938. Pics courtesy/ Kanu Gandhi, The Estate of Kanu Gandhi
"Since he was almost always with Gandhi, he was able to capture some rare images. A particular photograph of him stretching his arms out of a train window to collect donations for the Harijan funds is striking," says photographer Prashant Panjiar, who has co-curated the exhibition with photographer Sanjeev Saith. Panjiar, the co-founder of Nazar Foundation, came across the images back in 1997, while working with a magazine. "We were planning a special edition on Gandhi's 50th death anniversary, so I went to Rajkot where his family lives. The archive belongs to his daughter, Gita Mehta. Unfortunately, many photographs have been lost because of people who would take them for research purposes and never return them," he rues. This exhibition gives a forgotten great photographer his due.
From book to frame
The exhibition is curated from Nazar Photography Monographs 03 — Kanu's Gandhi, a photo-book with 92 frames from Kanu Gandhi's archives, launched at Delhi Photo Festival 2015. "It was challenging for Sanjeev to sift through thousands of images and select the images for the book, which are presented in the form a narrative. The book offers images in two sizes — the smaller ones have been reproduced as they appear in Kanu Gandhi's albums and the larger ones have been retouched for restoration purposes. We selected only 42 photographs from the book so that it's not too cumbersome to travel with them," shares Panjiar. The photo-exhibit is also travelling to Chobi Mela in Dhaka, and Rajkot in March.
Did you know?
Though Kanu was the only one allowed to take Gandhi's photograph at any time, there were occasions when he was forbidden from clicking too. One such moment was when Kasturba lay dying in Gandhi's lap at the Aga Khan Palace in Pune.
"Exciting news! Mid-day is now on WhatsApp Channels

Subscribe today by clicking the link and stay updated with the latest news!"
Click here!