When I research, it shows that the Nehru Science Centre (NSC) has been open to the public from 1985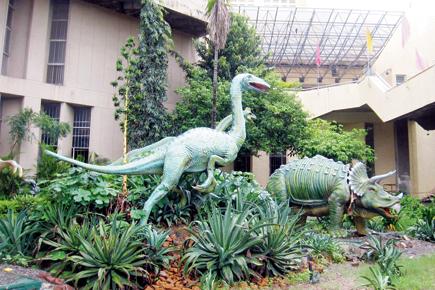 Nehru Science Centre

When I research, it shows that the Nehru Science Centre (NSC) has been open to the public from 1985. Which means that my school must have been one of the first schools in Mumbai to take their students there. In 1986 when we went there, the Nehru Science Centre seemed sleek, immense and equipped with gadgets that showed how truly magical science is.

After three attempts to head to the NSC, I am finally  here with my kids. The space is immense and we all gasp simultaneously when we see a massive steam engine and a locomotive, parked in a shed. It is cordoned off but unmanned. There are many such exhibits here. As we walk into the area where the interactive centre is, we are met with massive installations of pre-historic animals. Life-like and in their real sizes, they enthrall the kids, who want to touch. They do.

India's largest interactive science centre seems abandoned, perhaps because we've visited it on a week day and closer to closing time. First conceived as a Science and Technology Museum in the late 1960s, the NSC slowly evolved into being an interactive science centre. It still houses more than 50 hands-on and interactive science exhibits on energy, sound, kinematics, mechanics and transport in a sprawling area of eight acres, in the heart of Mumbai. The space within the centre too, has been thoughtfully designed, with a variety of plants and trees all carefully labelled.

The exhibits are in good shape and keep most kids engaged though upgrades might help liven things up

We start with the light and sight area and interact with equipment that shows how the eye works, how optic fibres perform and how illusions are created.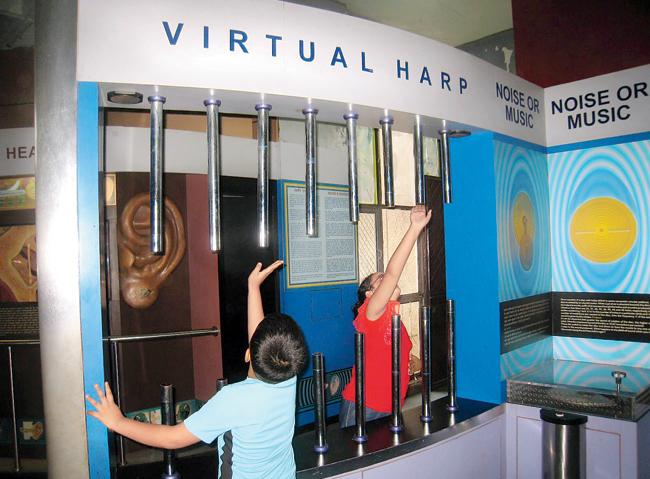 When you enter the cubicle of mirrors and it seems, as if your head has been lopped off, you finally understand what some magicians have been doing. In the touch and feel space it is amazing to touch nails that shape your hands, feel a jolt of electricity or sit on a bed of nails and be surprised that it does not hurt. The kids loved the sound area where they play the harp, bang virtual drums and run over giant piano keys.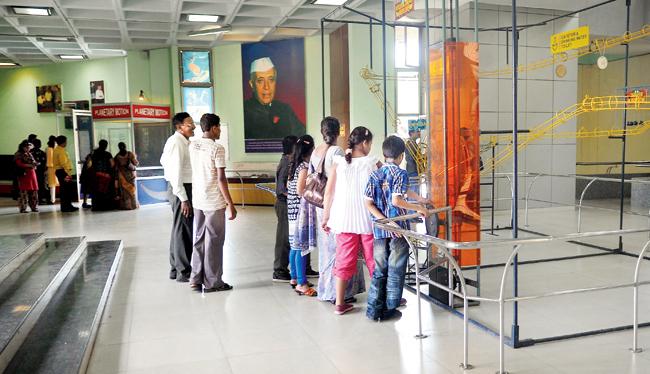 All the equipment is operational, the instructions are clear and the theory behind these exhibits is explained in detail. Inside is a library as well as a science-based toy store. Yet, we notice an air of neglect. Has the equipment been upgraded, ever?  
Despite all of this, the Nehru Science Centre is a huge experience. We will return.