Poetry and prose readings in the city are slowly emerging as ideal avenues to showcase talent for the written word, with some help from cafes and bookstores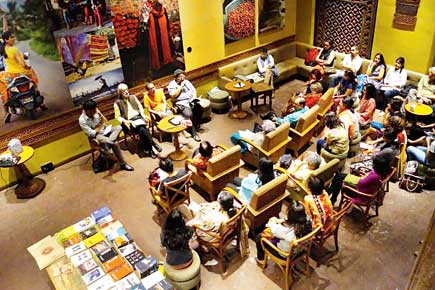 A poetry reading session hosted by Cappuccino Readings at Starbucks, Horniman Circle
If you walk into Lower Parel's Trilogy tomorrow evening, don't be surprised to see a bunch of Bard lovers reading passages from Macbeth, as part of a free group reading session celebrating 451 years of Shakespeare. The curated library and bookstore also hosts The Poetry Project, every Sunday — a ticketed event that helps Mumbaikars to learn to write poetry.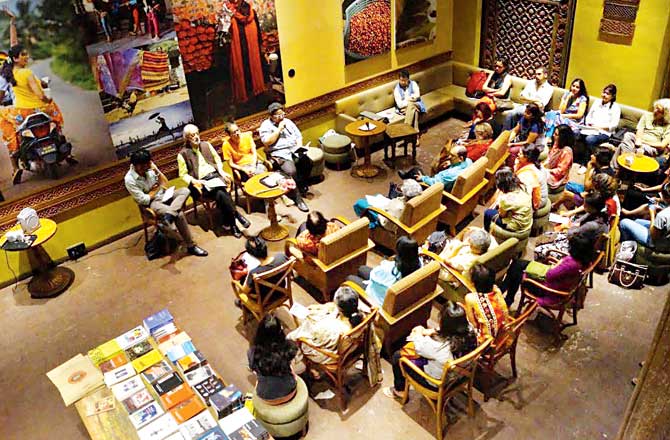 A poetry reading session hosted by Cappuccino Readings at Starbucks, Horniman Circle 
"Poetry is not just about introspection; it is also about universal truths and asking questions. We felt there was a need to discuss this and help people learn how to read and write poetry, so we started The Poetry Project," says Meethil Momaya, co-founder of Trilogy.
From galleries to cafés
While poetry and prose readings were earlier confined to art galleries and literature festivals, they have now moved to coffee shops, community spaces, libraries and bookstores as well as stores, thanks to the efforts of several groups who are keen to promote the written word as well as Mumbai's new voices. One example is Cappuccino Readings (CR), an initiative by four writers — Anjali Purohit, Rochelle Potkar, Jennifer Robertson and Smita Sahay — that celebrated their first anniversary on April 10. Organised at Horniman Circle's Starbucks, each session of CR comprises poetry readings by one or two newer voices alongside established names like Adil Jussawalla, Gieve Patel, Mustansir Dalvi, among others.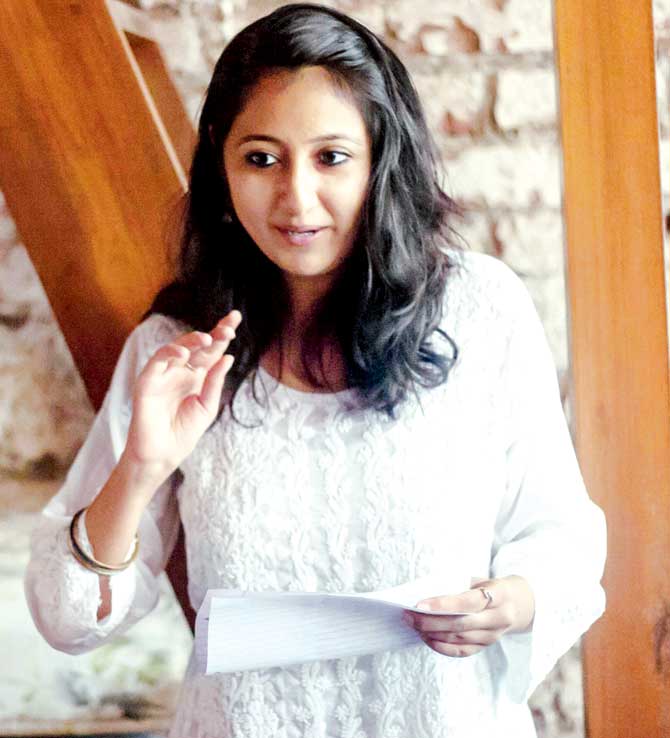 A participant at a poetry slam hosted by Airplane Poetry Movement at Birdsong Cafe, Bandra 
"Mumbai has always had a vibrant literary tradition, and groups like The Poetry Circle, Loquations, Chowraha as well as PEN@Prithvi have worked towards building a strong base to nurture poetry. However, many (especially the younger generation) found it daunting and stayed away from readings at bookshops, art galleries and literary festivals. Similarly, several cafés, restaurants and lounges in Mumbai have been giving a platform for cultural activities but mostly in music and stand-up comedy. Therefore, we were keen to explore the possibility to initiate a literary café culture in Mumbai, and attempted it through CR," elaborates Purohit.
Place matters
Finding a venue to host such events is no easy task, as college graduates Ankita Shah and Trupthi Shetty found out when they began The Poetry Club (TPC), two years ago. "There was a time when we were looking for places but we didn't have the money to pay the hourly rentals, since we don't charge any kind of membership or entry fees. Currently, we've collaborated with The Collage Collective because the owner's idea of what he wanted the space to represent aligned with ours. Essentially, you either need money and good marketing or someone who believes in your ideas," explains Shah, who had previously hosted sessions at The Hive as well as The Pint Room.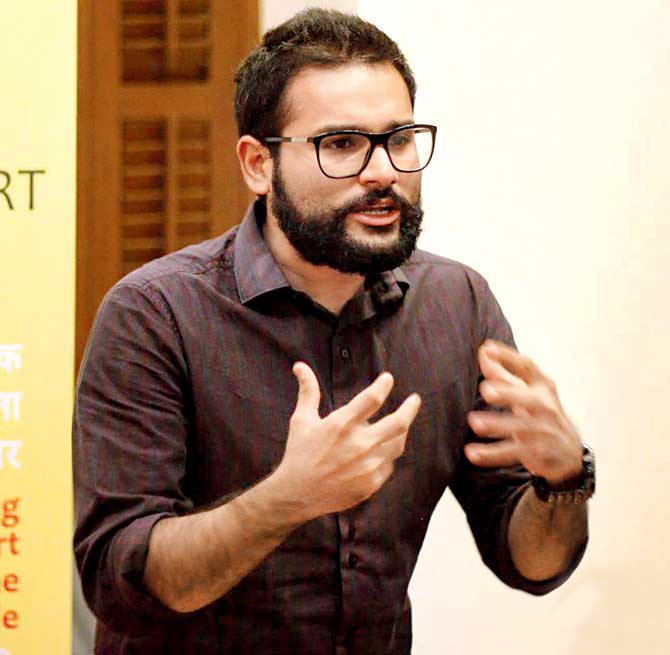 A participant at a session organised by The Poetry Club in association with the National Streets for Performing Arts (NSPA) 
"The venue plays a huge role in setting the mood. You could have the most skillful poet performing, but if there's blaring music, there's a fat chance that you will have an inspiring, let alone magical moment," admits Nandini Varma, co-founder of Airplane Poetry Movement (APM), a platform to create a vibrant spoken word culture among the youth. They've held open mics and poetry slams at quieter places like The Hive, Birdsong Café, House of Wow and Roti Kapda Makaan.
Big city, bigger challenge
In a bid to create a social property for Thane residents who found it tiresome to head to the Western suburbs for cultural events, Anish Vyavahare, under Maxmeet-Social group, began hosting Poetry Tuesdays at local cafés like Café Verve and D'Crepes Café. "Venues are wary of paying, but they welcome us since we haven't asked for payment yet. Logistically, it is challenging to find a convenient venue that suits people from other parts, a place with parking space, good food and one that is willing to switch off its music. I overcome these issues by switching places regularly, but not often," shares Vyavahare.
The city's infrastructure often plays spoilsport for such events. "Twice, there have been bad traffic snarls before the event and we pushed back the start time so that people wouldn't miss out on the substantial part. We try to speak with most of our members before planning events, so we know if a majority will be unable to make it (the long weekends are avoided)," shares Ahalya Naidu, co-founder of Trilogy.
What's next?
"It is always a challenge to get a larger audience for serious poetry but I believe that audiences in Mumbai are willing to lend an attentive ear and attend poetry reading sessions at cafés. The poetry scene is alive and, if you provide good poetry consistently, at platforms such as these, it will help in nurturing literary culture. We hope that our little effort will catalyse similar literary readings by other groups across the city. Together, this can help in building a vibrant literary cultural milieu for Mumbai," hopes Purohit.