Ahead of Thursday's start to Palm Expo, percussionist Sivamani gives us access to his studio treasures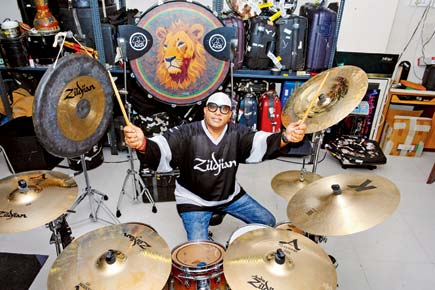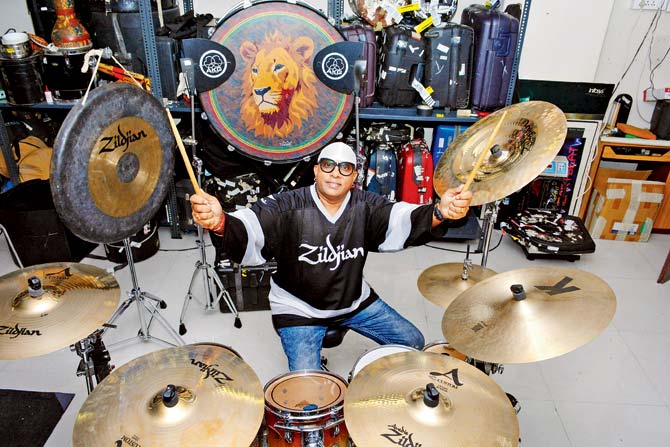 Giving his drum kit a workout. Pics/Milind Saurkar
"Once at a concert in Pondicherry in the early 1990s, the power went off but I played a two-hour long solo on my instruments," recalls renowned percussionist Sivamani, who has been plying his trade for over three decades. His belief in improvisation and enthusiasm to work with newcomers sets him apart.
ADVERTISEMENT
The 57-year-old is known to collect unique instruments from his international tours. Ahead of a concert at the Palm Expo in the city, he discusses his latest toys. Excerpts from an interview:
How difficult is it to play for an audience without a sound system?
It is about adapting to the situation. I do what the situation demands. I love surprising my listeners. I kept playing till the power supply returned. I remember using the ghatam.
What are the new instruments in your kitty?
I recently bought an Aludu from Denmark. It is an aluminium-made drum offering a huge range of sounds. It was highly recommended by my guru, Trilok Gurtu.
I also have a Slaperoo -- a slap-bass instrument invented by Andy Graham from California — and a Continuum Fingerboard, which was a gift from AR (Rahman).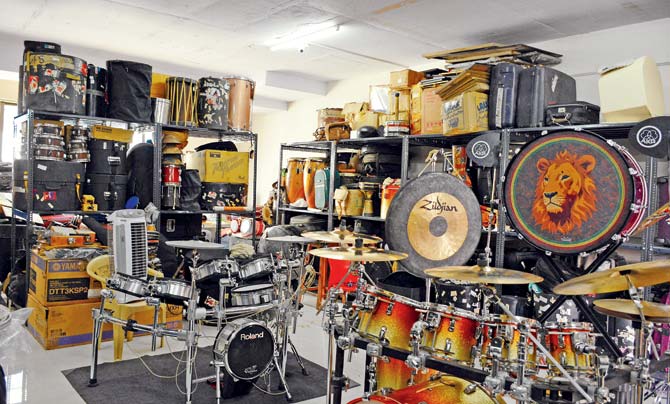 Sivamani's collection at his studio
What is the Continuum Fingerboard?
It is an open surface where you need to move your fingers to create sounds. It doesn't have any keys or buttons.
Who will be accompanying you at the Mumbai concert?
Rhythm Shaw (guitarist) and I will be on stage. He is only 21 but very talented.
Can you give us a rough idea about the set?
I can't. It was one of my dreams to create content on stage. It will be an all improvised, non-Bollywood gig. None of us know what we will come up with. I am expecting to create magic. I am not a rehearsal guy at all. Besides my instruments, I will also play on my body, utensils and wood. (laughs) It will be a celebration of rhythm and percussion.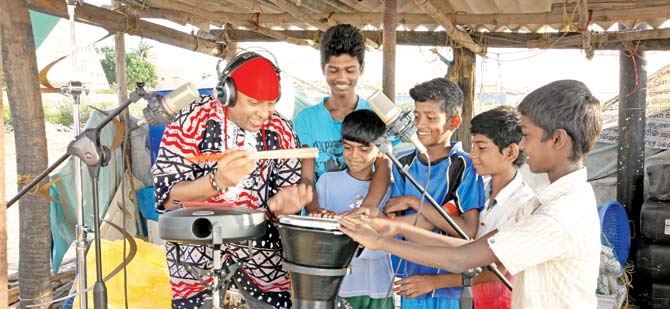 Jamming with kids at a beach. To the far left is the Aludu from Denmark, an aluminium-made drum
Of all the films you have worked on, which soundtrack is the closest to you?
It has to be the Chinese film, Warriors of Heaven and Earth (2003). When I watched it at a theatre, I was spellbound listening to the drum rolls. The film had war sequences. I couldn't believe it was my work. I remember using the bamboo stick in some of the tracks. To top it all, AR (Rahman) was the music director.
What's your next project with Rahman?
We will start preparations for a concert to be held in India in December.
On June 1, 12 pm onwards
At The Harman Stall, Booth D09, Bombay Exhibition Centre, Goregaon (E).
Call 42863900