On its board facing Hill Road, the church displayed this message, shared online by several locals: 'We pray for Jesuit Fr Stan Swamy in jail for two thirty three days and counting'. Parish priest Father Frazer Mascarenhas told Mid-Day.com, "We are telling the people to pray for one of our own who has been victimised'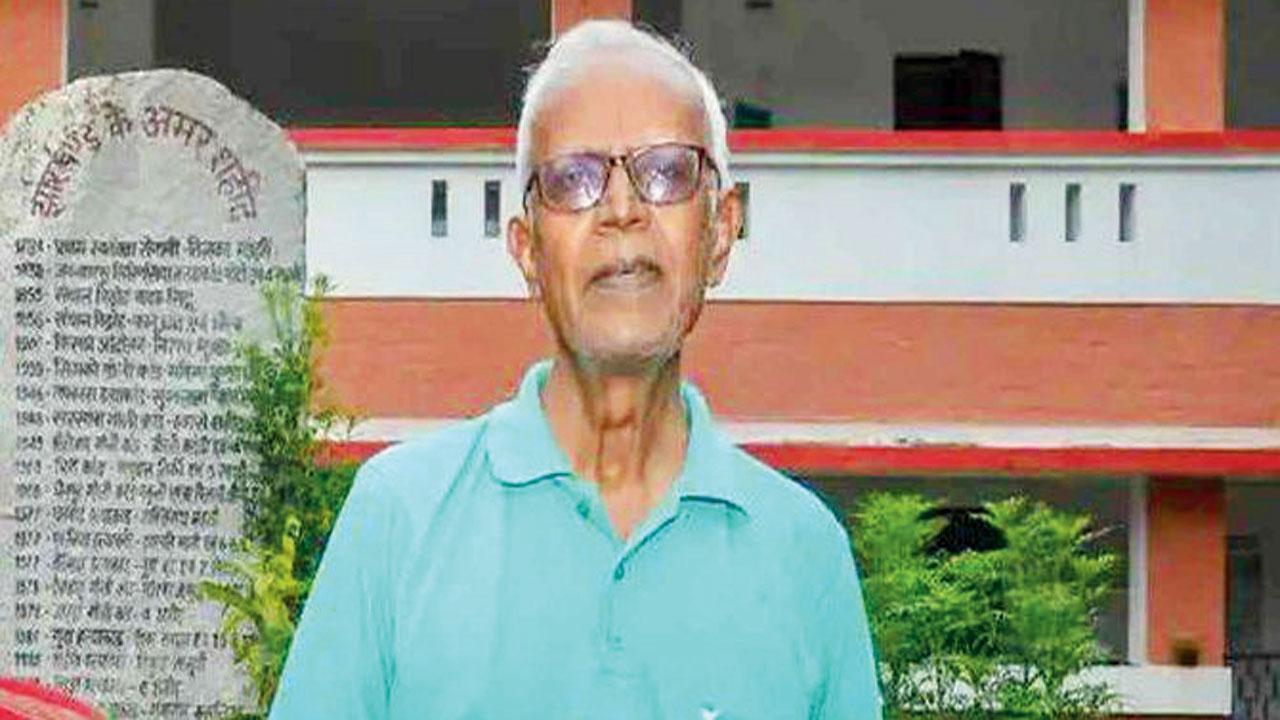 Father Stan Swamy. File pic
St. Peter's Church in Bandra put out a message recently in support of Elgar Parishad-accused Father Stan Swamy on its board facing Hill Road. The message on the board, which was spotted and shared online by several locals reads, "We pray for Jesuit Fr Stan Swamy in jail for two thirty three days and counting". The 84-year-old Jesuit priest is soon going to be shifted to Holy Family Hospital, which is near the church, for 15 days, according to an order by the Bombay High Court on Friday.
When Mid-day reached out to parish priest Fr Frazer Mascarenhas to understand the sentiment behind the message, he said, "We are telling the people to pray for one of our own who has been victimised." Fr Swamy was arrested in October 2020 in connection with the Elgar Parishad case and had been lodged at the Taloja jail. 
Father Frazer Mascarenhas, parish priest, St Peter's Church. Photo: Mid-day/Atul Kamble

According to the court order, Fr Mascarenhas will be allowed to visit him in hospital during his treatment. "I haven't been able to visit him yet. So, we will wait for the court order to be passed and only after he has been transferred will that be possible," he added.
This is not the first time the St. Peter's Church has shown support for the Jesuit priest. In December 2020 too, the church had put up banners in solidarity with Fr Stan Swamy, urging people to speak up in favour of him and other jailed activists. After Bandra Police had objected to the posters being on the footpath outside the church, they were reportedly shifted and put up within the premises. The poster had read, "Today our voices are muted, tomorrow it could be yours'.
Mascarenhas, who is a part of the Jesuits order of the Roman Catholic church, is one among several Jesuit priests who have been actively seeking the release of Fr Stan Swamy since his arrest.

The signboard in support of Father Stan Swamy outside St Peter's Church in Bandra. Photo: Keenan Burroughs

On May 21, Swamy had told the High Court that he would prefer 'dying' than going to a state-run hospital, though his health had deteriorated steadily since his arrest. Swamy is said to be suffering from Parkinson's diseases and several other age-related ailments. 
Earlier that same week, he was being treated at the government-run JJ Hospital, according to a high court order and the prison authorities had also submitted a medical report with details of his illness. In the report, they had said that the activist is currently suffering from extreme hearing loss in both the ears, has sluggish upper limbs which suffered tremors, and would require a walking stick or wheelchair. 
Swamy informed the high court that when he was brought to the jail eight months ago, his body was still functional and he could take a bath, walk and write by himself but unfortunately, he isn't able to do any of that now and can't even eat on his own and has to be fed through a spoon by somebody. The 84-year-old priest had insisted on getting interim bail so that he could go back to his friends in Ranchi. 
(With inputs from PTI)
Also Read: Would prefer 'dying' than going to hospital: Stan Swamy to HC