WWE star Wade Bad News Barrett, who was recently in India to launch the game WWE 2K15, shares his diet and exercise secrets to help one achieve a lean, muscular look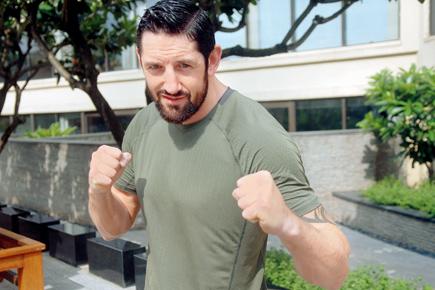 Wrestler Wade Bad News Barrett
Q. What's the first thing you have in the morning?
A. I start my morning with a sandwich with eggs/chicken and a good dose of peanut butter.

Wrestler Wade Bad News Barrett. Pic/Pradeep Dhivar

Q. What's the secret behind your lean look?
A. My diet contains a lot of protein, but because I am slim, I also have to consume a lot of carbohydrates to make sure I fill in along with the lean muscles. I also eat a lot of veggies. They are very important in maintaining the balance of nutrients.
Q. What's your diet while travelling?
A. Most of the time, I am travelling, so I rely a lot on fast food restaurants. People say it's bad, but if you know what you are eating, it's always possible to eat healthy. In fact, I usually go a lot for a chicken salad or something like that. They are a good source of protein and offer plenty of vegetables too.

Q. What's your workout routine?
A. I workout at least two hours a day. I love shoulder exercises. Unfortunately that's where I got injured recently, and I am undergoing therapy to recover from that. The rest is regular pull-ups and push-ups. Travelling takes a lot of my time, so, it's difficult to maintain the strength levels. I do a lot of strength training exercises and bench presses. I should be back in the ring in another two months, hopefully by December.