As the debate concerning the duration of Covid-19 vaccine effectiveness gets intense, Mumbai-based experts bust misinformation about booster shots, stressing on the need to fully vaccinate the public with two doses of either of the two available vaccines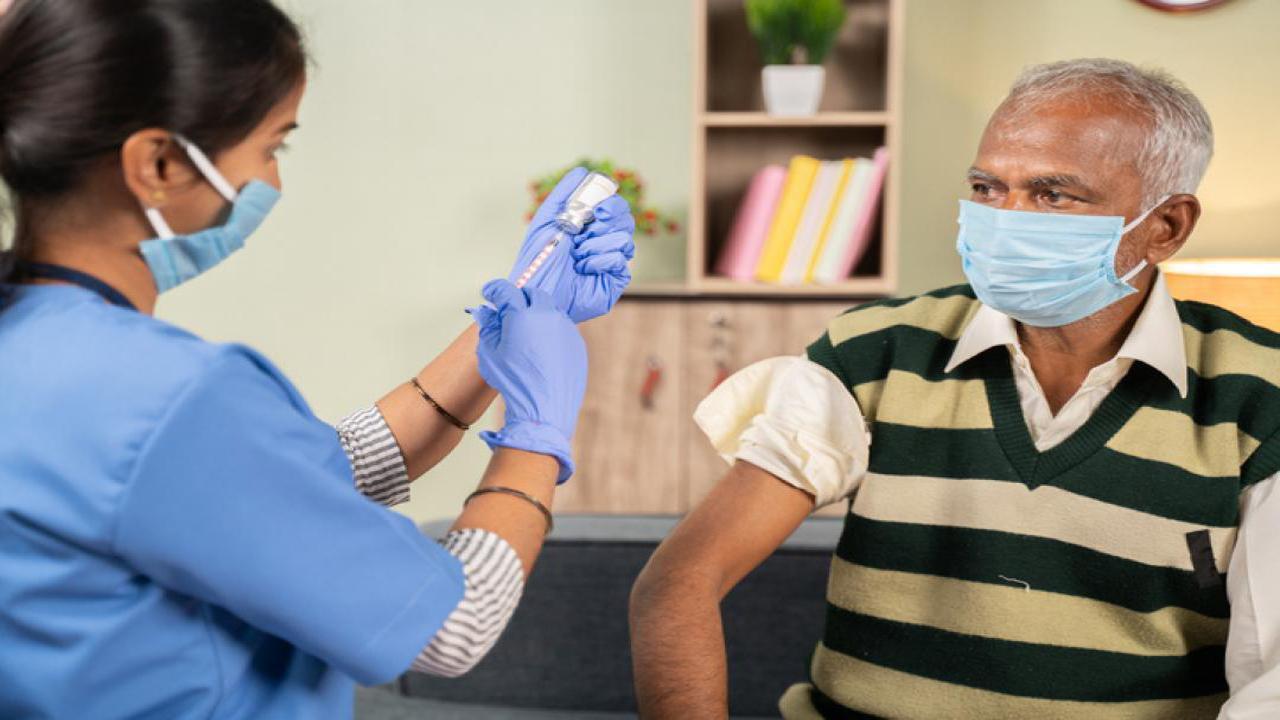 Only 18 percent of the total population of the country are fully vaccinated as per government data. Photo: iStock
Data released recently by the Brihanmumbai Municipal Corporation (BMC) suggested that out of the 5.4 percent breakthrough cases of Covid-19 registered between February 1 and September 24, 3.51 percent were vaccinated with at least one dose and 1.98 percent had received both doses of the vaccine.
The vaccine has largely diluted the effect of the virus and the infection is either not serious or very mild in the breakthrough cases registered, the BMC further said.
ADVERTISEMENT
These reports came at the same time as updates of health workers in Mumbai's hospitals getting a booster shot due to a reported decline in the amount of antibodies present in the body, months after taking the second dose of Covid-19 vaccine.
As the discussion around vaccine effectiveness and booster shots intensifies, there is a risk of misinformation and unnecessary panic spreading among the public.
Mid-day online reached out to two city-based experts, Dr Rahul Pandit, director for critical care, Fortis Hospitals and a member of Maharashtra's Covid Task Force; and Dr Pruthu Narendra Dhekane, consultant and infectious diseases specialist at Fortis Hospital. They explain the meaning of efficacy of vaccine double dose in simpler terms and offer clarity over whether Indians require booster shots anytime soon.
What do we mean when we talk about the efficacy of double dose of Covid-19 vaccines?
Pandit: The efficacy of a double dose of the vaccine is measured 15 days after the second dose has been administered and when the person has developed a full antibody response. Efficacy is looked at in the form of the chances of reducing mortality as a result of vaccination. This is the primary way in which the efficacy is actually measured.  The secondary way of efficacy measurement is the infective rate, i.e. whether it will bring down the actual number of infections. But remember, that's not the primary reason why the vaccines are actually produced and administered.
On September 9, Indian Medical Council of Research (ICMR) Director General Dr Balram Bhargava stated that the effectiveness of Covid-19 vaccine in preventing mortality after a single dose is 96.6 percent while it is 97.5 percent after the second dose.
Does this also mean there is lesser transmission or infection risk among the public?
Dhekane: After receiving two doses of the vaccine, the chances of a person catching COVID-19 disease are relatively the same, but the chances of a person developing symptomatic illness reduce significantly. This means a person may contract the COVID-19 virus, but it might not cause symptoms. If symptoms are generated, they may be mild or moderate. They won't be severe, at least in 96-97% of cases, according to ICMR.
That doesn't mean there is lesser transmission. However, if you are vaccinated with two doses, and after that you do get infected with COVID-19, even if you are asymptomatic or mildly symptomatic, the chance of further transmitting the virus to other people reduces. The duration of illness or symptoms is also reduced. Hence, the cases of transmission of virus also decrease, so there's lesser risk in the general public if everyone is vaccinated with the primary series of vaccines (two doses). 
Recent studies from US, UK and Israel suggest that vaccine efficacy declines within a period of three to four months.  Is this a cause for concern in India given the Delta variant cases?
Pandit: As per the recent data from UK and US, which talks about a decline in efficacy after three to four months of vaccination, we know that antibodies do get lower after few months, however, it does not indicate the decline in the level of immunity in a person.  Immunity mainly depends on the T cells and I think that is not very easily measured by many of us. We know that the second wave of COVID was predominantly due to the Delta variant in India therefore as long as we don't have any other new variant of concern that will be more infectious than the Delta variant it won't be a big concern for us.
Dhekane: The vaccine efficacy declining over 4-6 months is more so of the body's B-cell-mediated antibody levels, which decrease. This results in more susceptibility of an individual getting COVID after 3-6 months or maybe after a year, where we need more data or studies to show that this is the scenario. The Delta variant isn't a concern because most vaccines available are covering it.
How do you assess the efficacy period of Covishield and Covaxin?
Dhekane: It is challenging to assess the efficacy period of any vaccine. Measurement of antibodies is not an appropriate way to measure the efficacy period of the vaccine, definitely not of the COVID vaccine because it is the newest and the youngest vaccine on the block. Maybe we require a year or every six months to generate more immune responses. As far as Covidshield and Covaxin are concerned, it will have a T-cell and B-cell-mediated reply. The antibody levels are B-cell-mediated, which will decrease with time, but that does not mean you will not stay protected. 
 How will a booster shot help?
Pandit: The booster dose will actually improve the antibody levels and thereby it will actually help in restoring the immune response.
Dhekane: In the absence of sufficient safety and efficacy data, it is difficult to say if a booster shot will help or not and there are chances of an excessive immune response leading to side effects in the event of more exposure to COVID antigens.
There are reports of health workers being administered a third booster shot in Mumbai hospitals, due to a reported decline in antibodies among the health workers and LH Hiranandani Hospital has even written to the state government for a third booster shot. Does Mumbai need booster shots as of now?
Pandit: No. Let the population get vaccinated first. Let all Indians have at least one dose of the vaccine. Let more than 60-70 percent of the people get their vaccines. Then, I think the case for a booster dose can be made.
Dhekane: I don't think Mumbai needs to be separated from the rest of the country when it comes to booster shots. The dynamics are different because of population density. Still, it's better to wait for more concrete data on the safety and efficacy of the third dose of the vaccine to come into the picture.
The majority of the people, especially healthcare workers, are concerned because they received their vaccine in January or February this year, and it has been close to nine months. Some are concerned if their antibody levels are declining and some are excited to check their antibodies monthly.  
What are the dos and don'ts of booster shots and at what stage is it generally administered?
Pandit: There is no case of a booster dose being discussed right now; hence we should wait for some more data and research to come to light before taking any further action.
According to government data, out of the 90.79 crore people vaccinated as of October 3, only 24.81 crore, that is 18 percent of the total population of the country, have been administered the second dose of the vaccine. Can we afford booster shots at the moment, considering the gap in the number of people yet to be fully vaccinated?
Dhekane: Rather than going in for a third shot, it's essential to close the gap between people who are not immunised or have received just one dose of vaccine. The earlier we get this done, the lesser the chances of having another outbreak or other wave.
Any misconceptions or misinformation around double doses and booster shots that you would like to bust? 
Pandit: Two doses are necessary with the current available vaccines only. When Johnson & Johnson or ZyCov-D vaccines are available it will be a one dose vaccine or a three dose vaccine. So, whichever vaccine you are administered with, make sure that you complete the regime of that particular vaccine.
Dhekane: Well, theoretically, double dose in vaccinology and booster shots mean different things. A double dose is recommended to give twice the strength of the regular dose of vaccine. Booster shot means that once you have completed an initial series of vaccines called the primary series of vaccines, you require the same amount of vaccine within a required time, which will keep your protective level of a particular disease at an optimum. We recommend annual doses of influenza vaccines. These are not booster doses. These are given to combat the newer strains and variants which come up every year for influenza. Don't confuse double, booster, and yearly doses of vaccines.
Also Read: Does Coronavirus catch young hearts? Doctors look for answer