Ghatkopar has resonated with patriotism and politics, faith and fervour for over a century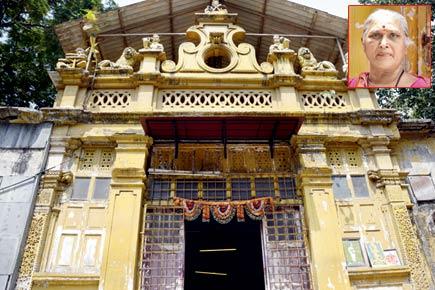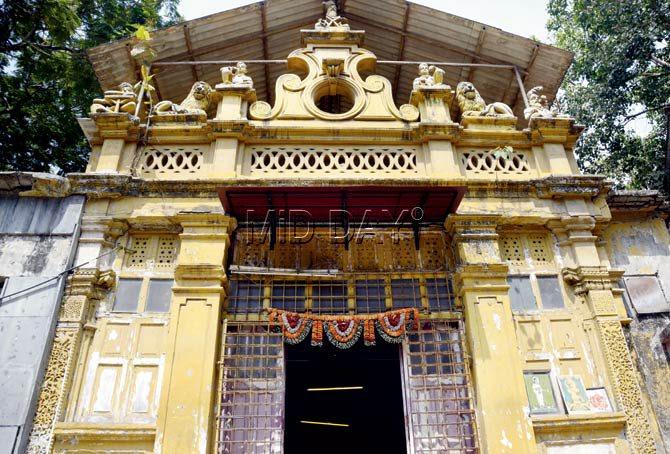 Outside 1902-built Laxmi Narayan Mandir in Ghatkopar East. Her husband belongs to the fourth generation of priests looking after this temple. Pics/Sneha Kharabe

I believe in serendipity. The gentle winds of Once Upon A City often float me just where they should. What else explains the very first person to cross my path as I set out exploring Ghatkopar? Daksha Goswami turns out to be wife of the poojari descended from four generations of priests tending to one of this suburb's most ancient temples. She smiles, faintly curious. Wondering why I should stand interestedly at shut-for-the-afternoon gates of 1902-built Laxmi Narayan Mandir and haveli.
Its eclectic architecture draws me to the cool courtyard on a seriously sweltering day. "So beautiful," she says simply, untiring of a sight that has greeted her daily for 40 years. We gaze at the temple facade in the tranquil hour before evening worshippers will troop in. Architectural splendours like this harbour Ghatkopar's deep hidden gems.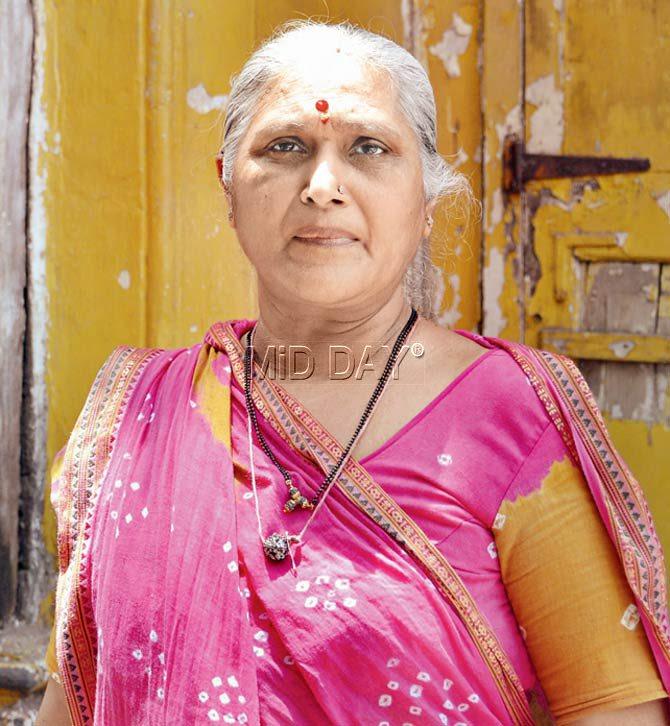 Daksha Goswami
Some say the suburb refers to the hill range tapering off at Thane ("ghat ke oopar"). Others ascribe it to the Marathi word for "corner" - khopra - of the Western Ghats, therefore Ghat-khopra. A village ringed by creeks and salt pans in the 1920s, Ghatkopar was administered by a municipal council, a Collector in charge of what was termed the Suburban District till it got absorbed into Greater Bombay in 1945.
Shaded paths honour residents of note: Nowrojee Lane named for Nowrojee Sheth, Cama Lane for Lady Cama, Khot Gully for the land's farmers and ploughmen, Hingwala Lane for a family dealing in asafoetida. The area teemed with Kutchi Bhatias. A Central Railway line locomotive puffing from Thane-Ghatkopar to Victoria Terminus was actually dubbed the Bhatia Local. Members of the enterprising community boarded it in hordes to trade in town or leisurely head to Pancham Puriwala on Perin Nariman (Bazar Gate) Street near the GPO - the legendary cafe introduced in the 1840s by Panchamdas Sharma who covered the miles from Adhet in Agra to reach Bombay by bullock cart.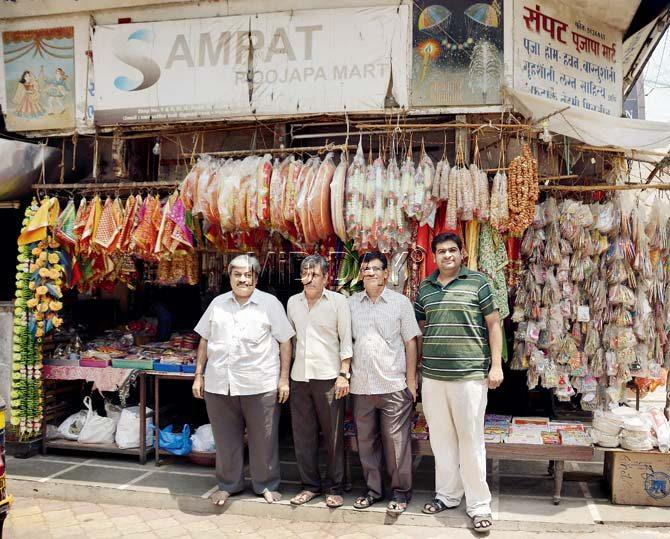 The proprietors of Sampat Poojapa Mart outside their 125-year-old shop; brothers Rajesh, Mukesh and Virendra Sampat with Virendra's son Jiten
Ghatkopar was sheathed in agricultural tracts Maratha rulers granted the Raja Shirke clan as jagir; the stretch the Shirkes occupied is Rajawadi today. Their hold slackened with English hegemony, Parsi landlords and, in the last quarter of the 19th century, cotton barons from the city south, Mandvi and other parts of Gujarat.
From fabric to freedom, textiles to Tokyo, the late Manibhai Sundarji Doshi's story is entirely engrossing. Born in Amrapur Dhanani, Kathiawad, in 1920, the year of the Non-Cooperation Movement, he witnessed British atrocities early in life. "He was detained as a boy of 10 by lathi-wielding policemen and beaten at mere mention of Gandhiji's name," his daughter Darshana confirms.
Sent to Bombay as a teenager to further the family textile business with guidance from his brother Chhatrabhujbhai, he shipped out georgette, satin and chiffon to Shanghai and Singapore. The Doshi-owned Bharat Silk Mills introduced viscose to Japan - being Jains they did not deal with cocoons spun by silkworms. It was there that Manibhai met Subhash Chandra Bose and became Major in Netaji's Azad Hind Fauj. Japan surrendering to the Allies in 1945, he was taken prisoner of war by the British, faced court martial in Rangoon and sentenced to death. It was the Mahatma's intervention that allowed him repatriation.
Fearless from his brush with the gallows, Manibhai returned to India, fronting the Arzi Hukumat stir as home minister of that interim government. When the Nawab of Junagadh acceded to Pakistan against a majority of his people's wishes, the struggle brought the province back in the country's fold. "Not only was my mother's wedding trousseau fully khadi, even the garland around her neck wove pink khadi flowers with green leaves," Darshana shares. "Ghatkopar was utterly peaceful. We'd hear father's car honk quite a distance from home, a signal that lunch be kept ready. Our house, Vanmali Bhuvan in Cama Lane, was called 10 Downing Street of Ghatkopar!"
The Evening News of India's June 18, 1982 edition makes a brief mention of the suburb as the hub of the crippling textile strike. In his piece titled 'Home for Dr Samant', N Santosh reported: "Ghatkopar has earned the distinction, if one might say so, of being the base from which the longest-ever strike in the city's cotton textile industry is conducted. Dr Datta Samant, the irrepressible labour leader, resides here in Pantnagar."
I'm privileged to hear more freedom stories firsthand from a 90-year-old patriot. The nonagenarian I meet is from a renowned family of social workers. He was a fragile but feisty 15-year-old confined to Yerawada jail for outspokenly supporting Gandhiji. A stretch of his garden converted into an underground adda where young rebels and idealists of Ghatkopar crouched late night, planning protest against colonial clutches. Jumping wall to wall in the neighbourhood, he secretly delivered copies of Gandhiji's banned newspaper Harijan Bandhu. Everything in his present home is imbued with Gandhian thought... the Swatantra Sainik medal marked 1947-97 on 50 years of Independence, to a black and white portrait of the Mahatma signed 'Bapu na aashirwaad, Sevagram, 9/11/1940', to the crisp sari his wife wears - freedom activist parents draped her in khadi from the day she was born, she says.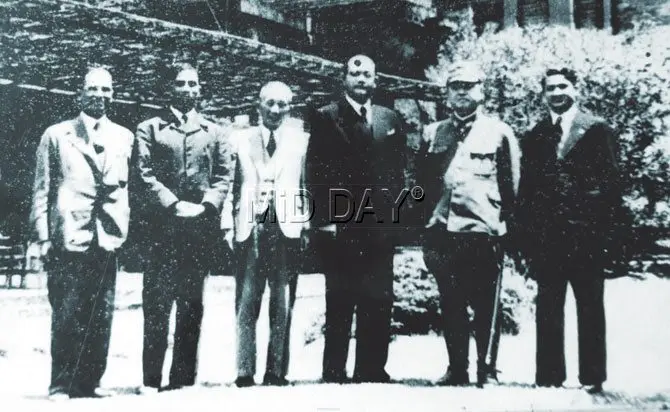 Manibhai Doshi (extreme right) with Subhash Chandra Bose (third from right) and General Iwaichi Fujiwara of the Japanese government (fourth from right) in Tokyo, 1946
Ghatkopar is earnest earth, stepped on by a stellar stream of freedom fighters, stalwart philanthropists and legal luminaries like Justice Ratilal Mehta. The 1970s saw 60 Feet Road renamed RB Mehta Marg, after the Palanpuri shot to prominence doing what no judge in any Commonwealth country had the courage to: dispute a jury's verdict. As chief sessions judge presiding over the notorious Nanavati murder trial, Mehta declared the acquittal of the accused "perverse". Referring the matter to the High Court, which finally confirmed Nanavati's life sentence, he played a defining role in the case that effectively ended India's jury system.
In time-honoured home state tradition, hospitality in this mini-Gujarat is incredible. Alley stall to swishy enclave, I'm warmly plied with food and drink. At the corner of Ratan Mahal, I pop into Central Stores. The grain and provision merchant is rooted at the same spot since opening in 1954, thanks to Arjan Noghabhai from Vagad Varuliya in Kutch. Sure enough, a minute into our chat his nephew Virambhai asks: "Kai thandoo leso, kai naasto? (Have a cool drink, some snacks?)" Then continues: "There were endless queues. We gave customers home service right away." Transport for deliveries till Chembur, Powai and Vikhroli was two handcarts, six cycles and a tempo. "It was far busier those days. I would have had no time to sit talking as I am now with you," Virambhai says.
The Monday I've chosen proves slightly amiss to visit Ghatkopar (different commercial holidays mean shuttered shops on Monday in the east, the west closing on Thursday). There are exceptions like Sampat Poojapa Mart, in Anjariya Wadi Building, where I need to duck under heavily hung paraphernalia for pooja and wedding rites. Rajesh, Mukesh and Virendra Sampat's packed-to-the-rafters shop has thronged with customers for 125 years. Their grandfather Dharamshi Kalyanji Sampat sensed opportunity – Ghatkopar is where the lotus-shaped Krishna temple rises beside Sarvodaya Hospital and an ornate elephant statue welcomes devotees at the Jain derasar. "Our father Bhagwandasbhai and his brother Babubhai slogged to keep business going," Rajesh says, voice laden with gratitude. Virendra's son Jiten entering the business makes this a four-generation operation.

After Haribhai Damodar Makwana settled here from Morvi in Gujarat, his son Purshottamdas joined him to establish the first branch of Purshottam Kandoi Haribhai Damodar Mithaiwala in 1952. Serving sweets and savouries from a swathe of cultures across the country, the counters of this mitha-namkeen haven have to be Ghatkopar's most colourful. About 500 metres towards the railway station from Vikrant Circle is Vallabh Baug Lane in Garodia Nagar – the suburb's Khau Gully - always awash with locals indulging their love for buttery street bites. Top of the pops for years are Jayshree Sandwich and Reddy's Dosa. The latter boasts 35 brisk-selling varieties which eager foodies devour 1500 of on a weekend, washed down with innovations like Masala Soda and Masala Thums Up. Pooja Gola crushes a "deluxe special" chilled ball of bliss: vanilla ice cream crowned with fresh malai, grated mawa plus fistfuls of dry fruit. Ghatkopar can be the next Bandra, a regular declares between stuffed mouthfuls.
In an interview in his 90s, Manibhai Doshi had said, "I see a bright future for India, maybe not in my lifetime but soon." Steeped as he was in the shining spirit of Ghatkopar, dare we dream his words will come true?
Author-publisher Meher Marfatia writes fortnightly on everything that makes her love Mumbai and adore Bombay. You can reach her at mehermarfatia@gmail.com