Autism spectrum disorders are a diverse group of neural conditions, characterized by difficulty in social interaction and communication. On World Autism Awareness Day 2023, we spark a conversation with experts on designing furniture that caters to the needs of autistic people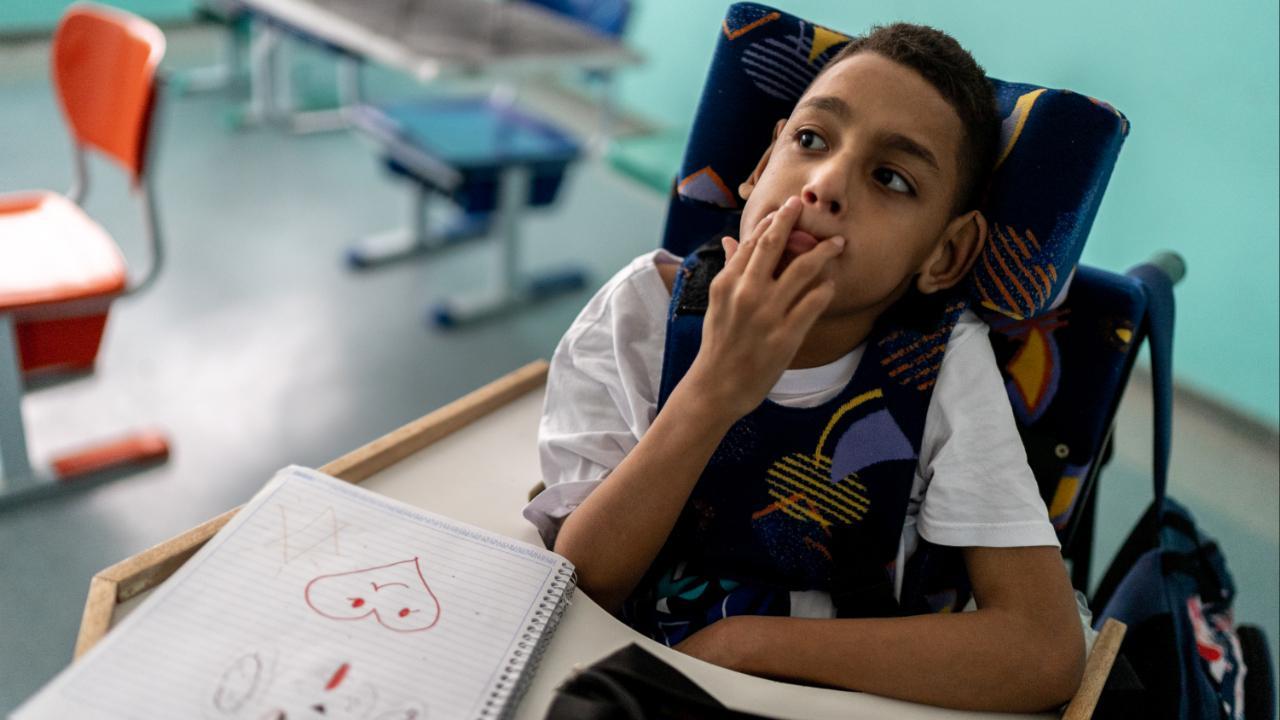 Sensory chairs are very useful for adults and children living with autism. Photo Courtesy: iStock
When it comes to Autism, neural conditions exhibit a wide spectrum of abilities as per the individual. While some people with autism are capable of leading independent lives, many others depend on their families owing to severe symptoms like difficulty in focusing, unpredictable reactions to sensations, and friction in switching from one activity to another. Consequently, neurodiverse individuals, such as people with Autism and Down Syndrome, are often marginalised, and not given enough opportunity to actively participate in society.
Given the fact that at least 20% of people are considered neurodivergent, it is critical to recognize that not every individual can perform tasks the same way. Though medical advancements aid their healthcare and rehabilitation, there remains a wide scope of improvement in enhancing their everyday functional capacity.
ADVERTISEMENT
That is where transformative furniture design becomes instrumental in providing the holistic development of autistic people. With a handful of designers introducing furniture that recognizes neurodiversity, there is hope in expanding on the creative potential of individuals with Autism. Midday.com spoke to designers Devesh Shah, head of business development, Amardeep Design, and Misbah Kapadia, founder and curator of Design Konstruct on revolutionising the design towards an inclusive approach for people living with Autism.
Evolving design philosophy for an inclusive approach towards neurodivergent people
When it comes to designing for neurodivergent people, it is important to consider the fact that many of them have high energy levels. They tend to think innovatively and many a time, out of the box. Misbah lays down the basic fundamentals for inclusivity in design. These include minimum physical effort, low error tolerance, simplicity, flexibility, and equitable utility.
Building on that, it becomes a key element to provide autistic people with facilities like quiet rooms to help them focus better, clear lines of sight and viewpoints, strategic use of colour, signage, and lighting, low traffic areas to alleviate anxiety, and even special spaces for breaks, etc.
Taking a revolutionary step towards enabling people with Autism, Devesh Shah is crafting a new furniture archetype that showcases artwork made by children with Autism and Down Syndrome. The furniture design includes paintings made by autistic children that are printed onto fabrics and used to upholster each unique piece.
The artwork remains at the center of the design process which aims to reimagine the furniture of tomorrow. In a collaborative effort with Sketch, an apparel brand that features artwork made by children with Autism and Down Syndrome, Devesh found a common mission in making India more inclusive, with the aim to empower, educate and provoke conversations about inclusion and accessibility.
Designing furniture to bring out the creative potential of individuals with Autism
Devesh believes in changing the narrative by leveraging his skills in contemporary design for neurodiverse people. "We believe that through intentional design and communication, we can make inclusion, a part of everyday conversation and influence people to be more empathetic and inclusive in their day-to-day life."
Misbah suggests practical design steps to implement the design philosophy for autistic people. Furniture replete with simple design, neutral colors, and materials like wood, work best for individuals with autism. It is best to avoid reflective surfaces and glossy materials to avoid an unstable reaction. Bright colours, complicated structures as well as sharp edges are features that need to be avoided in general. 
Contoured positioning chairs and sitters coupled with sensory chairs that provide the right sensory stimulation as well as in-built positioning for healthy posture are suitable for people with autism.  It is key to have robust materials, and tamper-proof elements and ensure that the furniture is portable, lightweight, and convenient to use. Think hug chairs, adjustable bean bag formats, and recliner-style rockers with ottomans.
It is critical to remember that one size does not fit all and unique/individual requirements need to be considered before actually designing or selecting furniture for such people.
Sensory furniture to assist autistic people in their day-to-day lives
Sensory chairs are very useful for adults and children living with autism. They provide multiple kinds of sensory stimulation and movements that help them focus better while calming down the mind and body. This could be in the form of rocking and spinning movements and compression. Stability balls, standing desks, rocking chairs and inflatable cushions are useful too. 
Misbah informs that providing supportive features like foot fidgets or even handheld toys works well for people with special needs. Vibrating cushions, sensory mats and chew toys for children are other sensory accessories that work well
How a sensory chair aids in building focus for neurodivergent people
Sensory chairs promote movement akin to a fidget-friendly option and help improve focus in individuals with special needs. It enables them to be alert and focused while providing the extra movement they are seeking while they are seated in the chair. It helps to avoid unsafe movements that could not only be distracting but also hazardous.
These chairs not only reduce stress and anxiety but also provide deep pressure therapy and improve muscular strength, motor skills and balance. They come in a wide variety of shapes and sizes and some even have in-built light and sound says Misbah. 
Designing durable furniture to withstand abuse due to hyperactivity issues
Furniture used by people with hyperactivity issues is often subject to heavy abuse and even damage.  It is essential to choose tough materials that are sturdy and durable. For example, the foam that goes into the chairs needs to be especially resilient, legs and other fittings need to be anti-tamper etc. Ensure that there are no glass fittings or delicate work on the outer fabric. Thick cotton or even velvet works well for the furnishing material as long as it is comfortable and breathable. That being said, the furniture should provide a sense of security and stability to the individual. 
Colour tones to induce relaxation for autistic people
Misbah reveals that bright colours like red and yellow are a no-go as they can be overstimulating. Mellow colours like blue, soft pink, green and blue have a calming effect and work well for relaxing the mind. Pastel greens have a restorative power and so does teal. Pastels like baby pink and violet induce a sense of security and safety. It works well to reassure the minds of people with autism and other similar conditions. 
Soft corals and oranges also invoke warmth and comfort. Avoiding extreme contrasts is recommended and a designer must ensure that they deploy the same colour for the room and ceiling with slight differences in tones. Large prints, stripes and other patterns are a big no-no as they can induce visual confusion and chaos. 
Adaptive table tops, desks or lap trays to increase functionality
Adaptive desks that are suitable to use in a workplace, classroom, at home and even on a special chair are available for people with autism. Ergonomic design, proper height, and back and foot support are some of the design intricacies. Misbah impresses upon the fact that such furniture needs to be able to provide safety and stability. Wheelchair-accessible desks, tilting table tops, height-adjustable mobile desks, and standing desks are other options that are available to people with special needs. Lap trays with side pockets to hold essentials, made from sturdy material like plastic are again useful whether for working, travelling or even watching a movie at home.
Bedroom furniture design tips for people living with autism
Try to strike a balance between functionality, catering to sensory needs, promoting independence and providing safety while thinking of bedroom furniture design. An ergonomically designed bed with memory foam or a hybrid mattress is a good option. Plan for ample storage in the form of boxes with rounded edges with clear labels indicating the items they hold; it is also a great idea to minimize clutter. 
Misbah suggests that designers can also plan a sensory deprivation area whether it is a pyramid of soft pillows, soft toys or fidget-friendly toys which helps the individual regulate his/her thoughts and relaxes their mind. For children, she suggests including a small rocking chair or ball chair or t-stool along with a desk to read and/or study.
Other furniture design for the holistic development of autistic people
Height-adjustable support chairs, versatile desks that fit into wheelchairs, wheelchair trays as well as lap trays are available to suit the special needs of individuals with autism. For the dining area, use sturdy, non-tippable chairs with ample back and foot support. One can also move their sofa or armchair and use non-slip blocks to elevate the height. In the case of small children, one can opt for low-rise tables and chairs to prevent falls. 
Sensory swings, tunnels and trampolines for children are perfect if you want to create a sensory gym at home. Grab bars, anti-skid tiles, non-slip mats, pull and push taps and ergonomically planned sinks and bathroom fittings are some elements for designing a bathroom for autistic individuals. Misbah recommends the use of soothing colours and avoiding visual clutter in the form of bright lights, accessories or wallpaper to alleviate visual chaos.
Also Read: Understanding the mental health needs of neurodiverse adolescents