A2 Desi Ghee is the purest kind of ghee that is ingested, and Mr. Milk has one of the highest quality desi ghee available, which is manufactured using the traditional bilona method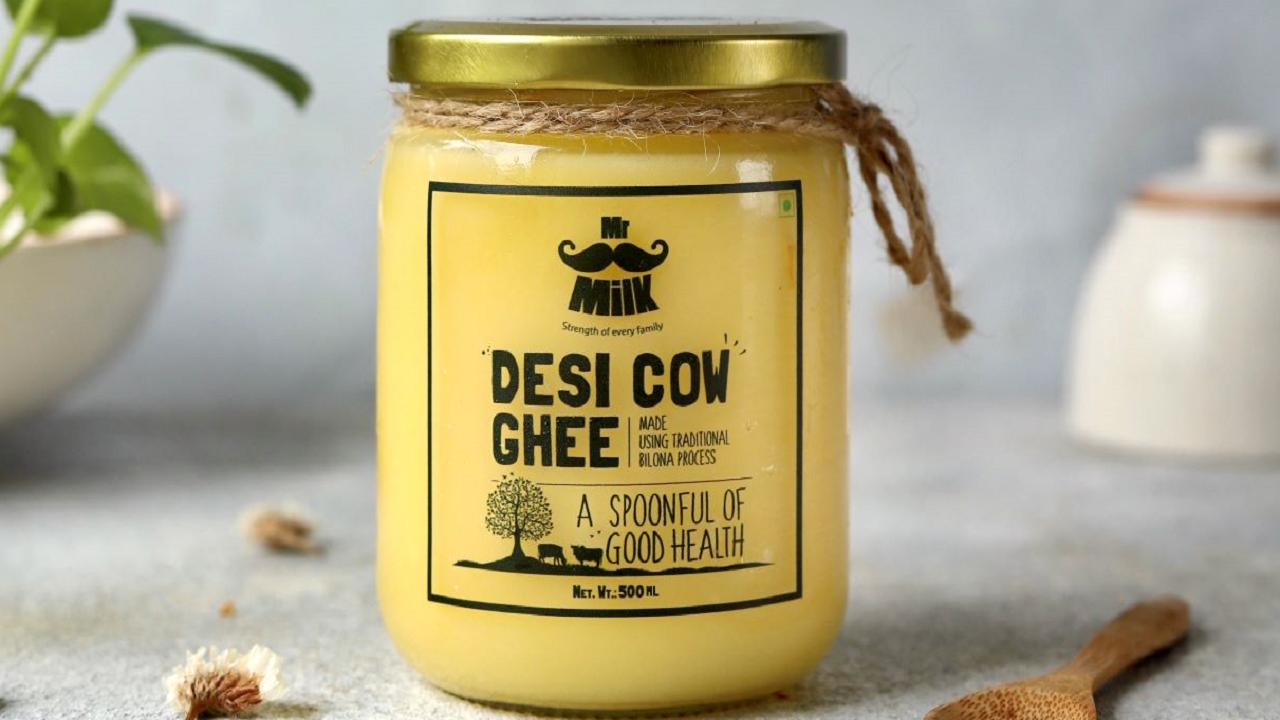 Representational Image
Ghee is highly significant to Indians in their meals, and its aroma always brings back nostalgia and joyful memories because it reminds one of motherly affection (maa ka pyaar). Since decades, ghee has been a very important part of our nutrition and most of our parents and grandparents have consumed ghee in multiple ways in their diets as it Increases the appetite, and promotes positivity in thoughts. A2 Desi Ghee is the purest kind of ghee that is ingested, and Mr. Milk has one of the highest quality desi ghee available, which is manufactured using the traditional bilona method. Ghee made from A2 Desi Cows is far healthier than any other sort of ghee. There are fewer calories in it than buffalo ghee.
The desi ghee at the Mittal Dairy Farms is carefully curated by using the traditional bilona method in which the cow's milk is boiled and cooled. Once the milk has cooled, a spoonful of curd is added to the milk and kept overnight at room temperature. The curd is then churned to extract butter from the milk, and this butter is boiled so that the water evaporates leaving behind pure ghee. All of this is done without the use of machines. Mr. Milk believes that having ghee in this form is the best since it is not processed and is in its purest form for consumption.
The desi ghee is made from desi cows' milk as it is healthy and contains A2 Beta Casein, similar to mother's milk. Mr. Milk's A2 Desi Cow Milk is fresh, nutritious, and as pure as nature intended. A2 Milk has ample Omega - 3 fatty acids that are excellent for the health and well-being of people especially during such times when it is important for everyone to consume the right amount of nutrition to remain fit.
While many of us are adopting healthy lifestyles and adhering to a diet in order to live a healthier lifestyle, ghee is still present in our diets. Ghee is suggested to be part of one's meal by dieticians because ghee has abundant omega 3 and it may help you lose weight. Ghee also helps to mobilize fat cells so that they can be burned for energy. Essential amino acids found in ghee can help fat cells shrink so if your body develops fat quickly, ghee can help.
Mr. Milk desi ghee has no preservatives or hormones and the milking process is fully automated hence the product remains  untouched by human hands. To ensure one is having the right ghee, Mr. Milk also offers doorstep delivery within 24 hours of milking.  The ghee is available pan-India through the Mr. Milk website and Amazon allowing one to order desi ghee from within the comfort of their homes.