Today (September 29), the whole world is celebrating World Heart Day as the World Heart Federation started this trend in 1999 in order to create awareness for keeping the heart-healthy. The heart is certainly a very important organ of our human body and it is highly impossible to live a good life if the heart is not able to function properly.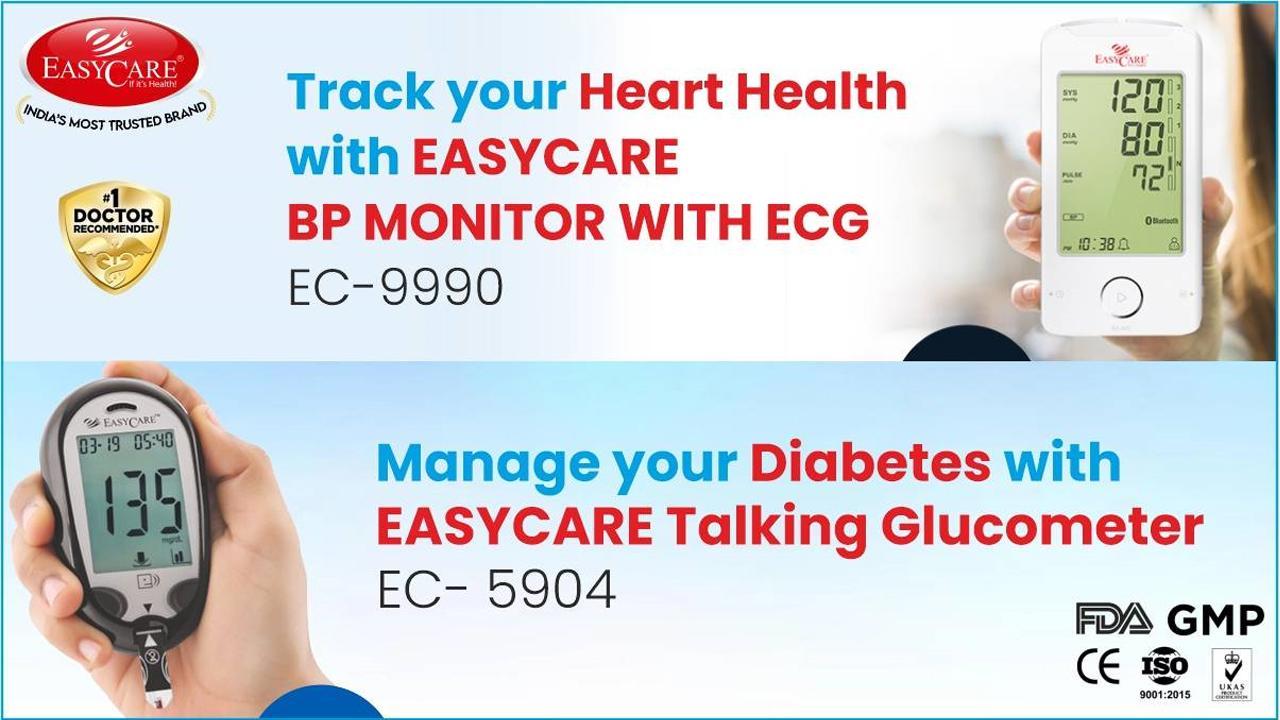 EASYCARE Glucometer & BP monitor with ECG function
The increasing cases of heart attacks and cardiac arrests especially among the youngsters are something to be worried about so on World Heart Day, let's take a pledge to take proper care of our heart and ensure that it is healthy, fit, and fine.
How to keep your heart healthy?
ADVERTISEMENT
We need to take care of some important things if we want to keep ourselves healthy such as following a lifestyle in which we are able to sleep properly, exercise regularly, have a diet which is devoid of junk food or restaurant food as it is oily, fatty, sugary, salty, etc. We should always keep away from smoking as well as passive smoking and alcohol should have no place in our lives. Maintaining our weight should be our priority as obese people are at high risk of diseases such as diabetes which can further increase the chances of heart attack, stroke, or cardiovascular disease. One more point which we should keep in mind is that we should keep control of stress as it results in hypertension which will take us one step closer to CVD.
Medical check-ups at regular intervals even for those who are below 40 yrs. of age are recommended and especially for those whose body may not have shown any signs of CVD but they have a history of CVD in their family.
Medical check-up facility at home –
Blood pressure and blood sugar levels should be checked regularly and having the facility for checking them at home is certainly the need of the hour, especially in times of the pandemic when we also have to save ourselves from COVID-19 whenever we go out of the house.
While there are many brands that deal in medical equipment, the blood pressure monitor developed by EASYCARE Group seems to be the best option as it also provides ECG function in the same device.
EASYCARE Blood Pressure Monitor with ECG function (EC9990)
EASYCARE Blood Pressure Monitor with ECG function is a technologically advanced device that can measure blood pressure, pulse rate and also records ECG for 30 seconds. The device comes with AFib detection which is useful in confirming the case of atrial fibrillation if the heart rate is irregular and it beats more than 100 times in a minute. This compact and fully automatic machine has a hypertension indicator along with a large screen for easy readings. The device can store 64 readings which can be used for tracking the health of the individual and it can be connected with smartphones as the device is equipped with Bluetooth technology.
EASYCARE Self-Monitoring Talking Blood Glucose Meter (EC5904)
Diabetes is also one of the main reasons for a heart attack so blood sugar levels should be checked on a timely basis too. EASYCARE Self-Monitoring Talking Blood Glucose Meter is a very useful device for serving the purpose of monitoring glucose levels at home. The device gives reliable and accurate readings and that too within the 5 seconds of the blood being applied at the strip. The device can store 480 results which help in tracking and monitoring the glucose levels of the individual.
When you should contact the doctor?
Having these two devices from the EASYCARE Group at home will certainly help you a lot in maintaining your health but you should not delay in contacting the doctor if you experience any of these symptoms – chest pain, dizziness, nausea, extreme tiredness, breathing problem and cold sweat as these are some common symptoms of a heart attack.
On World Heart Day, let us pledge to take care of our hearts and also of our loved ones and "Use Heart To Connect" which is also the World Heart Day theme of this year given by the World Heart Federation.
The products are available on all leading e-commerce platforms
Website: www.easycareglobal.com
"Exciting news! Mid-day is now on WhatsApp Channels

Subscribe today by clicking the link and stay updated with the latest news!"
Click here!