On the occasion of World Environment Day, indulge in a day-long festival that will help your children learn more about the environment through fun-filled activities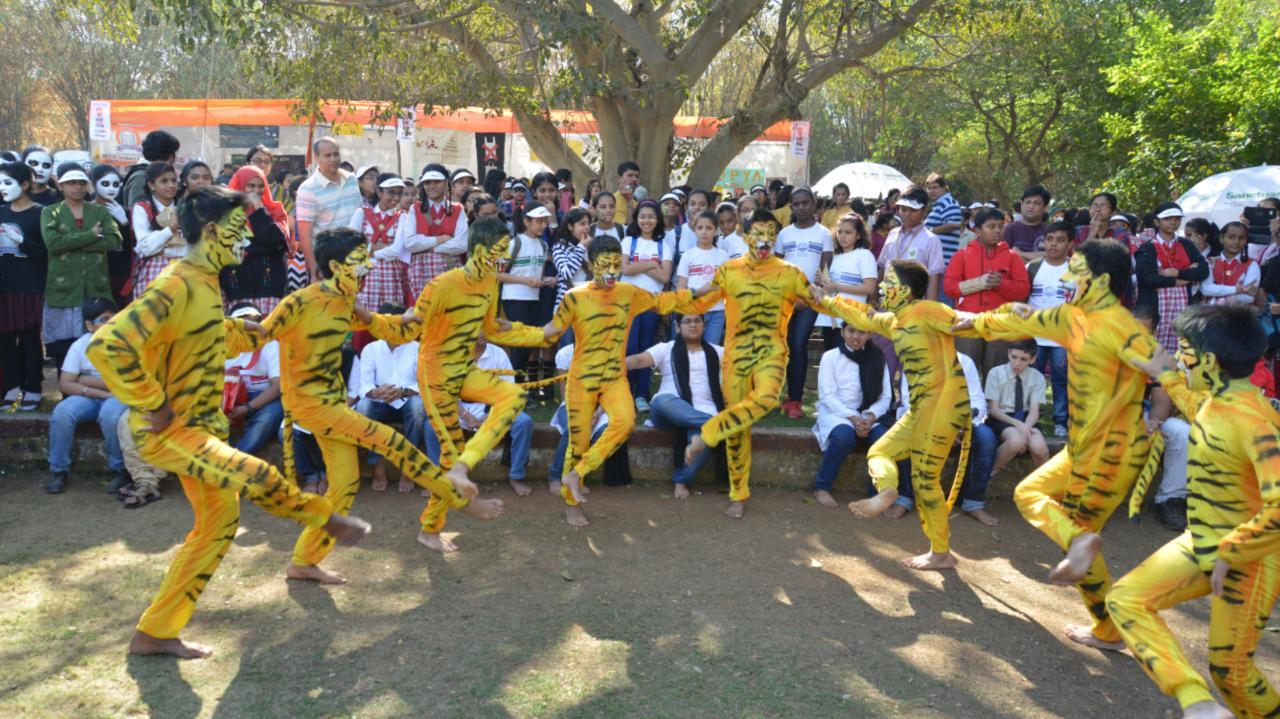 A glimpse of Sanctuary Nature Foundation 'Kids For Tigers' programme in Mumbai in the past. Photo Courtesy: Sanctuary Nature Foundation
Schools will open soon but summer isn't just over yet and kids can still make the most of their holidays in the city.
Luckily for them, there are many different ways to make the most of this remaining free time because there have been quite a few activities that are currently taking place to keep children busy. With an increasing focus on protecting the environment, there is nothing more important than learning how we can do our part in this cause.
This weekend, children can indulge in a day-long programme of fun hosted by the Sanctuary Nature Foundation called 'Kids For Tigers' at the National Centre for the Performing Arts (NCPA) in Nariman Point as a part of their Summer Fiesta 2022 events. Celebrated on World Environment Day on June 5, the festival is open not only to children but also parents, teachers and their families to make it interactive at every level. 
It is bound to make your child explore their creative side as they participate in different activities with a focus on the environment along with other children. Imagine going on a nature and tree walk to explore your surroundings like never before. They will get the chance to pause and marvel at the beauty, we often take for granted in our daily lives. That is only the start because they can also play with colours as they take part in different art and rangoli competitions. 
Your children can even participate in a fancy dress competition, where they can come dressed as their favourite animal by making the costumes from ethically sourced parts, that will showcase their love for the environment.

If they want to do more, they can try their hands at art workshop  where they will learn how to make art with leaves or simply create something new by upcycling waste. They can even show off their creations to their friends in their neighbourhood and school too. As a part of this immersive experience, they can get involved in workshops on theatre, storytelling and learning about Mumbai's wildlife history. They can also get lost in the real world as they can watch four wildlife documentaries that will be showcased between 12 pm – 4 pm. There will also be climate awareness talks by Bittu Sahgal, Dia Mirza, Amandeep Kaur and Preeti Takle. 
While your children will get to tie their Tiger friendship bands, they will also get the opportunity to tell Maharashtra Environment Minister Aaditya Thackeray what they wish to see in Mumbai for the environment. All they have to do is write it down and put it into a wishing bowl which will be sent to him after the event. Last but not the least, parents and their kids will also be able to sign the 'Save the Tiger Waghoba Scroll' that will be handed over to Maharashtra Chief Minister Uddhav Thackeray.     
When: June 5
Where: National Centre for the Performing Arts (NCPA), Nariman Point
Time: 9:30 am – 5 pm
Register: https://forms.gle/31wfJcooKfwCZt9K9