In the city on a tour for his latest book release, ex-RBI governor Raghuram Rajan talks of demonetisation, social media, and why breaking up monopolies is no longer an easy option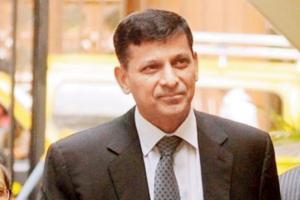 Raghuram Rajan
Dr Raghuram Rajan, is clear about one thing throughout his latest title — he doesn't want to tax the reader's patience, nor his editor's. The Third Pillar (HarperCollins India) released last month and Rajan has been on a tour across cities to promote it — making a stop at the National Centre for the Performing Arts (NCPA) on Wednesday. While addressing the three pillars that support society — the state, markets, and the community — he delves into history and anecdotal evidences, offering a comprehensive understanding into our economic and political concerns such as technological change and populism. Edited excerpts from an interview.
You've mentioned that your previous works with Luigi Zingales and Rodney Ramcharan have been central to some of the ideas in The Third Pillar...
I think the broad issue of the underpinnings of capitalism was based on discussions and works with Luigi. Some of the historical aspects stemmed from my work with Rodney. The book is about trying to understand why capitalism and democracy work so well together in the industrial countries: why is there so much anxiety and protest about it now? What do we need to do to make sure it starts working there again, and for countries like India? What kind of message do we take away on what the way forward is?
Addressing the reader, you write, 'I hope this book stirs your blood.' What were your initial concerns about writing it?
I wanted to try and understand for myself, that's what every author wants to do. But once I had the sense to try and communicate, because I was very worried about the political developments that I saw around me —Brexit in the UK and the election of Donald Trump in the US — I wanted to understand what was happening better. This was also an attempt to understand what we could do to rectify the situation. The message is that there are ways out of this as well.
What is the first step to making markets more inclusive?
If markets were to work for everybody, then liberalising some of the restraints, that were put on them to favour one segment over the other, would certainly be a good thing. For example, don't have high tariffs preventing the inflow of goods because that tends to benefit one segment over the other. But on the issue of accessibility of markets, which is as important as the markets being free, [it is essential] that people have the capability to participate in those markets. And that's why an important aspect to get the markets to work for everyone is to improve the skill and education base of the people who enter the market. That's where the community comes in.
Are we doing enough to recognize the importance of community-based financial institutions?
Community-based financial institutions are community-based educational institutions like local schools. A whole variety of these need to be looked at. But you have to be careful... not everything can be at the community level only because if you have a financial institution that is only focussed on the community, it could be a very weak financial institution, unless the community is a really big one. So, that is something to think about — do I want small but potentially weak financial institutions that can target community activity? What is the optimal size of the community below which a dedicated financial institution doesn't make sense, but above which it does?
You outline the power of technology to strengthen the proximate community. From an economic standpoint, how do you see the onslaught of social media and fake news in relation to this third pillar?
Technology is never fully good or fully bad, right? It has the capacity to be both. As far as new technologies like Facebook and other social media go, on one hand they enable people to keep in touch, communicate and discuss at a much lower cost. So, you can have a Facebook group with your school friends that enhances the sense of community, you can have a meeting and so on. It's harder to do this via a phone call or email.
The flip side is, as we've seen with the recent terror attacks, it is also possible for the wrong kind of actor to get widespread publicity through social media, and that can be detrimental to the community sometimes. But one could argue that the good side outweighs the bad. An example of this given in the book is of Netville [named by researchers Keith Hampton and Andrew Wellman] in Toronto, where the residents who were wired to high-speed Internet stuck together to each other much closer than those who were not wired.
So, have tech monopolies changed the way people now perceive monopoly power?
They are a different kind of marketplace and so we need to develop new tools for understanding their monopoly. From the consumer's side, they give away a product which is absolutely free. None of us pay for Google Maps but it's an excellent product and clearly, Google spends a lot of money creating it. Whereas, platforms like Facebook will make money by controlling access of the consumer and by getting producers to pay it for the advertisements they put on. So, that's where the monopoly comes in.
To some extent, there is a consumer benefit i.e. the consumer gets very good service. The question is whether it is outweighed by the cost producers have to pay. My sense is that this requires us to rethink the process of regulation because here, we have a structure that benefits consumers quite a bit but indirectly they're paying a higher cost in terms of monopoly prices, platform charges, and advertisers, etc. And because of the nature of these platforms with large network externalities, breaking them up can make everybody's experience a little worse. So, if you could divide Facebook into 10, then you might lose some of your friends who aren't on the same segment as you. So, we definitely have to think of regulation but breaking up the monopoly is no longer an easy option. What I propose in the book is to improve interconnectivity i.e. interoperability. Secondly, let consumers own their data so that data can be spread more widely and it doesn't become a source of competitive advantage for the platform.
What do you make of India's demographic dividend? And has this paucity of meaningful jobs contributed to populism and polarisation?
The lack of jobs obviously is an issue. I think there are multiple causes. And sometimes it's just about the lack of well-trained people for the possible jobs that could be created as much as it is about the lack of jobs themselves. So, somebody could have a PhD and would want a job as a researcher, but that degree may not be of high quality and no research institute may want them. So we need to work on both sides.
Recently, you stressed the need for an impartial body to clean up statistical calculation. As an academician, do you feel we need to change how economic policies or concepts are communicated by the state, as was the case with demonetisation, for instance?
I don't know if you can subject every decision to a rigorous process, slowing down decision-making. Similarly, if every decision is based on ex-post inquiry, then you again slow down the process and you make people more fearful of taking decisions. At the same time, there might be some things that are consequential enough where you want to understand what the processes were, and if it worked as you thought it would.
What do you hope is the takeaway, in the wake of the elections?
The book is not written for the current elections. But I hope that when people read it, they see some glimpses of how the system worked elsewhere and then think about how they could make the system work better in our own country. Sometimes, you learn lessons from the experiences of others.
Catch up on all the latest Crime, National, International and Hatke news here. Also download the new mid-day Android and iOS apps to get latest updates