Jhumpa Lahiri bagged the 2015 DSC Prize for South Asian Literature and spoke to a jubilant audience over an internet call on Day Two at the Jaipur Literature festival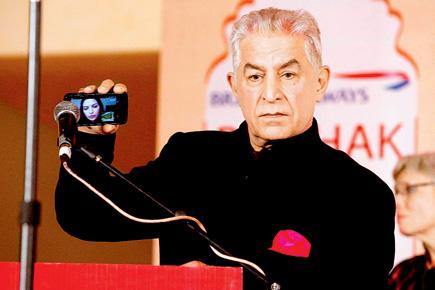 Dalip Tahil
It was on the bluish screen of a smartphone over an internet video call to her home in Rome that author Jhumpa Lahiri accepted the 2015 DSC Prize for South Asian Literature here on Day Two of the Jaipur Literature festival at Diggi Palace.
The Lowland won the award over a formidable line-up of short listed authors – noted Indian Urdu critic and writer Shamsur Rahman Faruqi (The Mirror of Beauty), Pakistani author Bilal Tanweer (The Scatter Here is Too Great), British-Pakistani author Kamila Shamsie (A God in Every Stone) and Sri Lankan author Romesh Gunesekera (Noontide Toll).

From Rome with love: Actor Dalip Tahil, holds the mike for Jhumpa Lahiri as she spoke about her book to the audience at Jaipur Literature Festival
ADVERTISEMENT
Over the video call, Lahiri said The Lowland was the first book she ever started to write. "As a girl growing up in the 1970s, I was curious about the political and social events unfolding in India, and The Lowland is the result of that curiosity," she said to an audience that hung on to every word.

Rain plays spoilsport: Visitors at the festival sought shade to protect themselves from rains. Pic/PTI
The book, she added, also came out of a desire to feel closer to India, its history and daily life. "However, after I published it, I was apprehensive about not having done justice to the events I had chosen to write about. It was my parents who reassured me, and made this story possible. Yet, here I am, having this intense experience about the win, but from afar," said the author.
Poet and writer Keki Daruwalla, chairman of the jury, called The Lowland "a superb novel written by a writer at the height of her powers".
Day Two a dampener
Day Two at the festival was a dampener, chaotic at best and mismanaged at worst, after rains played spoilsport since the festival began in the morning. Sessions were cancelled in three out of the six venues at Diggi Palace and — much to the annoyance of many authors and speakers — halved in duration to be conducted at the three functional venues. In spite of rains having disrupted schedules at last year's festival, too, the organisers seemed to have learnt few lessons.
The day began with a short session with Shamsur Rahman Faruqi and Bilal Tanweer who spoke on Urdu and the inheritance of loss in their writing. "The tragedy," said Faruqi, "is that we, in modern India, do not even know what we have lost. Anything that does not find place in the Western point of view doesn't exist. But it is not desirable to put a culture in an alien frame." His epic novel, The Mirror of Beauty has been hailed as a masterpiece that essays the life of Wazir Khanam (mother of the Urdu poet Daagh Dehlvi), the courtesies and life as it was in the 18th and 19th century.
Faruqi later told mid-day that he could not have made the same sense of contemporary society because he is too close to it. "Also, as a Muslim writer and Urdu speaker in modern society, I feel oppressed. It is fashionable to write about bombs and politicians and US as a superpower, but my interest lies in ancient social and literary culture," he said. "I am, at heart, a critic, a parasite, who takes (literature) from one and gives to another (reader). The difference is that I am useful," he added.
Full house
Disgruntled but eager crowds showed up in large numbers for a session on homosexuality in writing by Devdutt Pattanaik, Welsh novelist Sarah Waters and others. The panel discussed coming out in cultures where family is paramount, but tries to make the issue invisible to carry on as before. "In India, coming out means the whole family going inside the closet," opined Pattanaik.