He made waves with his track, Animals that is played at diverse platforms, from festivals to the city's hippest clubs. At 19, Dutch DJ Martin Garrix is one of the top-billed DJs in the world today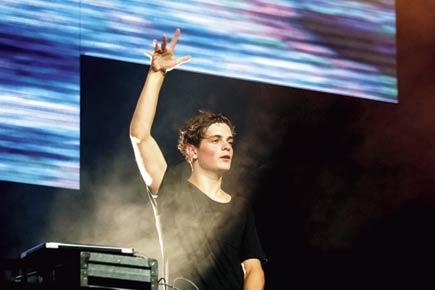 Q. Tell us the story behind the composition of Animals?
A. I'm bored of playing it out. But I still have to play it because people come to my shows because of that track. I got so many tracks besides Animals and of course, every DJ gets tired of playing his own tracks if he plays it so much. Animals was just another club song that I made when I was 15. It was pure plain experimentation.

Dutch DJ Martin Garrix
I used to play it live on my sets and fans would walk up to me and say, 'what's the weird click-ey song?' I would be like "can't tell" just to mess with their heads. Then, all of a sudden, it was all over the Internet. I made Animals as a club record to get it played at the clubs and festivals and then suddenly, when I released it, the radio started playing it.
They started using it in commercials on TV or dancing programmes. They played it when I went to a soccer match for 70,000 people in my hometown. Never in my wildest dreams did I have any clue that it would make a superstar out of me.
Q. Are there any artistes with whom you haven't worked and would love to collaborate with?
A. I would love The Weeknd to be a vocalist on one of my tracks. I feel the same about Ed Sheeran. When I told people I was going to do a track with Ed Sheeran, they were not only excited to listen to it, but were also keen to know how could a collaboration happen between R'n'B and Dance.
Q. Tell us a bit about your current and future projects?
A. I want to conquer the world in the next five years. On my bucket list is releasing an album, which is something I want to achieve as a producer. I hope to play at Madison Square Garden some day; there are so many things I have to do. I am producing my album where I have been working with Avicii, David Guetta and many super cool singers. I can't wait to share it with all my fans later this year.
Q. You've been dubbed as the richest young DJ. What were your thoughts when you first heard about it?
A. It's crazy to see how much has happened in such a small period. It's not about the money. It was always about the music. It was never the intention to chase a career in the music industry. Legends like Tiësto and David Guetta witnessed everything and they help me and make sure I don't make the same mistakes they did.
One of them had a burnout, after which they told me, 'Take your rest, please; don't do every show that's possible. Don't think only about your fans but also about yourself and your condition, because in the end, you're the one who must play every show, and if you're sick in hospital you will have to cancel it, anyway'.
Q. Does it get overwhelming or do you love it?
A. I'm trying to be normal but it has a lot of influence on my personal life. There are some things that I just can't do anymore. My parents say I have to look out for my health. I stay around the right people. I have the same team working on everything I do.
I still spend a lot of time with my folks at home and my friends. If I do something stupid, they have the b@!!$ to tell me to my face with no apprehensions whatsoever. Even while on tour, at times, friends join in. So, it's not driving me crazy. Sometimes, I miss birthday parties, which sucks.
There's a part you have to leave behind. But 'Thank you, Facebook', for keeping us connected. Education is a cause that is close to me. What matters is to encourage my fans to focus on it, because only an educated generation can ensure a better future. Even while on tour, I did my homework and studied. My advice is to ignore negativity. Focus on the love around.