Two music buffs, who create covers with a difference, are back with a track that parodies Bollywood actors turning singers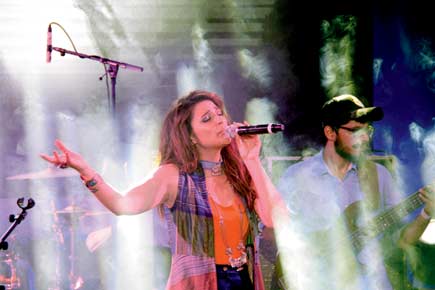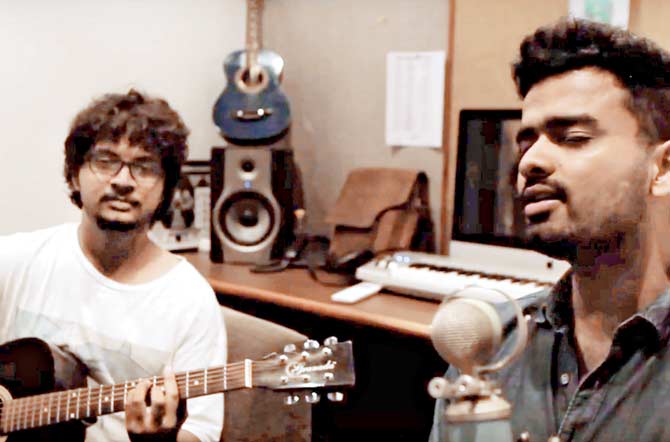 Karthik Rao (left) and Amrit Raj Gupta in a still from the music video
Sitting in a recording studio, Amrit Raj Gupta sings, 'Mana kiya riyaaz nahin… aur achchhi awaaz nahin', infusing Classical notes in the rendition as Karthik Rao plays the guitar. The lyrics, penned by the duo, are set to the tune of Maana Ki Hum Yaar Nahin, which Parineeti Chopra sang in her latest release, Meri Pyaari Bindu.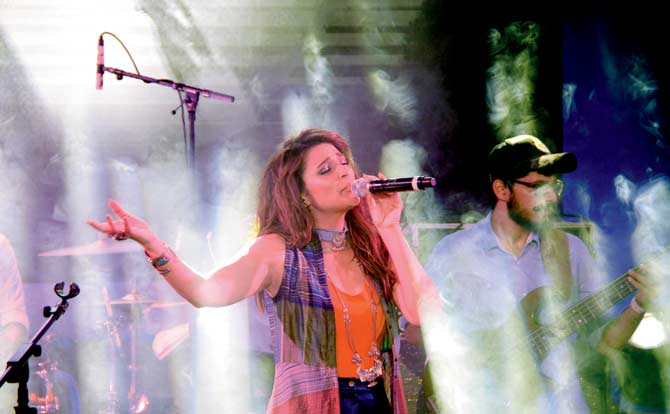 The duo's latest song, a tongue-in-cheek response to actors turning singers, is set to the tune of Maana Ki Hum Yaar Nahi that Parineeti Chopra sang recently. File Pic
The duo's version parodies the song as a tongue-in-cheek ode to Bollywood actors, who are turning singers and eating into the musicians' pie. The song goes on: 'Beat koi miss hui toh... sahi jagah pe chipkana. Lekin live gaane ki teri aukaat nahin,' and Gupta quickly adds, 'lekin live gaane ki apni bhi aukaat nahin'.
The video, with inter-cut frames featuring Akshay Kumar, Salman Khan, Alia Bhatt and Sonakshi Sinha who are recording their respective tracks, has received over 3,000 shares since it was uploaded on the weekend on their Facebook page, The Procrastinators: Amrit-Karthik. It has even prompted them to launch a YouTube channel.
Actors behind the mic
"In India, most musicians only do regular covers of Western songs. We wanted to attempt something different. Recently, Armaan Malik raised objection to Sonakshi Sinha opening for Justin Bieber's concert. When we researched, we figured there are so many actors who've turned singers recently. We don't have anything against them, and some like Ayushmann Khurrana and Shruti Haasan sing really well. It's just a fun video," says 24-year-old Gupta, a BMM graduate from Bandra's RD National College, who works as director with The Viral Fever, where he met Rao. The duo hit it off with their common interest in music and decided to launch The Procrastinators last September. "The name is apt because we were thinking of doing something together for two years," shares Rao, who has studied sound engineering at FTII, Pune, and arranges music tracks for The Procrastinators too.
Rocking on
The first video they uploaded last September was a cover of Ae Dil Hai Mushkil's title track with a cool dub-step portion, followed by a parody on Farhan Akhtar, where Gupta mimicked the multifaceted celebrity's voice in a song arranged to the tune of Rock On's title track. Sample the lyrics: 'Writing, singing, acting, main sab kuch karna chahoon, film-making ka main better MSG hoon.' "We don't have anything against him. We just feel that he is a better actor and director than singer," says Gupta, who has learnt Carnatic music at Suresh Wadkar's musical academy. The duo is now planning an original composition revolving on frustrated employees in the IT sector.
Log on to: facebook.com/AmritKarthik