At last, the western suburbs have a place for pre-teens and teens to head to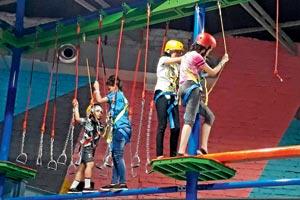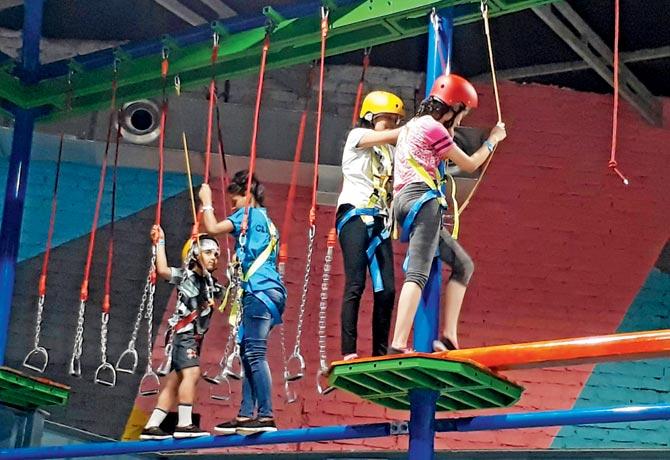 Clawplay, Santacruz (W)


At last, the western suburbs have a place for pre-teens and teens to head to. Clawplay at Santacruz West, is an indoor adventure play space — with wall climbs, rope courses and a trampoline park, all under one roof. Targetted at older kids, it was launched barely a month ago by the creators of Skipperty Hopperty (an indoor play place for toddlers). The focus here is to test muscles, and get the teen adrenaline high with play.
ADVERTISEMENT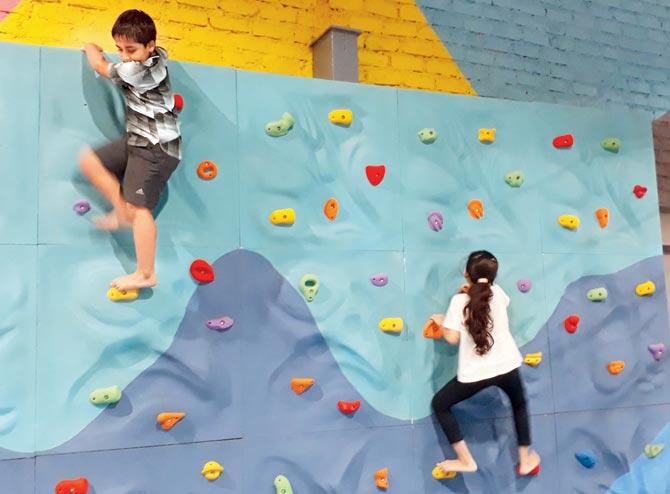 Once you get there, the rugged ambience grows on you. And there is nothing more to do after taking in the expansive space — 4,500 sq feet — except register, pay and try out activities. Anyone giving a go to the ropeway and the climbing zones needs to take off their footwear, sock up and get into special shoes [provided at the venue] that have superior grip. Once done, you are asked to watch a short safety film on the dos and don'ts. The harnesses are fitted and disposable caps are placed on your head, after which safety helmets are handed to be worn and strapped.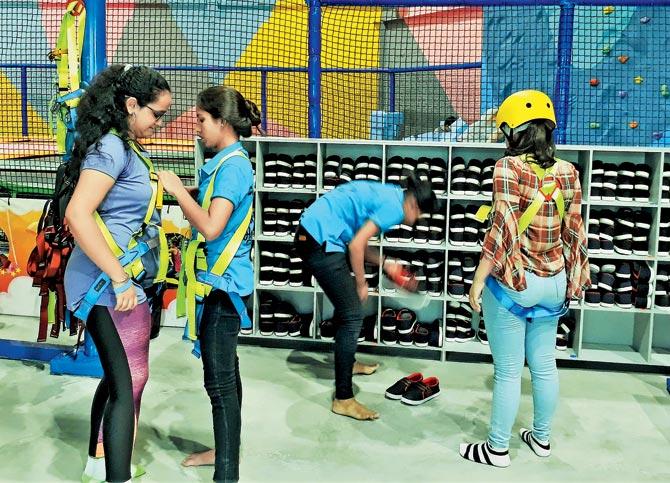 Fully secured, the kids step up and get on to the climbing ramp. The ropeways are meant to test balance, strength and grit. At a height of several storeys, they have to manoeuvre their way through different challenges with nothing more than an eye on the next step and depending on only the strength of their arms. Of course, they are harnessed and connected to a line above but some of the paths swing hard if they haven't figured a way to balance themselves. I'm here with my newly-official teenage daughter and her 13-year-old school friend. Wide-eyed and grinning at each other, they vend their way through heart-stopping moments. The ropeway is so much fun that most kids do another round. Nothing like an adrenaline high.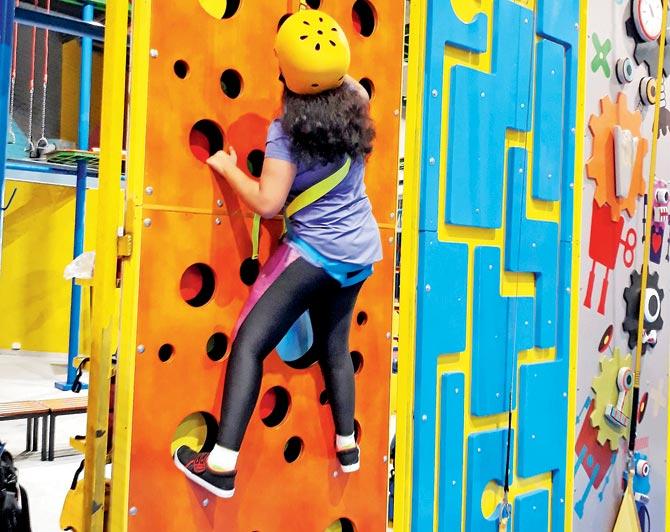 If you don't want to take off your harness, it's time to give the climbing zone a shot. Clawplay has 13 climbing zones of differing toughness. Once again, each child's harness is hooked before they climb. Once the climbing is done, all they need to do is position their feet and let go. Attached to a hydraulic pulley, the kids are gently let down into colourful, thick cryostats.
And, if participants have tried the ropeways, and are looking fore more fun activities, Clawplay has a trampoline park with 10 small and large trampolines where they can jump, slide and play basketball. And, if that is not enough, dash and leap into the foam pool which also has a climbing wall.
Safety tip:
It's a safe space with necessary precaution and checks. Grips would be a plus if provided in every zone. There is a high staff ratio and close supervision is provided for each kid.
"Exciting news! Mid-day is now on WhatsApp Channels

Subscribe today by clicking the link and stay updated with the latest news!"
Click here!